Design for Child Oncology
Cancer is the main cause of child mortality in the Netherlands. Though adequate exercise and a varied diet increases chances of survival, for many seriously ill children this is difficult to achieve since they are too exhausted (Brinksma, 2014). Most existing research in oncology focuses on methods of treatment such as chemotherapy and radiotherapy. Few research projects so far have concentrated on supportive cancer care for children. This is why we have conducted a 'research through design' project to design, implement and evaluate interventions that stimulate adequate eating and exercising behaviour among children with cancer and their families. Our project is entitled POKO ('Participatief Ontwerpen voor KinderOncologie', Participatory Design for Child Oncology). POKO is a three-year funded project (September 2013 – December 2016).
Website: www.poko.hu.nl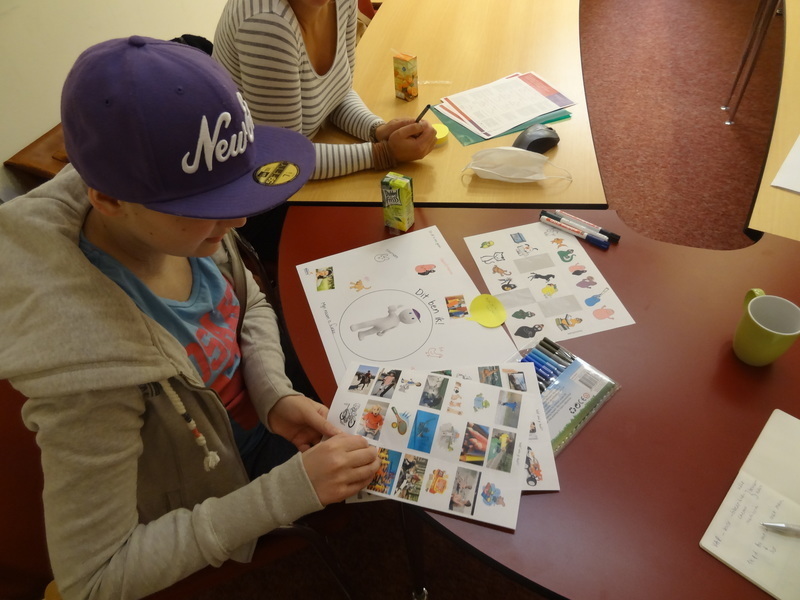 Learning partnership
Since the start of our project in September 2013, five Dutch design agencies, three researchers of the Utrecht University of Applied Sciences, and more than 50 students have been involved (research group Co-Design). The department of Paediatric Oncology of the University Medical Center Groningen in the Netherlands served as our case environment. In addition to the multidisciplinary parties already mentioned, all relevant stakeholders were involved in the design process: children with cancer, their parents and their healthcare providers (dietician, physical therapist, oncologist, nurse, pedagogic expert, food assistant).
'Double diamond' approach
We applied the 'double diamond' approach in this two-phase project, diverging in the first phase and converging in the second phase. In the first phase we designed 14 interventions aimed at stimulating eating and exercising among children with cancer. We used creative and visual methods such as photo assignments and diary methods, which allowed all stakeholders to communicate on the subject without being impeded by emotions or by barriers related to professional jargon, discipline or age. In the second phase, we selected and evaluated the most promising interventions in daily clinical practice. Interventions were selected according to validated criteria (based on the literature and expert meetings). The most promising interventions were:
1) Food Ahoy! (www.dereisvanvijf.nl): a pirate game for children between four and ten years of age. The aim of the intervention is to create a positive association with food, to reduce stress among parents regarding food intake, and to stimulate a diverse food pattern. In the game, children and their families travel around the world guided by a treasure map. Visiting different continents of the world, participants have to fulfil exciting food-related tasks.
2) Taste Lab: Part of the breakfast and lunch trolley in the hospital was transformed into a 'food laboratory' that can be brought to the children so they can experiment with new flavours in a playful way ('first say what you think it is…').
3) Blox: A set of coloured foam blocks that children can use to transform their hospital bed into a cabin for instance. This intervention stimulates children's creativity and gives them an opportunity to influence their environment, the sterile child oncology ward.
4) Racemat: This mat of foam can be used to play a Mario Kart game, which can be controlled by lying on a mat fitted with sensors and leaning from side to side, thus helping to improve the child's physical condition. The Racemat encourages children who are on a lower energy level to avoid inactivity.
5) Kidkit: This cardboard box contains a large number of assignment cards with suggestions, assignments and games to make physical exercise more fun. Parents, children and professionals of the department can add new content to the box. Results on three levels
We have delivered results on three levels: knowledge on the phenomenon of food and child oncology, design process, and interventions.
(*) Phenomenon/existing knowledge base: Increased insight into the motivations/experiences on the subject of eating and exercising among children with cancer and their stakeholders;
(*) Design Process: Designing with so many stakeholders for such a complicated problem is very complex. We gained insight of what to do (and what absolutely not to do) when conducting participatory design for child oncology.
(*) Interventions: The most promising interventions are Food Ahoy! and the Racemat. These are currently being further developed in startups, and researchers of the project team are conducting a quasi-experimental study in practice. We also hope to conduct a descriptive study with the Kidkit and Taste Lab.
Results on these three levels will be incorporated into a toolbox that will be launched on December 1, 2016 on www.poko.hu.nl
Acknowledgements
This project was partially funded by a grant stimulating collaboration between creative industries, science and education (Ucreate) and by RAAK Publiek. The five involved design agencies are Panton, 4Building, Christa van Gessel Research & Strategy, LaSenzo and Kaliber.