Buitenplaats Brienenoord
From Beyond Social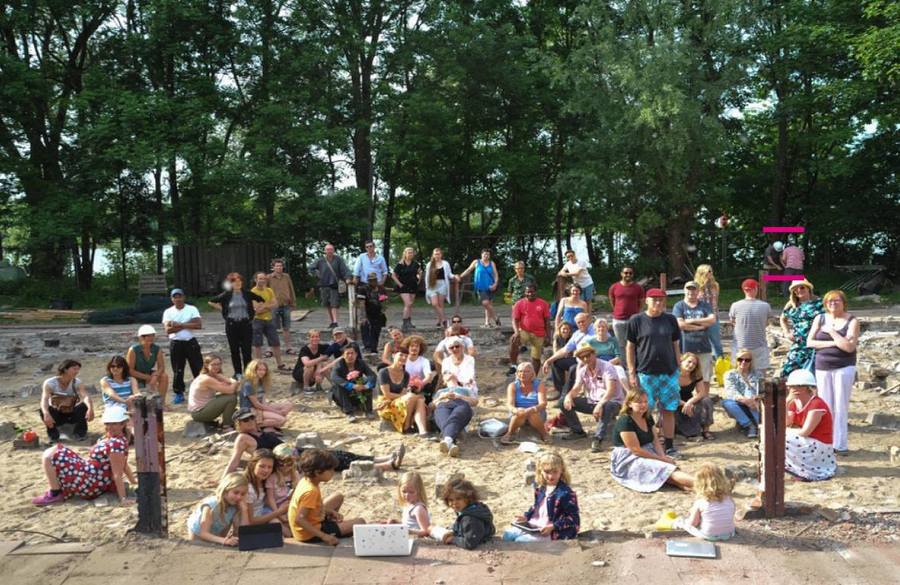 Lecture by Sander Zweerts de Jong
Thank you for having me here, and a lot of excuses for my crappy English. Yes, I used Google Translate for this lecture, so if it is sometimes misappropriate or hilarious, be mild on me. Or not.
I start this excuse for my poor English with a reason. Because at the end I give some pointers about making social art projects happen, and one of them is : Speak the language. Speak the language of different social groups, the language of the business world, the language of government. The language of the art world.
If you do not speak the language of the person in front of you, you start with a disadvantage. And in social art, the person in front of you can be anybody.
So now you know. I try the best I can, but in terms of social art, I am one step behind.
Well.
My name is Sander Zweerts de Jong, I am an artist, a play writer, a social cultural entrepeneur and I'm a happy person.
What makes me happy? What will make me happy again?
That was the question I asked myself at the end of an exhausting art project in 2012 around the Zuidplein Shopping Center. It was an unsuccessful project, a social art project in an impossible place and I was completely done with it. Fed up with collaboration, fed up with other people, fed up with the client, with those complicated social art practices that I became involved in. O Yes, We had so many plans and ideas, but the final result of the project was weak and just not good enough. We wanted to change something at the shopping mall, and we were asked to do so, but in the end it was not more than just some unpleasant entertainment.
I just wanted to sit in a corner and cry all day. never again. I murmured. Never again. It was the worst year of my life. 2012.
I never wanted to create a social art project anymore. I certainly thought that way. Never again. Just no way.
But now, five years later, I work in a fantastic spot, on the island of Brienenoord, building with an incredibly powerful team a building called Buitenplaats Brienenoord, the building project on his own is a big social project, we talk on a daily base to a broad range of stakeholders who will make program on this spot, and everything seems changed. I am a happy person while working on a social art project again.
How is that possible? What's different? What the hell happened? How can one project seems so useless and takes all the energy, while the next one is the other way around, an meaningful energizer? I hope to give some possible answers on this question in the following minutes. And this will also contains the issue of claiming the commons.
But let me state that there are still many times that I wished I was a lonesome artist in a studio working all day on a painting. A blue and yellow painting. Sitting back, watching the painting in progress. And having smoke, watching the painting. Having a zip, watching the painting. Doing some reading, watching the painting. I had some romantic ideas about being an artist when I graduated from here, and working on a construction site, having a lot of meetings, dealing with budgets etc. wasn't really one of them. But well…
Ok. This evening I was asked to tell something about Buitenplaats Brienenoord as an example of Claiming the Commons. To get to that point I will first tell you about another project we made with my interdisciplinary company sandersluck (sandersgeluk). I take this example because we have published something about the role that such projects can play in society. It's about what role you can fulfill in a city like rotterdam, being an artist.
In 2010 we realized with SandersLuck a project called Leuk is Anders in translation something like Fun is Different. The project focussed on the discomfort of the people of Rotterdam. It was the rise of populism, several groups stood tightly against each other in total discomfort, and Kosmopolis Rotterdam, the former cultural dialogue center, asked us to make a project around that theme.
What we did was the following: We selected five specific groups in Rotterdam society and isolated these groups from each other. Highly educated Muslims, the cultural elite, the youth of the VMBO, The Old Rotterdammers of Rotterdam South and The people who fled to the suburbs, the vinex Vluchters. With these specific groups we held a number of conversations and organized, based on their experience of their own reality about society, different interventions in the city. In the end, we gathered the groups in the city council hall for a poetic debate. It turned out to be quite interesting and Looking back on it was one of the more successful social art projects we realized. But we were also troubled and We published a small booklet in which we stated:
Should we, as autonomic artists, really let us be tempted to create such projects, should we bend over a metropolitan sentiment like this. Should we not stay much more outsiders? And act from there, from the outside if we want to bring something into society? As autonomic commentators. Like journalists.
Gideon Boie and Mathias Pauwels writes it quite explicitly in the introduction of their book Too Active To Act: contemporary committed cultural actors in the Netherlands raise their autonomy and go beyond the safe walls of their own discipline but they do not do this in order to realize an agenda dictated by their own. On the contrary, they are humble and serviceable in relation to the existing order and are confined to the development of cultural interventions and projects that facilitate, accommodate or disturb existing social processes.
Boie and Pauwels have a clear eye on this and I know that this is happening alot. There is a lot of benevolent and well intentioned community art, in which people want to connect, putting personal stories of a random citizen on a pedestal, and tickling where kicking is more appropriate. We do it all the time.
I believe that the creative potential of the city is inadequately put to strength, and if it happens, it's done too much from the safe haven called cultural.
And that is Because I do not believe in the following statement of Boie and Pauwels If cultural actors really want to make the difference, they must be inspired by earlier, today-displaced traditions of cultural activism such as sabotage art, propaganda art, direct action, and so forth.
That, I believe, is protest from the sidelines: We the artists, operating from the freedom-area, and from these safe place, we yell things. We are artists, so we can yell everything we like. Nobody will hurt us, because we are no part of society. How easy is that?
I think we can better infiltrate in society, and operate from there. Because we are part of society, and want to be part of society. Only there, in the joined spaces of society, the cultural sector, designers, artists, can try to change societal developments. I think it is better to be a participant and to bend reality from inside than to be an outside the existing-order operating activist.
For sure, there should always be independent commentators. But I believe in the fact that we as independent artists can, must and should be a supplementary party in thinking about city, country and the future. Art is not a tool, it is a factor. and should be an ever-existing factor in society. In daily life.
And there are many and many community & social art projects who have, in my humble view, quite wrong starting points. When the encounter of two different cultures in an art projects is seen as special, without any further content, I see that as a small base for a project. If the educational value is bigger than the artistic one, I see that as a weak project. If the process is more important than the final result, I do not think that is right. If the artistic value is less important than the social impact, we have to look out. If there is any form of paternalism in your project towards another social group, do not even start the project.
There are a lot of complex traps, and do try to avoid it. I know for one that I made many of the above mentioned faults. I believe in cultural activism, but actually want activism to be organized intelligently that no other power or force can really resist it. That is an utopian ambition. That is not about art, it is about what the right art can achieve on a daily base. And the way we organize art in todays society
But well, now about Buitenplaats Brienenoord.
Buitenplaats Brienenoord is a new playground for all ages which puts the future center stage. A place in nature where the urbanite can find peace of mind, can develop him or herself, can come up with new ideas, be inspired and meet other people. Next to a projectspace and venue, Buitenplaats Brienenoord will act in its (jointly developed) program as a Lab for the Future and Space for Imagination. We will make program that includes summercamps, art&nature education, we will develop a Brienenoord Biennale, we will host talkshows, in the weekends there will be food and drinks, and together with many many stakeholders we shall in different forms and presentations work on the future of big cities and society.
So much for the advertorial.
There is no building at the moment.
In brief the proceedings: In the summer of 2014 De Makers of Rotterdam, a platform for social enterprises, and sandersgeluk, a collective of interdisciplinary artists, rented summercamp building De Arend and the Zeemeeuw. A 500 square meter summercamp building in Rotterdam, on the Island of Brienenoord. Together, We organized a working week for adults about the dreamed city. To think and act for a week about Rotterdam's participation society and the future. Civil society people, artists, politicians, scientists and students (a total of 150 participants) came together to think together on this subject, but also to imagine how that future could look like. The working week was called Zicht op Rotterdam (View over Rotterdam): because being on the island, in nature, people were taken away from everydays city life, but also because you could see the city in all her beauty in the distance. We discovered what magic effect the island had on people. Taken By the beauty of nature and inspired through the temporary isolation; On an island, but next to a business area; and a stone's throw from the Kuip. Everyone had the idea of ​​being part of a secret place where you could work freely and experiment, talk, meet and imagine. A place from which everyone became bank inspired and entered the city zone again afterwards with new intentions and ideas to make the city even more beautiful.
This week, the concierge of the building asked if we wanted to take over the property, as new key-owners. We were a bit surprised but also enthousiast. A 500 square meter property in nature, nearby Rotterdam, that sounded like a dream come true. As paradise taken on an quite simple way.
So a team of the five of us said yes, And this was the start of a the long, complex but beautiful adventure of Buitenplaats Brienenoord.
We started enthusiastically and went to see what was possible at that place and with that property. That proved to be very much. We facilitated things like weddings, meetings and gatherings, there was office space, workshop and studio place, we programmed small theatreplays, artistic experiments and further developed our own fascination, thinking about the future with various meetings.
But we also wanted a more formal position because now we were only hosting the property, key-owners, nothing more and that was unworkable for the future. The property proved to be owned by the municipality (de gemeente.) They made a technical report and it turned out that the property was so bad that it has to be teared down, completely.
What to do? We had no money and had to immediately shut down the place. So far for our paradise spot on the island of Brienenoord. But there were people we knew, there was the neglection of the local council to support and preserve this building for about 50 years. And we started having conversations with the people of the municipality, and after more than a year and I think about ten appointments we came to an agreement. They supported us with a start injection and guaranteed the funding of the demolition, and then the rest was up to us.
We gathered again and decided to accept this offer, because it was the only way to keep this place and started something new from scratch. Offcourse we needed a lot of alternative fundings, but we were free to build anything we wanted on this spot. It was an attractive foresight.
Together with SuperUse Architects, we then realized a number of gatherings with possible future stakeholders, for who the future building should be build, and how it should look like. They made a small scale montage-kit, and people could made their own building out of the existing building. Because that was for us clear from the beginning. We wanted to create a new building out of the existing materials of the old building. And in the beginning of this year, we started with the demolition of the old building. Stone by stone, shelf by shelf. With a group of volunteers.
At this moment, our place is a construction site. And we are planned to open on april 2018. So we transform the existing property into a new, totally different property. For this we disassemble the current building, harvest all the useful materials and build a new accommodation on the basis of that. This has a lot of sustainable added value:
In material:
Reuse of most material. For a small CO2 footprint by saving on energy and emissions (produced by new materials). In addition, we reduce the transport movements for the supply of building materials.
We build on the current foundation: this saves and costs enormously, but also means that we do not have to use steel or concrete (two highly stressful materials).
In use:
The new building gets a green roof: this ensures isolation and water collection; This also creates additional housing for all kinds of animals
The shape of the building is oriented to the sun and so makes use of passive climate technology
Solar panels come on the roof and we use a heat pump.
We do not install any normal toilets, but compost toilets
All the organic waste from the kitchen and the toilet becomes part of a compost heap.
Human Sustainability:
Both in construction and later use of the property we work with people who have a distance to the labor market
All involved parties learn from the process how a new and surprisingly designed building is being built from construction waste. We also share this knowledge (by publishing and discussing at various stages and inviting people to the building site)
Construction and design has been achieved by organizing design-sessions with future stakeholders. With this, there is a strong relationship between the team of the Buitenplaats, the building and the future users
Social Sustainability
The old property was once built 80 years ago by sixty unemployed young people. We repeat this history in a sense. We work with a construction team of 15 volunteers with a distance to the labor market. These are some people who gain work experience and can flow to paid work. Partly, these older young people receive social welfare and work as a return on the construction site. Vulnerable people in which daily activity is important.. The construction team's management is done by a technical foreman as well a social foreman / woman from our team. We are The core team that organizes the transformation as a citizen initiative. At the moment, We are managing and organizing the construction, creating an in-depth social program, deal with communication and fundraising. We are doing this still on a voluntary basis, too keep low costs.
Also, after the construction period there will be room for this social team within the organization. We will involve this group in shaping the place and activities in the future. This includes maintenance of the garden and the building, as well as management duties and hospitality. Also, young people and students will be hosting the Buitenplaats on a daily basis.
Artistic content
We want this transformation itself to be more than just a transformation. We use this period to find a lot of stakeholders, for future projects on the Buitenplaats Brienenoord. We use this period to show what we want to be . A forward-looking place where people can develop and work socially, artistically, and sustainably on issues in the city. The redevelopment itself, as an answer to the question, is what you do with a vacant neglected property in a beautiful nature area with a special history.
We are an open construction site with occasional public moments. At each stage of the building there are public moments where a theatrical performance and public conversation and food come together. During the entire construction period, a total of about 500 people will be at one of these moments.
So that is the Buitenplaats Brienenoord. It will be finished in seven months. It is our special place in the Commons, with the commons, for the commons. It is commons before and commons after. But are we not changing to much into professionals. If the commons is mostly initiated by citizens, why do we stand? I am not sure about that, and I hope that can maybe subject for the workshop later this evening.
Now finally let me give you 5 personal pointers, tips for realizing social art projects: Team up: you can't do it alone. If you want to achieve something substantially, you need to work with a group of like-minded people who combine different forces. Someone must have a strong network, someone must be able to talk well, someone has to have weird ideas, someone must be able to act or be practical. You must be pragmatic and visionary at the same time. Working with a team is not easy, often it's wrong, especially if a project takes a long time. But there is no other way, unless you are a genius. Team up is most of the time the only way to succeed for social art projects. For the Buitenplaats Brienenoord we work with 5 people in a team, with different backgrounds and different specialties, strengths and weaknesses.
It takes time, so have a long breath (een lange adem), : Social art projects are usually projects that develop slow, investigative in nature, and with quite complicated processes. There are no quick wins. If you engage in a projects which involves participation, you need to convince the participant of the importance of your project. You have to consult with a broad range of stakeholders, beneficiaries and so on. We started on Buitenplaats Brienenoord at 2014, and we as a team still work mostly voluntarily on this project, because investment proceeds a form of salary payment at this moment.
Infiltrate in other worlds than only the art world: make sure you have an open mind to all different kind of elements in society, that you can win both the trust of the neighbor and the professional. Try to succeed on different levels. Speak the different languages, as a stated before. Do not conduct yourself as the artist.
Be original: You are still the creative thinker. Never forget about that. And the final result will be your small or big legacy to the world. Working with a lot of people can make you insecure, or it becomes mediocre as a result of many different opinions about the project. Try to stick to your plan.
And never forget: What makes you happy? Act on that!
It is too simple, but when you remembered my case about Zuidplein, I realize I do more or less the same, but in a total different context... On the Zuidplein shoppingmall I was unable to claim the surroundings. For every nail in a wall I needed a permit. I found it a terrible place, and always when I was there, I wanted to leave as soon as possible. Like I couldn't breeze.
But on the island of Brienenoord, we create our own place, we create our own construction site, we can make our own rules, or forget our rules. We are in charge. We know we realize a building were other inhabitants of IJsselmonde and the rest of Rotterdam can and will come. There is a lot of ambition, and that creates energy. And energy creates funding, and creates a public. Volunteers are helping us, but also creates something for themselves, a place in the future. stakeholders are interested in working with us.
And for me personally. I started a small autonomous art practice besides my social art projects. So now every morning between five and seven o'clock in the morning I make a drawing. And then a smoke and look at the drawing, and then take a zip from my coffee, and look at the drawing. That is also quite satisfying.
Because social art can destroy your fun in art. But when you're in the right place in the right time, with a strong team, a firm believe in your project, it can also be the most rewarding moment of your life and for the life of others.
Thank you,
Sander Zweerts de Jong
Links
Recent articles
CONTRIBUTE
Feel free to contribute to Beyond Social.
There are four ways to contribute:
Create a new article. Beyond Social is written and edited by its community. Contribute to this online publishing platform with an article (text, photo-essay, video, audio and so on) about your project, theory, event or initiative in the field of Social Art & Design.
Edit this page, or any of the other ones. If there is any missing information or spelling mistakes in this article, please don't hesitate to change it. Other complementing work, such as including media files (images/video's/audio) is also very much appreciated.
Talk
with the contributers and others by taking part in one of the discussions on the TALK-page of an article. These pages are the semi-hidden backside of articles, hence ideal for discussions about an article without changing the initial text.
PROPOSE a new editorial. Beyond Social invites guest editor(s) to emphasize a certain issue, topic or theme. Guest editors write an editorial, invite others to create articles by an open call and/or add existing articles.