Teacher Directory
From Beyond Social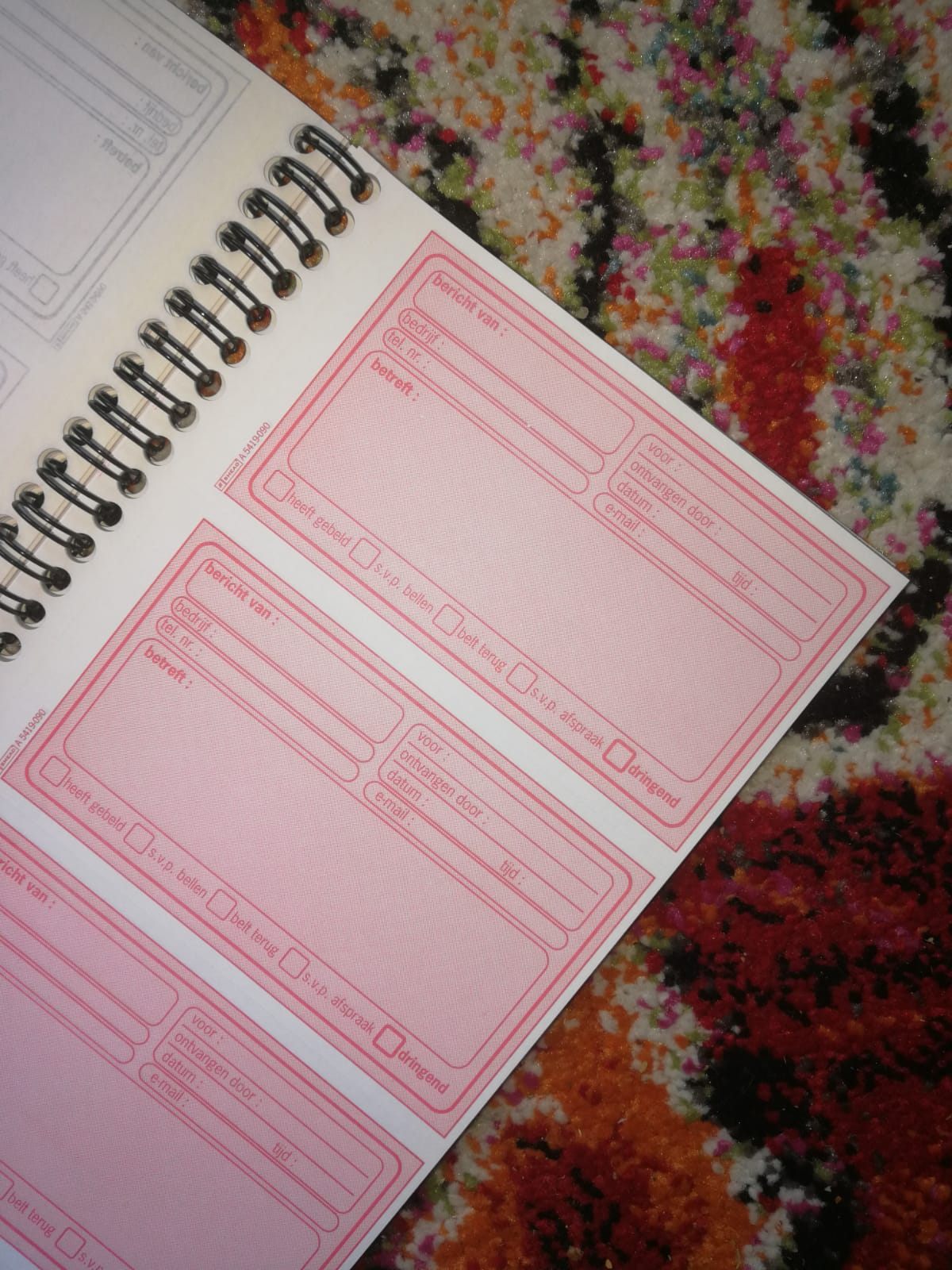 The wikipage input value is empty (e.g. SomeProperty::, [[]]) and therefore it cannot be used as a name or as part of a query condition.
An overview of all Social Practices tutors and staff
Social Practices sees cultural production as a political act that can challenge and reshape dispositions of power. We embrace the commons as a new form of citizenship, built on a deep attitude of care for the natural and social landscapes we inhabit.
Currently, Social Practices is comprised of 4 different fields of research (as described below) which are translated to projects. These fields of research change over time as the primary focus of the Willem de Kooning Academy is to conduct contemporary research to social practices in Art & Design.
+ CULTURAL DIVERSITY explores notions of identity and how it can be embodied, influenced, sedimented, or experienced across cultural, economic, political, and social lines.
+ POWERPLAY focuses on understanding the norms that govern institutions, human behavior, and representations of power, searching for ways to subvert dominant (visual) narratives.
+ NEW EARTH questions sustainability paradigms like the circular economy and researches equitable development in the wake of climate change, looking towards design and cultural production as political acts.
+ PERFORMATIVE ACTION investigates forms of collectivity, conviviality, and social action, with a specific interest in documenting, archiving, and making public in the commons.
Below, you can find more information about our tutors and staff.
Cultural Diversity
Amy Suo Wu
Practice, years 4-3-2
http://amysuowu.net 

https://amysuowu.hotglue.me 

https://thenewnushu.hotglue.me

Lecture: Tactics and Poetics of Invisibility https://vimeo.com/241503663

An artist, designer, and researcher
Since 2015, she has engaged in steganographic practices such as hiding techniques, evasion tactics, and covert communication as acts of protection, survival and resistance in the face of oppression and violence. This research is now published under the title A Cookbook of Invisible Writing through Onomatopee. Her most recent interest and practice circles around literal and metaphorical approaches of mending, design as remittance and self-fulfilling prophecy and how text and textile might be woven together to form embodied publishing.
Wu has co-organised the annual zine festival Zine Camp in Rotterdam between 2014-2019. From 2013-2016, she co-ran Eyesberg, a graphic design studio motivated by conceptual and experimental approaches. She was awarded the Grant programme for Talent Development from Creative Industries Fund NL, as well as two studio residences at I: project space in Beijing and ZKU in Berlin. Recent solo and group exhibitions have been held at Artspace Ideas Platform, Sydney; Drugo More, Croatia; Aksioma – Institute for Contemporary Art, Ljubljana; Seoul Mediacity Biennale; Espace Multimédia Gantner, France; and I: project space Beijing. She is currently a tutor and graduation supervisor at Experimental Publishing at Piet Zwart Institute and practice teacher in Cultural Diversity at Willem de Kooning Academy, Rotterdam.
Gabriel Fontana
Practice, years 3–2–1
https://www.multi-form.org/  

Gabriel Fontana is a social designer who investigates systems of value, norms and knowledge production. By understanding the body as a learning tool, his design practice investigates how our bodies perform, internalise and reproduce social norms. He proposes ways that this can be unlearnt through new pedagogies, activities and actions to imagine and introduce new value systems.
Sport and physical education have been his main field of research for the past three years. In this context, Gabriel develops alternative team sport games that position Physical Education as queer pedagogy. His work is applied both in daily social settings (e.g. primary schools, sport clubs) and academic contexts as well as in cultural institutions (e.g. BAK, basis voor actuele kunst, Utrecht; Jan van Eyck Academie, Maastricht). He graduated cum laude from the Design Academy Eindhoven (NL) with a master's in Social Design and holds a bachelor's degree from Saint-Etienne Higher School of Art and Design (FR). His work has been awarded by the multiple design prizes (Rotterdam New Talent Award 2018, Paris Design Forum 2018) and diverse design grants (Stimuleringsfonds, CityLab10 and CBK Rotterdam).
Jay Tan
Practice, year 3
https://jaytan.hotglue.me/

An artist
Makes sculpture, performance, sound and video. She grew up in South London during the eighties, assuming most heads of state were female. Currently, she teaches Fine Art at the Gerrit Rietveld Academie and is based in Rotterdam, where she also co-runs new community space, Tender Center.
She completed her MFA at the Piet Zwart Institute in 2010 and was a 2014/15 resident at the Rijksakademie. She has presented work at Kunstverein (Amsterdam), Ujazdowski Castle, Centre for Contemporary Art (Warsaw), Ellen de Bruijne Projects (Amsterdam), Gallerie van Gelder (Amsterdam), Futura (Prague), Vleeshal (Middleburg), the CAC (Vilnius), Museum Boijmans Van Beuningen (Rotterdam), Hollybush Gardens (London), Witte de With Centre for Contemporary Art (Rotterdam) and RongWrong (Amsterdam).
Teana Boston-Mammah
Theory, years 4-3-2-1
A sociologist
She earned a Bachelor's degree in Sociology at Essex University (UK) and a Master of Urban Studies and Public Policy at the Erasmus University Rotterdam. She is particularly interested in notions of identity in an urban context. The first ten years of her career she worked as a teacher of sociology in London. In the Netherlands, she went on to develop her research and policy advising skills. She worked for over eleven years as a policy advisor/researcher for Scala, a non-profit expertise center for gender and diversity, in Rotterdam. Research areas include: the glass ceiling, emancipation in Rotterdam, radicalisation, fatherhood, sexual diversity and gendered social contacts patterns.
From 2012 she has worked as a consultant and researcher for various organisations in Rotterdam, Formaat, Het Peutercollege and the research center Creating 010. In her free time Teana organises, as co-founder of the foundation RotterdamINK, various events, in the context of women's empowerment issues. Teana is a board member of various nonprofits. Her research on gender and social contact theory in a neighbourhood in South Rotterdam is via Emerald publishers accessible and called "Women and the Gender Gap".
New Earth
Gaspard Bos
Theory/practice, years 4-1
http://gaspardbos.com

A transition designer
Gaspard calls himself 'a relationship therapist for people and things' or 'a transition designer'. His self-appointed mission for sustainable design and entrepreneurial and empirical attitude have led him to see the contradictions that the sustainability paradigm holds and subsequently to research the philosophical notions that underpin this modern human predicament. His parents being physicists sparked his fascination with technology which he explored at TU Delft to later recognize its implication in neo-liberal society. Of late this fascination has had him diving into the coding of machine learning algorithms while at the same time considering their ethical repercussions. While he chooses to work on self initiated projects/ventures, often in the field of circular economy that propose alternatives to traditional forms of business, these projects increasingly form the soil for a more contemplative practice; for example investigating the socio-cultural conditions of child-rearing in the west and questioning the nature-culture dichotomies that dominate the discourse around child-rearing and parenthood.
In New Earth, Gaspard teaches storytelling in which he uses theory of structural linguistics and material semiotic analysis to help the students come up with narratives for a new earth. When he's not teaching he works on Good Fashion Friend, a startup that helps people create secondhand and vintage wardrobes using online tools. To balance out all this serious stuff he also makes music, goes dancing, bouldering, meditates, does yoga, loves to play board/card games with friends and seeks out nature.
Lizanne Dirkx
Theory/practice, years 4-3-2-1
http://www.lizannedirkx.com/

A designer, researcher, and facilitator
++ Designer, researcher, and workshop facilitator at Superuse Studios, INSIDE, Upstyle Industries
++ Previous projects have involved schools, libraries, cultural institutes, museums, institutes for sustainability, companies, communities, independent organizations
++ Specialised in sustainability, social design, materials and crafts, the circular economy
++ Studied: MA Sustainable Design at the University of Brighton; BA Product Design at the Design Academy Eindhoven
Isaac Monte
Theory/practice, years 3-2-1
http://isaacmonte.nl

A designer
Fascinated by societal sustainability I am interested in unusual, new materials and how I can manipulate those. By means of combining technology, art and science, I show how art can contribute to a strategy of sustainable development. Since graduating in 2013 I have focused on understanding, controlling and manipulating unusual materials. In projects such as Filter Factory (2013) and Leek Packaging (2017), I have explored the possibilities of using waste streams to create new opportunities. Since 2015 I have been combining waste streams such as overdue foods with new, promising technologies in synthetic biology. This resulted in projects like The Art of Deception and The Meat Project. Within my work I combine different media, using techniques and media tools either to experiment and document or to strengthen the message with video and visual images.
Iris Schutten
Theory/practice, years 3-4
https://www.irisschutten.net/

An (an-)architect, curator, and freezone organizer
Initiates, develops, curates, writes and teaches about transition in relation to art, design, architecture, public space and economy. She is interested in the commons and at the moment develops EnergieKas - a rooftop greenhouse that both generates energy and functions as a tropical community garden and testing ground for regenerative design. She also co-runs Langebeesten Energiek, a cooperation for a climate friendly old city centre in The Hague. There she developed Paardenkracht, a community owned solar energy cooperation.
Next to her own practice she teaches 'New Earth' at WdKA. Here she initiated Beyond Social, a collaborative research and publishing platform on social design, was involved in curriculum innovation regarding Spatial Design, Sustainability and New Earth and coördinated the Social Practices for some years. Earlier she worked as an (an-)architect on the development of various self-organized freezones, including the NDSM terrain in Amsterdam and Grote Pyr in The Hague. She co-developed several public art projects including the Laboratory for the Interim and the prize-winning interactive installation Between Realities, the Dutch contribution for Prague Quadrennial 2015. As a writer/editor she was involved in S+RO, Archined, Ruimtevolk and the publication Hotel Transvaal, Stedelijke Transformatie in the Tussentijd / Between Times.
Powerplay
Golnar Abbasi
Theory, years 4-3-2
https://golnarabbasi.com/

https://worknot.info/

https://sarmadmagazine.com/

An artist/architect, researcher, and publisher
Her work consists of a hybrid of practices such as research, writing, curating, organising, independent publishing, teaching, making, and spatial intervention. She is a founder and editor of Sarmad, a platform dedicated to politics of image and practices of image-making; and a co-founder of the collective of cognitarians/makers WORKNOT! devoted to discuss precarities of living practices today through spatial interventions as well as research. Her work is also concerned with notion(s) of spatiality, coloniality, practices of resistance, and construction of histories. Her work has been shown in Venice Biennale of Architecture, Sharjah Architecture Triennial, Witte de With Center for Contemporary Art, Architecture Banal, among others.
She holds a Masters degree from The Berlage and has been in residence at Jan van Eyck Academie in Maastricht. She is currently a Ph.D. candidate at Faculty of Architecture and Urban Environment, TU Delft, where she conducts her academic project on politics of domesticity. She teaches at Willem de Kooning Academie (Social Practices), Piet Zwart Instituut (MIARD), and the Faculty of Architecture at TU Delft, along with exploring experimental pedagogical practices within the framework of Sarmad.
Charissa Granger
Theory, years 4-1
A musician and musicologist
Dr. Charissa Arlette Granger is a Marie Skłodowska Curie Post-Doctoral LEaDing Fellow at the Erasmus University Rotterdam, The Netherlands. Concentrating on Afro-Caribbean and diasporic music-making practices, Charissa is interested in decoloniality, how music enables sensuous knowledge, and decolonial aesthetics and epistemologies. After completing a bachelor's in visual and performing arts at Northern Illinois University (USA) with a focus on cultural studies and steelpan performance, and a master's in cultural musicology at The University of Amsterdam, Charissa focused on world music performance practice, attending to how otherness is framed at world music festivals as a doctoral research project at the University of Göttingen (Germany).
Rosa Pons-Cerdà
Practice, years 3-2-1
https://ponsverhoog.org/

A filmmaker and game designer
She is at the moment involved in research on images as pollution (how subliminal messages misrepresent, influence and alter our sensitivity); in the design of a digital taxonomy of visual language; in exploring the qualities of blended learning for decolonizing courses. To give back what she has learned, she brings her experience into workshops and learning methods within the frame of intersectionality. Her work craves for communicating and educating to promote civic responsibility. Director of documentaries for social justice and for archiving peoples memories (TV3, TVE2, Via Digital, Canal+, Radio Televisao Portuguesa); curator of DobleClick, a European Student's Film Festival organized without hierarchies, where students were giving workshops about their practices and experimentation (2010-2015) ; lecturer at Universitat de Vic, Barcelona (2005-2016), researcher in academic innovation groups (CIFE-GI and AQUID, 2009-2013). Her studies cover a range of disciplines: graduate in Philology (UAB, 1994), in Media (EMAV, 1995), postgraduate in Actor's Direction (URL, 2002), master in Writing for Cinema and Television (URL, 2008), all in Barcelona; and "updated" in Design and Development of Games for Learning (Edx, 2016).
Bruno Setola
Practice, year 4
http://playspace.cc/

A game designer
Bruno is the founder of Playspace, a company which invites people to re-imagine the rules, roles and goals that govern their daily lives. The goal is always to discover fresh and surprising new perspectives that can lead to inventing more engaging and balanced ways to work, live and learn together. Bruno advises on how to use this approach to improve participatory processes like decision-making and co-creation. He also teaches Powerplay and hosts Urban Playwalks.
Seecum Cheung
Practice, year 4
http://www.seecumcheung.com/

A filmmaker and artist
Her current work is an ongoing series of films based upon interviews and encounters initiated by the artist with leading specialists in the field of right-wing radicalism, human rights and activist groups, politicians, and affected citizens. Recent films include extensive interviews on the rise of the far-right in Germany, with political journalist and writer Richard Cooke & SBS Public Broadcasters (Interview with Lennart, 2016); coverage of the Dutch elections with writer, musician, broadcaster and curator Morgan Quaintance (The Dutch Window, 2017); a study towards the inequalities found within cancer care treatment, commissioned by NHS England in collaboration with equality and human rights charity brap (Inequalities of BAME patients Cancer Care Study, 2018-19), and most recently, the gentrification and total eviction of local residents and business owners within Cheung's ancestral family village in Hubei, Shenzhen (Eviction in Shenzhen, 2019-ongoing).
Performative Action
Shailoh Phillips
Theory, years 3-2-1
http://studiobabel.nl/

A hybrid practice as an artist-activist-community organizer and (screen)writer
My work is provoked by confusion between disciplines. For many years, I have been troubled by the miscommunication and silos of information, in particular between the fields of art, design, technology and the humanities. The challenges we face require collaboration between engineers who can make things work, artists who can push the limits of the possible, and analysts who can relentlessly critique the complex systems we operate in. I often taken on the role of a go-between, a catalyst working in the interstices between disciplines, people and institutions. Between material and conceptual realms. Between technology that is born and that which is made. Between past and future alternatives.
Originally trained in Anthropology and Philosophy, I have spent the past 10 years working in the field of digital media and media arts education, as well as cultivating a collaborative studio practice of cross-media projects such as interactive installations, digital crafts, animation, game design, creative writing and facilitating workshops. My practice revolves around fostering forms of resistance and pressure points to act in the face of social inequalities and impending ecological disasters. Currently, I am exploring building temporary pedagogical spaces and tactical interventions in public discourse with inflatable sculptures.
Artúr van Balen
Practice, year 2
www.toolsforaction.net
www.arturvanbalen.net 

An artist (focus on public intervention)
Artúr van Balen is as a visual artist with a focus on spatial and performative interventions in public space. Since 2010 he has been making inflatable sculptures for use in actions and protests around the world and founded Tools for Action. Tools for Action´s practice oscillates between performance and protest and is rooted in popular pedagogical practice, historical research and skillshare workshops, bringing together people with inflatable sculptures to form barricades, swarms and temporary assemblies. Tools for Action collaborates with diverse communities such as such as artist- and activist groups, choreographers and designers and various institutions such as theaters, schools and city councils. In 2017 Tools for Action the prize for Arts Education of the German Ministry of Culture and Media for their community project Mirror Barricade together with the theatre of Dortmund.
Next to these performative actions, he co-curated the international travelling exhibition Floating Utopias, about inflatable art and architecture, with stops in Berlin (nGbK, 2018), Singapore (ArtScience Museum, 2019) and upcoming in Sweden (2020). Artúr graduated in fine arts at the Berlin University of Arts and studied philosophy at the University of Amsterdam.
Karlijn Souren
Practice, year 3
Karlijn Souren's design research and projects are situated in the field of social food design. She is fascinated by food in all its aspects. At the moment she is working on a research project on the possible role of food in connecting generations, with a special focus on the elderly. Her previous design research about the position food plays in our lives is published in the book Watertanden, hoe eten je leven vormgeeft (Arbeiderspers, 2012). At the Willem de Kooning Academy Karlijn teaches Research & Storytelling at the Product Design department and Performative Action within Social Practices.
Publishing/archiving
Alice Strete
https://portfolio.alicestrete.me/

A media artist and researcher
Alice Strete is an artist and researcher interested in the intricate relationship between humans and the technologies they surround themselves with. Her work involves collaborative media art and publishing practices, and explores topics from women in technology to the socio-politics of food. She holds an MA in Experimental Publishing from the Piet Zwart Institute, Rotterdam (2019).
Angeliki Diakrousi
https://w-i-t-m.net/

An artist and media researcher
With a background in architecture, visual arts, and experimental publishing, my practice relates to topics around activation of public spaces, archives, voice, speech platforms ,and listening channels. I am an Architecture graduate of the University of Patras (2015) and a recent graduate of the Experimental Publishing Master at Piet Zwart Institute in Rotterdam (2019). I am part of Varia Zone and /etc.
Research Lector
Michelle Teran
http://www.ubermatic.org/
https://nachbarschaftsakademie.org/growing-from-the-ruins-of-modernity/
http://www.synsmaskinen.net/
https://bodynet.tumblr.com/

An educator, artist, and researcher
Born in Canada, Michelle Teran has a transdisciplinary practice and operates within the domains of contemporary art, community-based initiatives, academic research and activism. Her research areas encompass socially engaged and site-specific art, transmedia storytelling, counter-cartographies, social movements, urbanism, feminist practices, critical and radical pedagogies. Her multidisciplinary works span film, text, bookworks, performance, installation, public readings, online works, participatory events and interventions in public space. She completed her doctoral studies at the Bergen Academy of Art and Design (KHIB) within the Norwegian Artistic Research Fellowship Programme. "Future Guides: From Information to Home" is an artistic research project on following: how to practice and theorize following.
She has participated in conferences, performances, exhibitions and events in North America, Europe, Australia and Asia, such as the Haus der Kulturen der Welt (Berlin), Transmediale Festival (Berlin), Ars Electronica (Linz), National Taiwan Museum of Fine Arts (Taichung), Museum Folkwang (Essen), Manchester Contemporary Art Gallery, Media Façades Festival (Helsinki), Mediations Biennale (Poznan), Museo Nacional de Bellas Artes (Santiago), Today Art Museum (Bejing), Screen City Festival (Stavanger), Museum of Contemporary Art (Roskilde) Telemuseet (Oslo), Arco International Art Fair (Madrid), Tensta Konstall (Stockholm), Sonar Festival (Barcelona), ISEA, CCCB/MACBA (Barcelona), Moderna Museet (Stockholm), BEAP (Perth), Mois Multi Festival (Quebec City), and Mediacity (Seoul). She has given lectures, led workshops and masterclasses in academic institutions, such as Kunsthochschule für Medien Köln, Bauhaus Universität, Willem de Kooning academie, Kunsthøgskolen i Bergen, Trondheim Academy of Fine Art, Parsons Paris, Dance Unlimited, Vivalab and Lucerne University of Applied Science and Arts, where she worked with students coming from media and visual art, interactive design, dance and theatre.She is the winner of several awards, including the Transmediale Award, the Turku2011 Digital Media & Art Grand Prix Award, Prix Ars Electronica honorary mention and the Vida 8.0 Art & Artificial Life International Competition.

She participated in the artist-research group SYNSMASKINEN, an inquiry into 7 fields of contemporary political crisis. She is part of the Neighborhood Academy in Prinzessinnengarten, a self-organized open platform for urban and rural knowledge sharing, cultural practice and activism in a community garden in Berlin. Together with Marc Herbst she co-edited Everything Gardens! Growing from Ruins of Modernity, one of a three part publication (ADOCS and nGbK publishers) on how the global ecological crisis and its social repercussions raise questions regarding new forms of education. The English version of Ada Colau and Adrià Alemany's book Mortgaged Lives (original Spanish version Vidas Hipotecas) is a translation project initiated by Michelle Teran and published by the Journal of Aesthetics & Protest. The forthcoming publication Situationer Workbook / Situationer Cookbook brings together critical texts and practices of radical and transformative pedagogies by teachers, researchers, students and alumni of the Willem de Kooning Academy and Piet Zwart Institute. Formerly she held the position of Associate Professor Art & Technology at the Trondheim Academy of Fine Art at the Norwegian University of Science and Technology. She is practice-oriented Research Professor Social Practices at Willem de Kooning Academy in Rotterdam. She lives and works between Rotterdam and Berlin.
Coordinator
Clara Balaguer
https://walkerart.org/magazine/troll-palayan-clara-balaguer-on-design-decolonization-trolling-duterte

A cultural worker, grey literature publisher, and undisciplined researcher
From 2010 to 2018, she articulated cultural 
programming with rural, peri-urban, and diasporic communities from the 
Philippines through the Office of Culture and Design, a
 residency space and social practice platform. In 2015, she co-
founded Hardworking Goodlooking, a cottage industry
 publishing hauz interested in the material vernacular, collectivizing
 authorship, and the value of the error. Currently, she 
coordinates the Social Practices department at Willem de Kooning 
Academy and teaches in the Experimental Publishing masters of Piet Zwart
 Institute. Frequently, she operates under
 collective or individual aliases that intimate her service in a
 given project, the latest of which is To Be Determined. For the moment, TBD is an undocumented organization that has
 recently migrated to Rotterdam from Parañaque City. Aside from its main maindate—to redistribute access to cultural capital in friendly or aggressive ways—it is curious 
about models of non-extractive research, the possibility of radmin (radical administration), the agency of the secretariat, and dissecting the body public/published body.
Links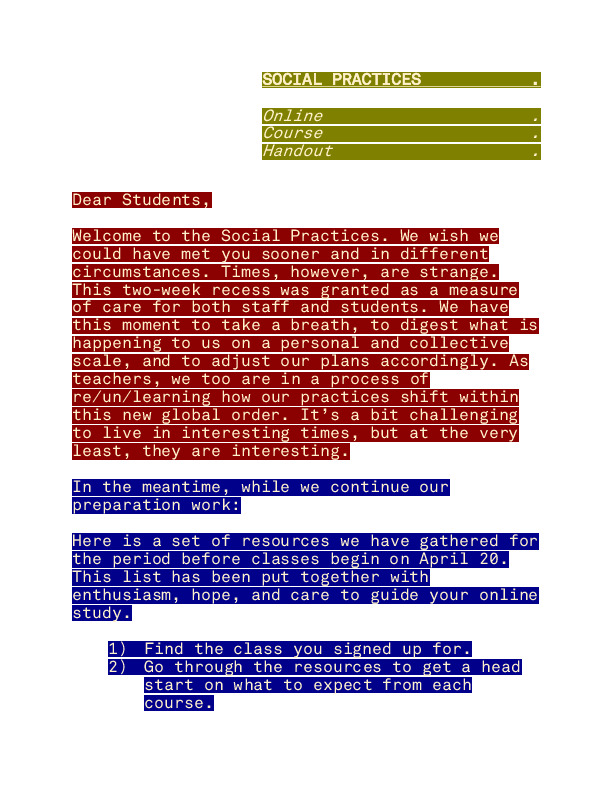 [[Category: | ]]
Recent articles
CONTRIBUTE
Feel free to contribute to Beyond Social.
There are four ways to contribute:
Create a new article. Beyond Social is written and edited by its community. Contribute to this online publishing platform with an article (text, photo-essay, video, audio and so on) about your project, theory, event or initiative in the field of Social Art & Design.
Edit this page, or any of the other ones. If there is any missing information or spelling mistakes in this article, please don't hesitate to change it. Other complementing work, such as including media files (images/video's/audio) is also very much appreciated.
Talk
with the contributers and others by taking part in one of the discussions on the TALK-page of an article. These pages are the semi-hidden backside of articles, hence ideal for discussions about an article without changing the initial text.
PROPOSE a new editorial. Beyond Social invites guest editor(s) to emphasize a certain issue, topic or theme. Guest editors write an editorial, invite others to create articles by an open call and/or add existing articles.