Inside Out
From Beyond Social
Inside Out – The People's Art Project
by JR
Intro
Inside Out is a global art project by French graffiti artist JR. Inspired by JR's previous work – Portrait of a Generation, a project that at its core sought to give a voice to people from "bad" neighborhoods by photographing them and making paste-ups of their portraits all over Paris – Inside Out seeks to give everybody the chance to make a statement for what they stand for. It's a global platform to give voiceless people a place to come forth and tell their story.
Reach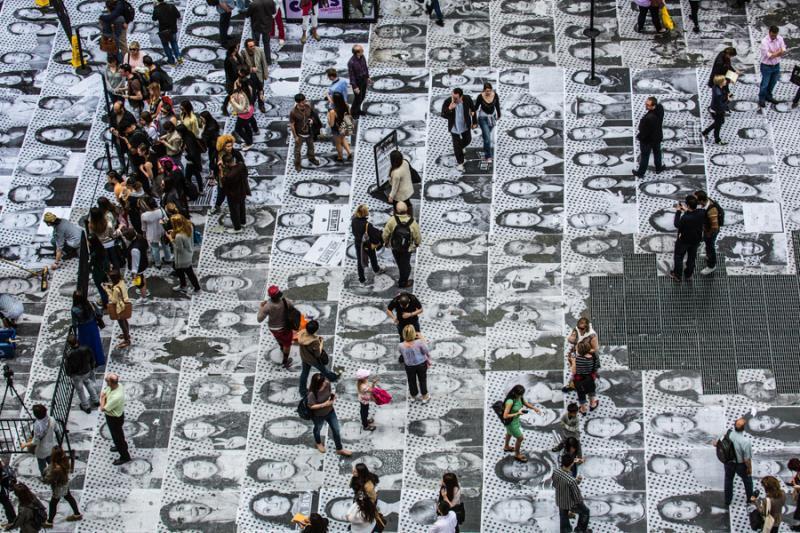 So far more than 260.000 people from more than 129 countries have participated and the following is a few notable projects within the Inside Out project.
The Inside Out New York City Project
The Inside Out New York City project that collected more than 6.000 portraits of New Yorkers and visitors to raise awareness of the people affected by hurricane Sandy, and pasted them on the ground at times square. It also included a billboard and a movie that played at midnight the whole month of May of 2013.
Orphans with HIV/AIDS in Alexandra
Orphans with HIV/AIDS in Alexandra, Johannesburg, South Africa, a project that helped raise awareness of a theatre play with street children with HIV/AIDS, that sought to remove the stigma of AIDS.
Save the Arctic
Save the Arctic, from the project page: "The eyes of the world, at the top of the world, watching over the world" a statement project to show defiance against the destructive industry in the arctic.
How
It's first and foremost a platform for people around the world to share their stories through portraits, to celebrate communities, show their diversity and salute the people who live in them, but also to raise awareness of struggling communities or neighborhoods that are troubled. It can however, be used for many other issues as well, from fighting for freedom, to women's health, raise awareness, start a conversation, advocate change or draw attention to a cause. Everybody can participate, and to do so you register an account on http://www.insideoutproject.net, create a so-called group action with a message that you are passionate about, then upload a set of portraits that the Inside Out team then prints and mails to you. Once the posters have been pasted up the project will be shared on the Inside Out webpage
Core Qualities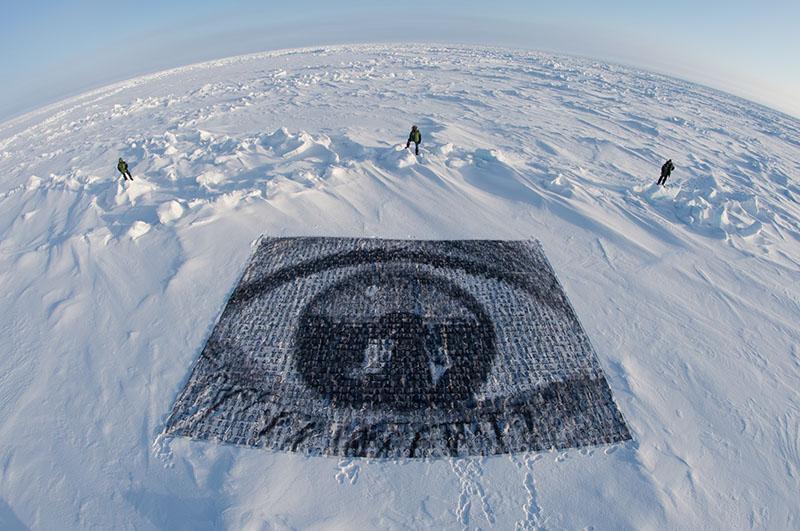 Contextual
From the artist's point of view, I would say it's not very contextual, he isn't coming to all these communities to talk with the people in order to understand their problems and then collect and paste their portraits – it's up to themselves to tell their own story and give context to the pasted posters.
Artistic
It's up to each participant to organize, photograph, paste the posters, and document the whole experience, the Inside Out project only facilitates and takes care of printing and sharing the finished result. The Inside Out team has a few guidelines that ensures the artistic vision of JR is kept and the quality of the work is preserved.
Participatory
It is however, very participatory as it's very easy for anybody to get started. You only need a camera and an internet connection to upload the pictures. It engages people to take part in changing their community for the better, and to improve their lives through art.
Transformative
It's difficult to really assess whether or not The Inside Out project is transformative or not, it depends on the individual projects, you can't say say anything specific about it's transformative powers. It's true that many of the projects are transforming the communities they are being pasted in, but to assess whether each project is successful or not is impossible.
Positioning
The project is therefore mostly allo-relational in that it depends solely on the participation of the community, without them, nothing would happen. It can be both subversive and digestive, as it's up to the participants to state the purpose of the posters they hang. It spans from projects that work with the power structures to very radical projects that go against e.g. the government.
Discussion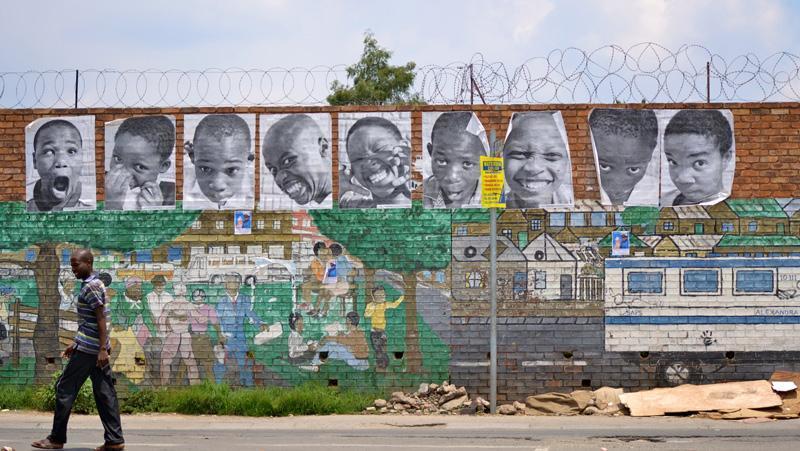 I think the project is very good social design project as it gives people an outlet to voice their problems or concerns and lets them express themselves within a community. The project facilitates change through art and it helps to make people reflect and get new perspectives on a broad range of topics. It makes the people in the streets the curators of their own open art museum in a sense, and in turn it invites positive participation from all who wish to help. It's open and inclusive in a way a normal art museum never could be and I find that extremely important it's working with the community and not just for it
I really like the story aspect of the Inside Out project. Each group action has a specific goal and even though there are guidelines for how it has to look, each and every image has a clear goal and a story, because it comes from the people themselves and not just from a curator.
This in turn does make it a bit fragmented and seem without a goal, and one could argue that because it doesn't have a restriction on what people can use the service for, that it gets watered down and that the main reason for the project is lost as you could use it, basically, for any goal or cause.
On the other hand, because it's so open and inclusive it becomes so much more than the sum of its parts, it's essentially a celebration of human-kind in a way no other art project could as it's the people themselves who create the art. People from around the world are coming together to create art that address a wide variety of issues in a friendly and open way.