75 watt, by Cohen & Van Balen
From Beyond Social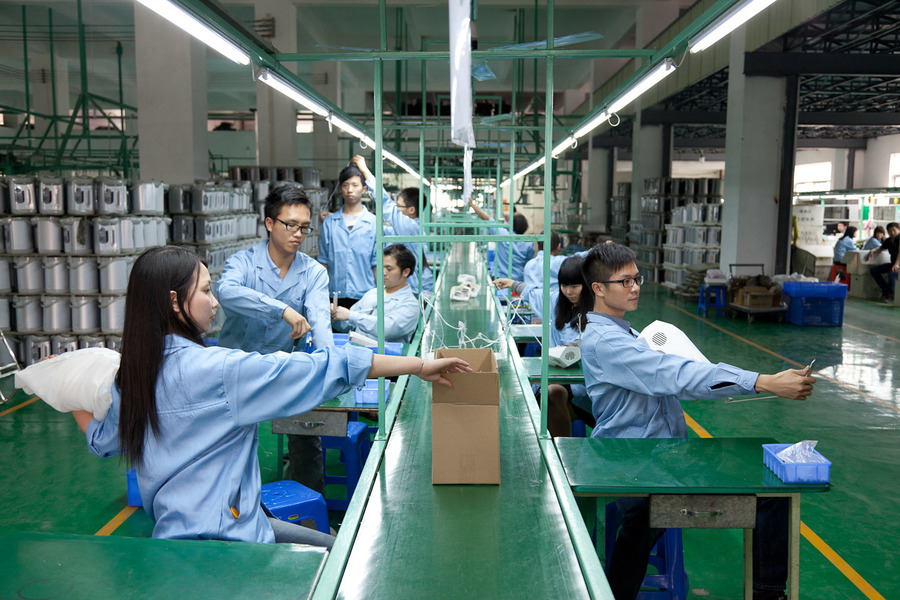 The wikipage input value is empty (e.g. SomeProperty::, [[]]) and therefore it cannot be used as a name or as part of a query condition.
sustainable (new earth) audiovisual design
"A labourer over the course of an 8-hour day can sustain an average output of about 75 watts." (Marks' Standard Handbook for Mechanical Engineers.)
If 75 Watt had to be reduced to a brief paragraph, it would be described as a product designed specially by Revital Cohen and Tuur Van Balen to be manufactured in China. Its unique function is to choreograph a dance of assembly line workers.
75 Watt seeks to explore the nature of mass-manufacturing products on various scales; from the geo-political context of the labour fragmented into minute, predictable gestures to the bio-political condition of the human body on the assembly line.
The work references many theoretical essays about capitalism, work management and industrialization. It also directly alludes to Frank and Lilian Gilbreth's use of time lapse photography to study and subsequently cut back on workers' superfluous motions. The images they created in their research are called chronocyclographs. A camera was attached to a timing device and photographs were taken of workers performing various tasks. The motion paths were traced by small lamps fastened to the worker's head, hands and fingers. With the technique, a complete work cycle could be reduced to the shortest and most efficient sequence of gestures.
The work began with a research trip in September 2011 to study the movements of production in various factories and assembly plants in Shenzhen and Guangzhou. Back in London, Cohen and Van Balen collaborated with dancer and choreographer Alexander Whitley to design the product. All the parts of the final objects were then manufactured in China and early March 2013, Cohen and Van Balen flew back to China to film the assembly/dance in Zhongshan.
Links
Recent articles
CONTRIBUTE
Feel free to contribute to Beyond Social.
There are four ways to contribute:
Create a new article. Beyond Social is written and edited by its community. Contribute to this online publishing platform with an article (text, photo-essay, video, audio and so on) about your project, theory, event or initiative in the field of Social Art & Design.
Edit this page, or any of the other ones. If there is any missing information or spelling mistakes in this article, please don't hesitate to change it. Other complementing work, such as including media files (images/video's/audio) is also very much appreciated.
Talk
with the contributers and others by taking part in one of the discussions on the TALK-page of an article. These pages are the semi-hidden backside of articles, hence ideal for discussions about an article without changing the initial text.
PROPOSE a new editorial. Beyond Social invites guest editor(s) to emphasize a certain issue, topic or theme. Guest editors write an editorial, invite others to create articles by an open call and/or add existing articles.