Minimalism
From Beyond Social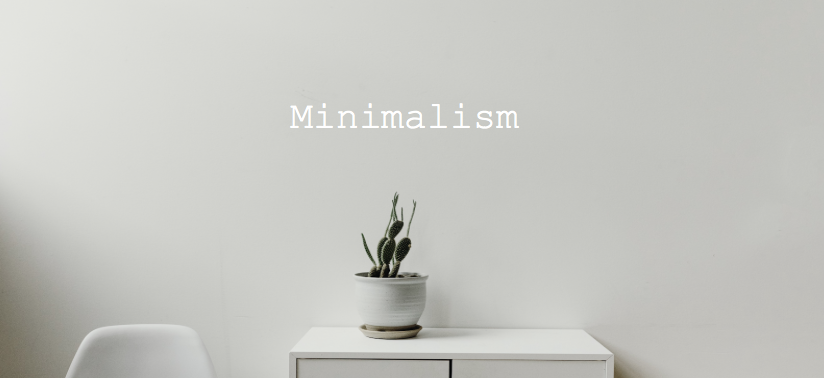 New Earth
The word minimalism started as an art movement in the late 1950's and developed and flourished in the 60-70's in relation to conceptual art. The definition of the word comes in three parts. -A movement in art, sculpture and painting in the 1950's which was characterized by the use of simple, massive forms. -Avant-garde movement in music which consisted of repetition of short phrases which change gradually, producing a hypnotic effect. -Deliberate lack of decoration in style or design.
Today the word 'minimalism' is more focused on and associated with simple, clean living and environmentalism.
Minimalism is all about removing unnecessary things from your life which will lead you to a life with more time, money and freedom to live a more meaningful life. The vision is living with the things you need and nothing more. To achieve that people live by the rule of recycle, reduce and reuse. Minimalism is a tool that can assist you in finding freedom from the consumer culture that western society lives by. Even though everyone embraces minimalism differently, each path leads to the same place: more freedom to live a more meaningful life.
This goes hand in hand with sustainability and living in a sustainable world.
In an ideally sustainable world, 3 main conditions would exist. Ecological integrity would be maintained, all of the earth's environmental systems are kept in balance while natural resources within them are consumed by humans at a rate where they are able to replenish themselves. Human commodities across the globe are able to maintain their independence and have access to the resources that they require, financial and other, to meet their needs. Economic systems are intact and activities are available to everyone, such as secure sources of livelihood. Universal human rights and basic necessities are attainable by all people, who have access to enough resources in order to keep their families and communities healthy and secure. Healthy Communities, have just leaders who ensure personal, labour, and cultural rights are respected and all people are protected from discrimination.
There are many movements that hold similar values and are often integrated into minimalism such as tiny house living, veganism, zero-waste, capsule wardrobe, reducing food-waste and boycotting mass produced things and switching to only buying second hand. In the age of Instagram, we of course have our share of "minimalist" "Instagrammers" who provide us with minimalistic content which is carefully curated and edited to fit into the social media trend of ~minimalism~. Some of them focus on and uphold some of the values connected to minimalism as mentioned here above, others are aesthetics only.
@saarmanche Saar Manche is a painter and a photographer who shares her work and photographs of her minimalistic home.
@readtealeaves Erin Boyle shows us through her Instagram account, her slow, simple and sustainable life in a tiny apartment with her family.

Three examples of minimalism in design:
Estonian design collective that makes minimalistic tiny houses. In its early stages, one of its goals was to stop wasting energy and start reducing the energy consumption in the construction industry. Smaller living space often automatically means less energy required and leaves therefore a smaller footprint. Their slogan being "minimalist luxury living in a spaciously sustainable house". It is easily constructed and deconstructed in only 4 hours and the company's buildings are being used as homes, hotels, offices, shops, cafes, studios and community areas.
In 2014 Marie Kondo published a book about a movement where you only keep the things that spark joy in your life– challenging people to redesign their life and discard unnecessary things from their lives. In 2019 Netflix released the documentary "Tidying up with Marie Kondo" which resulted in a world wide craze in people "minimalizing" their lives and changing their lifestyles. This result of this movement was very beneficial for charities and second hand shops which got a big increase in their donations.
Luxury brands working with quality materials is nothing new. But Issey Miayke has an interesting twist on it. In 1980's he was known as one of the top minimalist fashion designers redefining gender norms through oversized silhouettes and asymmetrical cuts. Famously known for his pleating technique, the clothes are light, wrinkle proof and do not have to be dry cleaned. His concept being "design is not for philosophy but for life" .
Links
[[Category: | ]]
[[Category: | ]]
[[Category: | ]]
Recent articles
CONTRIBUTE
Feel free to contribute to Beyond Social.
There are four ways to contribute:
Create a new article. Beyond Social is written and edited by its community. Contribute to this online publishing platform with an article (text, photo-essay, video, audio and so on) about your project, theory, event or initiative in the field of Social Art & Design.
Edit this page, or any of the other ones. If there is any missing information or spelling mistakes in this article, please don't hesitate to change it. Other complementing work, such as including media files (images/video's/audio) is also very much appreciated.
Talk
with the contributers and others by taking part in one of the discussions on the TALK-page of an article. These pages are the semi-hidden backside of articles, hence ideal for discussions about an article without changing the initial text.
PROPOSE a new editorial. Beyond Social invites guest editor(s) to emphasize a certain issue, topic or theme. Guest editors write an editorial, invite others to create articles by an open call and/or add existing articles.