"Kas di Mariku"
From Beyond Social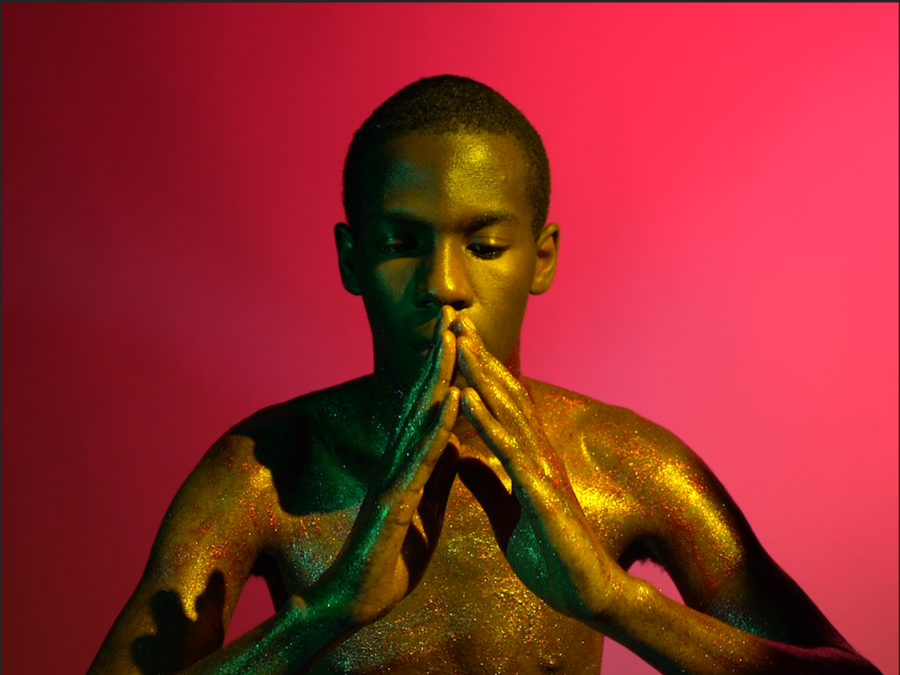 A PROCESS JOURNAL (with discarded notes)
by Jorge Coffie
I) INTRODUCTION TO THE INTRODUCTION
This is a disjointed diary of thoughts and my process. I had difficulties writing this research document because of the fear of being wrong. Writing it in this way, including preliminary notes that were later discarded, is an exercise in self-love, where I can uncover my vulnerability and authenticity by giving credence and space to what I think is not worthy of being read.
II) INTRODUCTION
I come from Curaçao, an island in the Caribbean, where I grew up in a bi-cultural household. That means I got to enjoy amazing Dominican 'mangú' and 'sòpi di kabritu' from Curaçao almost every weekend. It also meant growing up with difficulties in feeling I could be myself without having to assimilate, in order to fit in with the people around me. As I got older, I discovered my own sexual orientation as an attempt to classify it, same as I wanted to classify/pigeonhole my racial background.
Could I live life as a half-Dominican in Curacao? What side of my identity should I choose? As if I was only allowed to choose one over the other, sticking to the stereotypes of what it means to be Curaçaoan or Dominican. As the son of a Dominican and Curaçaoan, I found myself having a similar way of approaching my sexual orientation. I thought I'd have to choose between living life as a heterosexual or as a covert homosexual. Knowing very well that I thought that I would not have the courage to step up and confess my sexuality unless I'd move to another country or both my parents passed away. I began to internalize the heterosexism that was taught in my household. My self-worth began to become as absent as my sense of identity.
I've encountered many queer people of color whom share a similar story as mine. Parents usually react by feeling angry and ashamed, afraid of what others in the community are going to say and think. The church also plays a great part in what, more often than not, will be used as a backbone argument to declare queer sexuality sinful. It's also not just about the coming out part but about moving forward after coming out, about how this milestone that supposedly sets you free isn't a singular moment in your lifespan but a continuous struggle. In the view of intersectionality, there is a complex layering that makes queerness of color completely different from the white queer experience, specifically in The Netherlands.
"I think white gay people feel cheated because they were born, in principle, in a society in which they were supposed to be safe. The anomaly of their sexuality puts them in danger, unexpectedly. Their reaction seems to me in direct proportion to their sense of feeling cheated of the advantages, which accrue to white people in a white society. There's an element, it has always seemed to me, of bewilderment and complaint. Now that may sound very harsh, but the gay world as such is no more prepared to accept black people than anywhere else in society. It's a very hermetically sealed world with very unattractive features, including racism."
Go the Way Your Blood Beats (Interview with James Baldwin) Richard Goldstein Voice, 1984
"Naar mijn ervaringen met zowel witte hetero mensen als niet-hetero mensen, verwacht ik geen verschil tussen de hoeveelheid racisme. Ik verwacht wel verschil in de manier waarop racisme tot uiting komt. Er bestaat namelijk (nog) geen sterke broeder/zusterschap die queer mensen, ongeacht etnische afkomst, verbindt. De loyaliteit ligt vaak elders.
Ik zal altijd zwart zijn, voordat ik als queer word gezien. Ook binnen de homogemeenschap. De invulling van wat zwart betekent voor een niet-zwart queer persoon, heeft gevolgen voor hoe zwarte queer mensen worden behandeld."
Translation: In my experiences with both white straight people and non-heterosexual people, I do not expect a difference between the amount of racism. I do expect a difference in the way racism is expressed. There is not (yet) a strong brother / sisterhood that connects queer people, regardless of ethnic origin. Loyalty is often elsewhere.
I will always be black before I am seen as queer. Also within the gay community. The interpretation of what black means for a non-black queer person has consequences for how black queer people are treated."
Blog entry by Abdi Suleiman (January 17, 2018) Zwart en Queer in Nederland
Despite their violence, I appreciate all the intersections of oppression and exclusion that I have experienced. They have helped me to become compassionate.
I position myself as an Afro-Caribbean queer male artist in search of the queer history and lived experience of Curaçaoan people in The Netherlands. I will use the word queer in this document and in my work because of the historical weight it carries, which I will explain a little bit more later on. Also, because it's a term that recognizes male, female, non-binary and gender non-conforming and trans lives.
For us—queer Curaçaoans in the Netherlands—I believe, it's important to work on preserving, investigating, and making visible our queer past both in the once-colonized and former-colonizer landscapes.
DISCARDED NOTE: Recognizing our position within the queer community in The Netherlands, the past achievements of the stories told as part of the movement towards better representation.
III) POWER OF ORAL HISTORIES AND NARRATIVES
I was curious to find out more about the gay liberation movement that had started in late 19th century Netherlands, as it was one of the earliest points in history where the queer community collectively fought for equal rights and against (legal) discrimination. Before this process began, homosexuality was seen as sodomy and punishable by law in Europe since the 13th century.
My first step into the field research was to find queer people of color in The Netherlands who had experienced the Gay Liberation movement first hand here.
There was no documentation I could easily access or knew where to find in the places where I was looking—Jstor, libraries in Rotterdam, online via Google search. What I did find were queer or black writers from the Netherlands, but none writing about the Afro-Caribbean history and experience. It became clear to me that I had to find people of color who were here during that time and had some sort of involvement with the liberation movement. I had to meet people who were willing to share their stories with me. In other words, I had to learn (by doing) how to collect oral narratives of past events and time periods.
Oral tradition was a critical tool for preservation of stories that would otherwise be lost from one generation to another, especially in precarious, underserved, at risk, or militant communities. Two quotes from sociologist Paul Thompson in The Voice of the Past Oral History:
"Mining and fishing communities are the classic subjects of this type of work."
"Other historians have recorded life-stories with radical activists, ranging from British socialists to African Peasant Intellectuals. And in general, oral evidence can provide much missing information on the activities and attitudes of the rank and file of the parties: their reading, their social backgrounds and occupations and relationships."
In an attempt to better understand what led to the start of the liberation movement in the late 1960s, then unified under term 'gay', I read the book Pijlen van naamloze liefde: Pioniers van de homo-emancipatie (Maurice Van Lieshout and Hans Hafkamp, 1988). While it extensively discussed the process of decriminalization for homosexuality during the late 19th century, it was only a vast collection of white actors who were given recognition as 'pioneers' in the book. Patrick Reinsborough and Doyle Canning wrote in about their understanding of the use of narratives to move people by creating bonds of mutual understanding.
"Narrative power analysis is based on the recognition that the currency of story is not truth, but meaning. That is, what makes a story powerful is not necessarily facts but how the story creates meaning in the hearts and minds of the listeners."
IV) THREE INTERVIEWS
Ethnographic field notes, by chapter and in reverse chronological order
The interviews are spoken in Dutch-Papiamentu or completely in Papiamentu. These recorded conversations do not include introductions or conclusions. They are long captured moments. I chose to do this to create an intimate and trusted relationship with them.
Kapitulo Unu
Felix de Rooy (1952)
Felix de Rooy was someone I got to know through Glenn Helberg. Glenn was very proud of Felix and his achievements both here in The Netherlands and back home in Curaçao. I had arranged a meeting with him on Sunday in Amsterdam; he was the second person I was going to interview for this project. I had rented a camera, mic and tripod to set up at his home, where he was kind enough to invite me over for our talk. As walked through the doorway, he greeted me at the top of the stairs. I could barely see him in the darkness, couldn't see what he was wearing. It was unsettling. He said one word. "Come." And I did. As I walked into his apartment I immediately a feeling come over that this man was going to have a great impact on me. Before I could even start recording, he had already summarized his childhood experience on the island. And I couldn't dare to stop him as he had a way of telling his story that felt unapologetic. He was secure about himself. Even though he has won many awards—for theater work, directing and writing movies—I realized I had not heard of him while growing up in Curaçao. I must say, my family wasn't much supportive of the arts of any kind back then, so we weren't part of any "bougie" circles that knew who he was. But he was an important staple in the theater and film scene on the island.
But then, another thought came up to me. Most successful or talented queer people from Curaçao are not that visible or audible (spoken about in public). Those who are most of the times are made fun of, because they also act comically. They might also be transgender but still classified or seen as gay.
I got to know that he was very encouraged to explore the arts from an early age by his parents, who were also art enthusiasts, and with that he developed a talent for speaking his mind. I really admired how he put his experiences as a queer man from Curaçao into his work . He wrote a theater play, Marival, around understanding the playful performativity of island drag queens. One of the things that stayed with me after this conversation was how he experienced going back to Curaçao after living in The Netherlands a couple of years. He returned to teach at a high school on the island. The first day of school, he was quickly made aware of how bizarre and mariku his outfit was by the students who had watched him pass by. He recalls that he actually had worn a very 'Pirates of the Caribbean' inspired outfit, boots and all. He turned around on his pirate heels. To the group of boys who were still laughing, he said, in a very unsympathetic tone of voice, "Yes that's right, I am gay. And I know that this won't be a problem for us, will it?" This had an impact on the students. His response made it clear that he didn't really care about being outed or even about being called mariku. He was in control, not ashamed of his sexuality. He became one of the teachers students came to if they wanted to understand about not just sexuality but also things like art or the world beyond the borders of Curaçao. I left, after spending almost the whole day there, feeling like I found a piece of history that I was supposed to know but never knew existed.
Kapitulo Dos
Glenn Helberg (1955)
Psychiatrist Glenn Helberg is a well-known activist from Curaçao. He was also one very important contact person for me during this search.
Meeting with Glenn was a bit difficult because of his busy agenda. We often ended having unplanned conversations through the phone while he rushed to a meeting or sat in a train on his way to the Tropen Museum. We ultimately arranged a meeting at his apartment in Amsterdam. We had to move things along quickly as he had another appointment planned right after ours. I asked him first about how his queer/gay sexuality had impacted his life as an immigrant to the Netherlands. It was difficult for me to follow his reasoning when he answered, he had a particular way of saying things without saying too much. He was holding information back, I had to find different ways to keep asking things. But from what I understood: His relationship with his sexuality was something he preferred to keep private while young. He wanted to cultivate intellectual pursuits, become highly educated, while leaving the exploration of his sexuality in the backseat until he felt mentally prepared to unpack it.
As a teenage boy he volunteered at the LGBT* association, COC, in Utrecht. There he was able to share parts of his experience with others. As an adult (according to him), he was one of the first openly gay black men in the Netherlands that had a baby with a close queer friend. I asked him multiple times if this was verifiable information. He responded that he and his close friend were interviewed for an article in a newspaper but protected their identity for personal reasons. He had a very proud look on his face and in the ring of his voice. He explained that the Gay Liberation movement happening at the end of the 1960s did not have much impact on him because he did not experience it in a close-contact way. "My liberation was a very personal experience, it was happening within my mind and my body, not by marching down the streets." He said it was important for him to first reach the point of self-liberation before he could even think of liberation of the community. We also talked about the pressure of naming one's sexuality. He personally preferred not using any labels. I noticed that this conversation was becoming more of a critical view on the queer community instead of his personal memories and history.
He then asked, "What does it mean for a young queer Curaçaoan to live in The Netherlands?" while looking straight at me for the answer. I said I sometimes do feel that the white queer experience has been the dominant one here and that I find little sources to relate my queer identity to.
He then asked, "How can it be that the current generation doesn't know much about the previous one?" while offering the answer himself. He knew a lot of people from his generation who made trips to Curaçao, sharing the knowledge they gathered abroad with the younger generation there. He believed it was possible to transfer this knowledge as a way to create the same awareness of our rights that exists abroad. He believed that we, this current generation, could have more influence on the younger generation of queer Curaçaoans.
Secret garden parties also came up during our conversation. Apparently, they were by-invitation-only events held in in The Hague for queer people, most of them from the Caribbean. When pressed for more information, he kept holding back. Said he didn't really go to those kinds of parties because they didn't really appeal to him. Said he would bring me in contact with people who have more information on this topic.
ASTERISK NOTE: My preferred acronym is LGBTQIA+ when I'm not using the word queer but COC Netherlands still uses the LGBT version.
Kapitulo Tres
Amado (1957)
Through a neighborhood friend, about a year ago I got in contact with Amado. I quickly set up a meeting with him in Rotterdam, where he lives. Amado was born in Aruba. He was and still is very well known for his participation in various beauty pageants organized by and for queer people in the Caribbean. He moved to Curaçao in order to be closer to the friends he had made while doing pageantries. He won many of them, was treated like royalty in Aruba and Curaçao, and found himself many times in newspaper articles. At one point, he felt he had to live life as a transgender woman. He even changed his name from Amado to Amada. "It just felt like this is who I belonged to be," he said, looking at an old newspaper article with his picture on it. He had framed the clippings he could save and placed them in a display cabinet. A few years ago, he decided Amada was no longer his true self. Some people still call him Amada, though.
Amado talked mostly about his youth, about beautiful summer romances, about all the times he almost got caught in bed with other men by his father. I asked him about his experience in The Netherlands. He told me he's really sick, been sick for the last 10 years. He did not tell me exactly what was going on, but I didn't mind not knowing. Because of his sickness, he lives in a apartment building together with other elderly and ill people, many nearing the end.
I said, "You don't look that bad."
He blushed for a little while and then placed a plate of food and a bottle of beer right under my nose, yelling, "I am with God! Dios ta kumi!" He stared at me. He waited for me to take the first bite of the meal he had just prepared. I wanted to talk. He wanted me to eat and drink beer.
Amado had been helping homeless people, drug addicts, queer Caribbean teenagers who were kicked out of their homes, and people who migrated from eastern European countries. He offered them food and place to stay at his house. The people he took in were only allowed to stay for two months; otherwise, he'd get irritated. But he did his best to help them find a way to their own home. He often got threatened by his neighbors and the coordinator of the building with being kicked out for giving shelter to people that were not allowed to stay there.
"I still do it. I'll lie to them, say they're my cousin or that I'm throwing a party and these are my guests, I don't care!" It was difficult for him to say much more on the subject because right behind us, there were people sitting, his current 'guests', a man and a woman who looked Polish to me.
Before leaving, I told him that he needed to take care of his health and that I would see him again soon. I haven't seen him again. Every time we tried to meet, he would cancel because he wasn't feeling too well.
V) NINE-QUESTION AUTO-INTERVIEW
1. How difficult has it been to find sources written by people I can relate to about the experiences that I'm trying to represent?
Queer people around the world have had difficulties concerning historical and cultural presence or, at the very least, documentation of it. In The Netherlands, the queer community as a whole had only started to work on their visibility in the late 19th century. It was challenging to find sources in the form of documents of people from Curaçao. It was important for me to find material from sources I could relate to. In the time I had available during this half year, I was able to find a few books and essays by scholars and authors who had researched the experience of queer people of color in The Netherlands. But none could I find that were specifically about people from Curaçao—or any other island with a Dutch colonial past. I did not see it as failure but as testament to what I already suspected about our (in)visibility and (mis)representation within The Netherlands. I did however get a chance to read what I felt were sources similar to what I was looking for. They were about Surinamese and Moroccan communities (Verboden liefde: Familie en homoseksualiteit in de Surinaamse gemeenschap by Sandew Hira, Gewurgd door taboes: Veranderingen in de acceptatie van homoseksualiteit onder Surinaams Hindustanen in Nederland by Anita C. Nanhoe and Jurriaan Omlo) and black queer men in the United Kingdom (Black and Gay in the UK - An Anthology by John R. Gordon and Rikki Beadle-Blair). They were able to give me some insight into the experience of the queer community in relation to colonialist countries. I still felt like I was left with an exposed gap that needed filling with Curaçaoan queerness, people that are living or had lived in the Netherlands when they were young adults. This might mean they had more freedom to live and explore their sexuality than when they were still underage, not negating that they might have had this experience during their younger years in Curaçao as well.
DISCARDED NOTE: Why aren't these stories told? How can we protect our Caribbean queer cultural heritage? Where does it belong?
For me to do this work of filling, I had to come in contact with a larger network through organizations like The Black Archives, Vereniging Ons Suriname, and the newly created LGBTQIA+ peer-coaching group at the Hogeschool Rotterdam. I would visit these places in search of any documents, books, or films that they could have saved, while using this opportunity to have one-on-one conversations with the people working there. I told them about my search effort and why it is of value for me and for better representation of the community. They responded by introducing me to people they thought would help me move forward in my project.

2. Who is the ideal audience for this work?
The ideal audience for my work, first of all,* would have to be the locals of Curaçao and the diaspora here in The Netherlands. I wasn't looking to find people of color from Curaçao exclusively. Like I've stated before, I am well aware that when speaking of people of color living in the Netherlands, I am referring to a larger African diaspora.
ASTERISK NOTE: During my teenage years in highschool we were taught to use ter eerste, ten tweede, (first of all, second of all), etc… in order to give our Dutch essays more credibility and an official, important feel. We would have to use these techniques to show we were knowledgeable in Dutch. If you knew how to say these words, you were perceived as knowing how to speak Dutch.
DISCARDED NOTE: How intelligible do I want to be for those who are not able to see my surroundings the way I see it, the way I live it?

3. Is it possible or advisable to transfer lived experiences/embodied wisdom from the diaspora to the homeland without translation?
We not only have to look at better the representation of the queer diaspora of Curaçao in The Netherlands but also find critically the best way to translate this to the locals on the homeland. The lived experiences/embodied wisdom from the diaspora should never be literally relocated and placed in the context of Curaçao, but used as a way to have a dialogue with, first the queer community of the island to see where there is possibility to grow in their own experiences and what they believe is important for them to have as part of the community of Curaçao. Then it's also of importance that they can have these kinds of dialogues with the rest of the community. These events would be necessary in order to talk about the bigger issues embedded within the culture that are not always made available to discuss because it's been made easier to blame all things wrong to the seemingly weakest or seen sinful according to religious system that holds the cultural values in place. Belle Hooks stated in her essay 'Understanding Patriarchy':
"Psychotherapist John Bradshaw's clear-sighted definition of patriarchy in Creating Love is a useful one: 'The dictionary defines 'patriarchy' as a 'social organization marked
by the supremacy of the father in the clan or family in both domestic and religious functions'." Patriarchy is characterized by male domination and power. He states further that 'patriarchal rules still govern most of the world's religious, school systems, and family systems.' Describing the most damaging of these rules, Bradshaw lists 'blind obedience—the foundation upon which patriarchy stands; the repression of all emotions except fear; the destruction of individual willpower; and the repression of thinking whenever it departs from the authority figure's way of thinking.' Patriarchal thinking shapes the values of our culture. We are socialized into this system, females as well as males. Most of us learned patriarchal attitudes in our family of origin, and they were usually taught to us by our mothers. These attitudes were reinforced in schools and religious institutions."
This can be related to my work in the way that this social organization plays a very important role in the cultural archive and with that the consciousness of the inhabitants of Curaçao. There's this chauvinistic idea that preserves dominance and excludes any seemingly weak characteristics to the male person. A group of researchers of the Western Carolina University in the US suggest that men who use sexist and anti-gay humour do so to reaffirm their own sense of self, particularly when they feel their masculinity is being threatened. Study author Emma O'Connor explained:

"Men higher in precarious manhood beliefs expressed amusement with sexist and anti-gay humour in response to a masculinity threat because they believe it reaffirms an accurate, more masculine impression of them. It appears that by showing amusement with sexist and anti-gay humour, such men can distance themselves from the traits they want to disconfirm,"
Restoring Threatened Masculinity: The Appeal of Sexist and Anti-Gay Humor

This experiment was conducted on 166 heterosexual men and limited to residents of the United States. There were 110 (66%) Whites, 19 (11%) African-Americans, 11 (7%) Hispanics, 20 (12%) Asians, 3 (2%) Native American and 3 (2%) people who self-identified as other. This could serve an indication of in the diaspora here in The Netherlands. Which is why this work is necessary in order to share what the lived experiences are of the queer people of Curaçao.
DISCARDED NOTE: I often felt like I still had to assimilate to what would be accepted even though I was now in a country where it was allowed. Assimilation in order to not feel ashamed because a majority of the community here, either descendant of or have migrated from the Caribbean, would still judge our sexuality and judge it as something we should be ashamed of.

4. Some of the people that I interviewed expressed how they wanted to transfer their experience of acceptance here in The Netherlands back home to the Caribbean, is that what I want to do now?
Some of the people that I interviewed spoke about when they were younger and went back to the island. They tried to transfer the experience of acceptance that they had achieved to a certain extent here in The Netherlands. They created a small zine called Bolletin in cooperation with Grupo Homofilia Antiyano. Their intentions:
"om voorlichting te geven en een bijdrage te leveren aan een open samenleving door taboes bespreekbaar te maken."
Dolly Bellefleur

Translation: 'to provide information and to contribute to an open society by making taboos open to discussion.'
This is not necessarily what I want to achieve with my work. Transfer is different from translate. Taboos are interwoven within the existing culture in each place. What works in one side doesn't necessarily work in another. Either way, I see this work as the first step to a long process of understanding, self-discovery and making space for dialogues between queer Curaçaoans and also the non-queer community in Curaçao and The Netherlands.

5. Why did I choose to present my work as a performance?
I have recently reconnected myself with the power of the performance. I find it extremely interesting how it can be used as a device to translate narratives.
There's a reason why people of color find the medium of performance a powerful way to show hidden/subliminal feelings, in ways that words on paper alone cannot do. It's a shared cultural understanding (or myth) of the people from Curaçao that we express ourselves through performance. A large part of the culture is to celebrate the heritage. This is visible for example during Carnival and the Seu season.
There are two parts to the performance. One version has been previously recorded and will be displayed on four old school television sets. These four TVs will be placed on stools and will stand on both sides of where the performer will be placed live during the final exam and the graduation show.
The performance for Kas di mariku is about the youngest generation of queer Curaçaoans, both locals and diaspora, who are told the stories of our queer predecessors. While hearing about these experiences, the performer will tenderly begin covering himself with glitter. He first begins with his arms and continues to his upper body. Every new part of his body he reaches is making him realize how, the more stories he's exposed to, the more visible he becomes. Each story makes him feel a different part of what it means to explore his queer sexual identity. At times, he feels completely in tune with his masculinity while at the same time curiously exploring the realm of femininity and all that lies between these two binaries. There's still visible hold-back in his experience, he has to advance every step with caution because what lies ahead is still somewhat uncertain and unknown.
As time passes by and the stories keep coming in, he starts to mouth the same words of the stories that are being told. These stories are rooting themselves into his consciousness; creating connections with his own personal experiences he previously was unaware of there existence.
In the end, the performer will be completely covered in glitter, giving him a second layer of visibility. This new visibility was created with the help of past stories but placed by his conscious ability.
DISCARDED NOTE: It was visible while talking to the elders that there were hesitant with how much of their personal stories they were willing to share. Exchange of personal memories allowed for the fear to dissolve.
6. Do I think it's possible for the queer community to reclaim the word 'mariku'?
Saying the word mariku leaves a bitter taste in my mouth. And every time I hear it being said out loud in my vicinity I sometimes have an immediate response and start nervously looking around for who had fired this bullet out into the open like tha. Mariku is still predominantly used as a homophobic slur, the equivalent of the word faggot in English or mietje in Dutch. To understand the word mariku and the weight it carries, it is important to understand where it actually came from. The word itself has its roots set in the Spanish language. On the blog El Observatorio GLTB under the post 'Etimología de "Maricón"' translation: Etymology of "Maricón"
"En ese origen, "Maria", está el origen de la asociación de "marica" con lo femenino. Pero el desprecio proviene de la descripción asociada a la palabra que es "varón que se comporta como una mujer", o "varón que ha abandonado su conducta social masculina para comportarse como una mujer".
La connotación de desprecio encuentra su fuente en que una persona nacida varón haya adoptado comportamientos no del sexo opuesto, sino del sexo inferior. El problema se encuadra claramente en la perspectiva de género: lo masculino es considerado superior; lo femenino es considerado inferior. El marica es despreciado porque siendo Mario, se porta como María: porque , teniendo el derecho de nacimiento a ser superior, decide parecerse a lo inferior. Por ello se los sindica como despreciables e incluso moralmente culpable."
Translation: "In that origin, 'Maria', is the origin of the association of 'marica' with the feminine. But contempt comes from the description associated with the word that is 'a man who behaves like a woman,' or 'a man who has abandoned his male performativity social behavior to behave like a woman.'
The connotation of contempt finds its source in that a person born male has adopted behaviors not of the opposite sex, but of the inferior sex. The problem is clearly framed in the gender perspective: the masculine is considered superior; the feminine is considered inferior. The sissy is despised because, being Mario, he behaves like María: because, having the right to be superior, he decides to resemble the inferior. That is why they are syndicated as despicable and even morally guilty."
I, same as many others queers that have lived our lives speaking Papiamentu, have learned that a few words like this one could make you feel unsafe and insecure in an instant or defensive in an attempt to secure one's macho cover-up. Recently, the word has been through some changes in cultural meaning where calling someone mariku is not necessarily exposing or conforming the queer sexuality of its receiver but more or less a term of endearment that friends, both cisgender and queer, use to call each other out for not being direct, for copping out.
It definitely did not erase the context of being effeminate or weak or something a heterosexual Curaçaoan man wouldn't want to be defined as. I've seen it happen before when communities are able to reclaim words that are demeaning or hurtful and make others realize the impact it has on the person being called that word.
Yusuf Tamanna (June 19 2018) stated in the think piece "When did we start referring to ourselves as queer?" on i-D:
"Its reclamation began in the 1960s. In America, the gay rights movement had begun. Many of its activists identified as queer in an act of defiance and resilience to police brutality."
In 1990 when Queer Nation—an LGBTQIA+ organization founded by AIDS activists— was born in New York, they released pamphlet during the pride that year called Queers Read This, which created the initiative to reclaim the word queer. It challenged: "Well, yes, 'gay' is great. It has its place. But when a lot of lesbians and gay men wake up in the morning we feel angry and disgusted, not gay. So we've chosen to call ourselves queer. Using 'queer' is a way of reminding us how we are perceived by the rest of the world. It's a way of telling ourselves we don't have to be witty and charming people who keep our lives discreet and marginalised in the straight world. We use queer as gay men loving lesbians and lesbians loving being queer. Queer, unlike GAY, doesn't mean MALE."
I am aware that in this particular case were are dealing with a different set of cultural rules, social constructs and ways that the community can excuse most of the horrible things that happen to us and turn it into comedy, making fun of something we actually all know is hurtful. But before we get to the point where the queer community that speaks Papiamentu is able to reclaim the word mariku, there are certain things that would have to happen. One of them is to understand the leading role that patriarchal masculinity that plays in the culture of Curaçao.
DISCARDED NOTE: I get a weird feeling every time I start to tell someone about my personal life. I am not ashamed of being queer person of color or for being a queer parent, I just cringe every time someone says something like, 'Well, I don't know any Curaçaoan gay couple here in The Netherlands that have foster kids, do you?'

7. How important is it to me that the rest of the audience (non-Afro-Caribbean/Curaçaoans) fully understand my work?
I don't believe that by making the work completely understandable for everyone else that is not from Curaçao is of importance. There is power in knowing that I can direct it towards those who I know can understand it. As an artist of the diaspora,I'd like to make visible things that for many years were difficult to understand, and still are because there was little to no space for it to be explored, brought to the eyes of those that had needed most to see it. I'm afraid that, in my effort of making it clear for the audience of this exhibition at WdKA, I might lose the connection to those whom the work is actually for.

8. Where do I think is the ideal natural habitat for this work in terms of exhibition space?
This work would fit best if it were placed in an environment where it would more directly reach the Curaçaoan diaspora with a heteronormative view on sexuality. I've thought of a few possible places where they would come together like at the barbershops, toko's, and Caribbean restaurants. Also, during events where we celebrate our cultural background like for example the Summer Carnival. It could serve as an opportunity where time and space would be safely and carefully created for dialogues about the queer community. I want to go beyond the idea of you can be mariku if you want as long as you don't bring that near me.
"Bo por ta mariku si bo ke, biba bo bida, pero basta bo no bini akibandanan mes."
It might be seen at first as if I am trying to produce a bad response, like poking the bear—or in this case the heterosexual black man, even woman. But creating this confrontation it would affirm that homosexuality is still something the cis-community does not want to embrace. Bringing this forward would perhaps be the first step in allowing a process of change. What is seen can be addressed.

9. If the ideal audience is not the audience seeing this exhibition, does this work still have value?
Considering the time, resources and connections I have available at the moment, while I'm graduating I've decided that I would much rather focus temporarily on the placement of this work in the graduation show at the WdKA. I'm aware that the audience this work is actually for would not be the audience attending the graduation show. But even in this case, this work is also of relevance for those who are not part of the Afro-Caribbean queer community. I want to broaden the perspective of the queer discourse, which here in The Netherlands is dominated by the white queer narrative. It is of even more relevance for those who are part of the queer community here to see the same issues from another lens with its own experiences and discourse.
VI) CONCLUSION
Reflecting upon my experience the last couple of months, I can recall how I initially sought out to produce evidence of Curaçaoan queer participation in the face of historical and cultural absence here in The Netherlands.
The lack of documentation on the non-white queer Dutch community from the early beginnings of the Gay Liberation movement have reasons as simple as "meetings were not advertised" or "there was no organization besides the COC Netherlands who was producing culture." The lack of primary and secondary sources also made the search for these poorly visible actors, keepers of important oral narratives, even more difficult.
With the people and the stories that I was able to find I want to create a better understanding for the queer generation of our collective past. We have now moved forward in terms of visibility and equal rights, compared to the 60s and 70s when Felix de Rooy, Glenn Helberg and Amado were exploring their own liberation within their limitations in The Netherlands. Understanding and acceptance remain two very important points for me to strive towards if we want to broaden perspective of the white queer and cisgender community here.
With my work, I'd like to start the dialogue with others of the queer Curaçaoan community to discuss the use of the word mariku. We could understand why certain things should change and why certain things remain the same in our social behavior. Words like mariku that only serve to divide us even more into unequal power structures.
VII) CONCLUSION TO MY CONCLUSION
It should've been exhibited in a barbershop
Looking critically back at the results so far, there are a few things that I would've liked to do differently. Six months ago, I was moving in a (familiar) landscape that was almost unknown to me. It's clear now that I need to dig deeper for theoretical knowledge that would help me unravel or/and continue building on these intricate Curaçaoan queer life stories.
This is a project I intend to continue working on. I have met a few people in the time that was available, but I know that this process takes much more time in a much bigger scale, tackling a variety of different subjects. For now, this is the first stepping-stone to continue moving further after graduation.
As I've said before, the natural habitat for my work is in a Curaçaoan Barbershop. It is in this space that it would be tested against the cultural norms of the Curaçao straight male. This experience would be documented and make room for dialogue.
DISCARDED NOTE: Fear of stepping out of what is known. Fear of shame. Fear of rejection
Links
Recent articles
CONTRIBUTE
Feel free to contribute to Beyond Social.
There are four ways to contribute:
Create a new article. Beyond Social is written and edited by its community. Contribute to this online publishing platform with an article (text, photo-essay, video, audio and so on) about your project, theory, event or initiative in the field of Social Art & Design.
Edit this page, or any of the other ones. If there is any missing information or spelling mistakes in this article, please don't hesitate to change it. Other complementing work, such as including media files (images/video's/audio) is also very much appreciated.
Talk
with the contributers and others by taking part in one of the discussions on the TALK-page of an article. These pages are the semi-hidden backside of articles, hence ideal for discussions about an article without changing the initial text.
PROPOSE a new editorial. Beyond Social invites guest editor(s) to emphasize a certain issue, topic or theme. Guest editors write an editorial, invite others to create articles by an open call and/or add existing articles.