"The journey"
From Beyond Social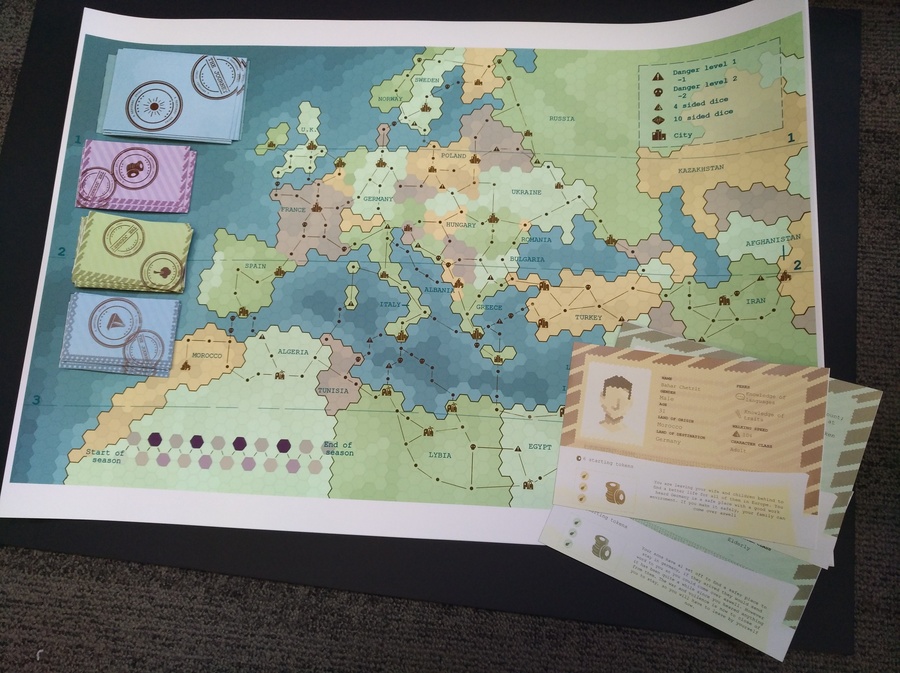 The wikipage input value is empty (e.g. SomeProperty::, [[]]) and therefore it cannot be used as a name or as part of a query condition.
a refugees' story
Hello, I am Amy Marks, a social game designer. In the board game I made, you are placed in the position of refugee and are about to embark on a journey towards safety in Europe. Sometimes the journey may seem unfair but, sadly, that is how things go in real life.
Everything you are about to encounter in this game is based on true stories and events. All the situations, all the statistics and all the characters are based on the research I have done.
I have worked together with external partners that have helped me with developing the game.
I made this board game to show that I can use games to make difficult subjects easier to digest and discuss. This board game works best in combination with Educational programs that are offered at high school 5th or 6th years by Organizations like "Vluchtelingen werk Nederland"
With this project I make a difficult subject more accessible and profile myself as a social game designer. Which is what I would like to do in the future.
If you would like to lern more, please come and take a look at the graduation exhibition.
Links
Recent articles
CONTRIBUTE
Feel free to contribute to Beyond Social.
There are four ways to contribute:
Create a new article. Beyond Social is written and edited by its community. Contribute to this online publishing platform with an article (text, photo-essay, video, audio and so on) about your project, theory, event or initiative in the field of Social Art & Design.
Edit this page, or any of the other ones. If there is any missing information or spelling mistakes in this article, please don't hesitate to change it. Other complementing work, such as including media files (images/video's/audio) is also very much appreciated.
Talk
with the contributers and others by taking part in one of the discussions on the TALK-page of an article. These pages are the semi-hidden backside of articles, hence ideal for discussions about an article without changing the initial text.
PROPOSE a new editorial. Beyond Social invites guest editor(s) to emphasize a certain issue, topic or theme. Guest editors write an editorial, invite others to create articles by an open call and/or add existing articles.