Eiland van Brienenoord
From Beyond Social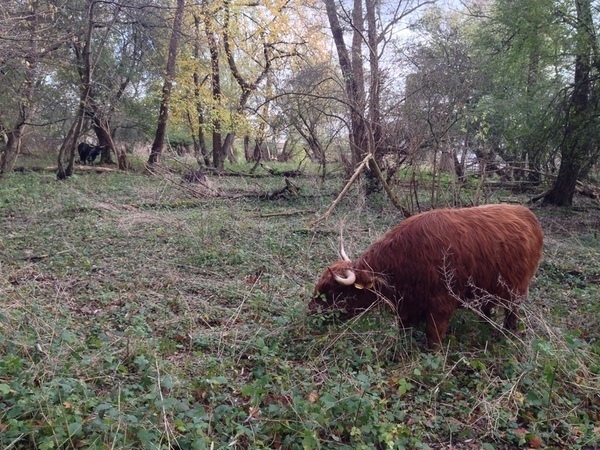 Just a few minutes outside the concrete jungle of Rotterdam Zuid, there's still a tiny piece of green situated beneath 'de van Brienenoord brug' on the Nieuwe Maas River. Most of the island is still untouched nature. To maintain a little human control, there are a few Schotse Hooglanders (Scottish Highland cows) placed on the island to graze.
Authors: Wessel van den Berge, Lou Muuse, Gabriëlla Meijer, Kai Chung, Dennis Wuisman and Carli Schenkeveld
A public 'free haven' for the civic economy?
Underneath one of the biggest bridges across the River Maas, a beautiful island houses wild nature, garden allotments and a former youth club house: 'De Arend en de Zeemeeuw'. De Makers van Rotterdam and Sandersgeluk current manage this clubhouse. They plan to use the location as a work space, but more importantly as a public 'free haven' with tremendous potential: a place where the powers of social and cultural imagination are brought together. During the Willem de Kooning Academy's Redesigning Business Event (November 2014), this idea of a free haven for 'makers', 'thinkers', 'doers' and 'dreamers' was further explored during a five day long masterclass on the Eiland van Brienenoord itself.
Eiland van Brienenoord was created in the 19th century, when sludge plates where formed in the Nieuwe Maas. These plates grew and became attached to each other and started to be overgrown with reeds and bushes. Over time a wide variety of plants, trees, flowers and bushes grew, which eventually made the island highly suitable as a home for birds, butterflies and insects. Together the plants & animals sustain a little ecosystem on the island which is still largely intact. All of this, from the sudden emergence of an island and it eventually harbouring a lovely piece of untouched nature, make Eiland van Brienenoord a pretty unique spot in an ever growing city like Rotterdam. In the course of the 20th century, part of the island was reserved for allotments to give the residents of Rotterdam enjoyable gardens. This is fitting for a city where 68% of the housing consists of apartments.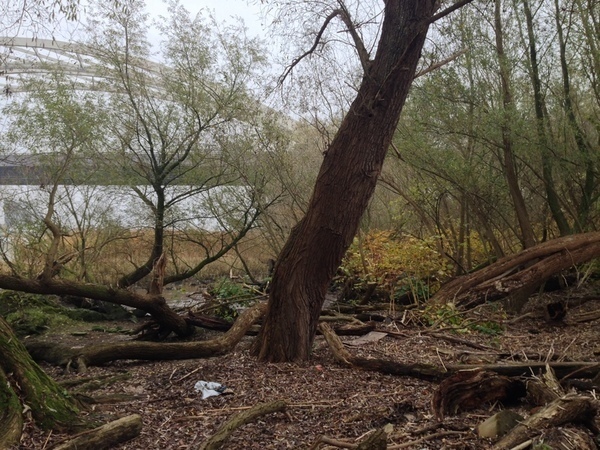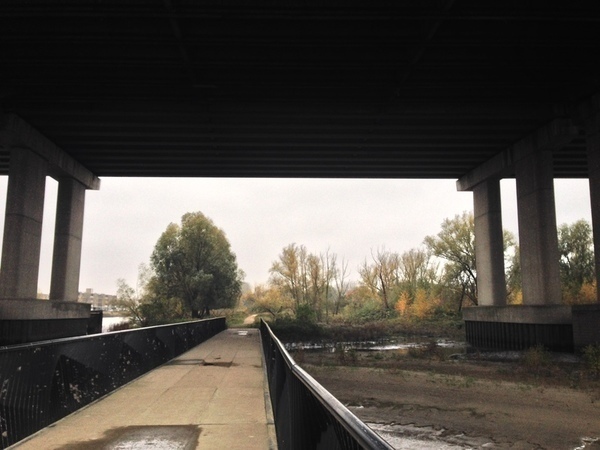 Maurice Specht, one of the founders of De Makers van Rotterdam, sees Eiland van Brienenoord as the perfect place to withdraw from the harsh, noisy and rapid city life. Isolated from what is going on in downtown Rotterdam, the island is really tranquil. A true oasis of peace where you can enjoy birds whistling and the smell of fresh air. That said, you can still see the Kop van Zuid's skyline & hear the traffic passing over the Van Brienenoord Bridge in the background. But the daily city life is left behind on the other side of the island's drawbridge. It seems an ideal place to talk, reflect and debate modern day society, given that it is almost the opposite environment from where you see the city from another perspective. Maurice asked the participants of the masterclass to come up with innovative ways to make this island useful in this debate, without damaging the grounds and changing it radically. To turn it into a haven for creative, social and business entrepreneurs and everyone else who has input to the concept. He set some guidelines including two key principles: one, there should be room for doubt & two, it should 'tot de verbeelding spreken' (be visually appealing).
Facilitating the emerging civic economy in Rotterdam
Many cities are increasingly witnessing the emergence of new forms of ownership: the consumer society is turning into a civic economy. In recent years in Rotterdam, a number of social initiatives and subsidy-free enterprises have been founded such as Hotspot Hutspot, Leeszaal Rotterdam West and Sweatshop Deluxe. Neighbourhood initiatives like Zorgvrijstaat Rotterdam West, strive for more autonomy from citizens. They want to make people aware, stimulate them and guide them to create networks to solve their own problems. Their focus is on solving social issues through social, cultural and artistic interventions. Wouldn't it be nice if these initiatives could take some distance from their field of work, live in a different environment with different disciplines in order to reflect, gain new insights and develop their competences every once in a while?
Both De Makers van Rotterdam as well as Sanders Geluk intend to facilitate this process on Eiland van Brienenoord. The mission of De Makers van Rotterdam is to identify and strengthen social entrepreneurship in Rotterdam, and to stimulate discussion on the subject. The team consists of a philosopher, a public administrator and a cultural programmer. Makerscollectief Sandersgeluk puts together social projects in the broadest sense of the term, and consists of a theatre producer, a visual artist and the same cultural programmer mentioned above.
The Year of Doubt
The masterclass participants, coming from different educational institutes in Rotterdam, proposed 'doubt' as the central theme for the development of the island. The reason for this is that there seems to be no room for doubt in our society: you're expected to make convincing decisions. And if you don't, you're considered weak. Think about how we judge politicians, scientists and business people. A lot of contemporary companies and organisations try to solve problems by using old methods. Wouldn't it be nice if they would just admit that they can't solve some problems? If there's more room for doubt, for "not-knowing" there's room for creativity, coming from all kinds of disciplines. New collaborations could arise that could to search for new methods to tackle these obstacles. A doubt oriented development would consist of different steps. The first steps take place in the first year, the Year of the Doubt. There are three steps in this year.
Step 1: Urban Myth, a Pull Strategy
We want to reach a broad target group comprising business people, creatives, politicians, craftsmen and scientists. Our goal is to get these people together on the island to share their knowledge with each other using doubt as a means. Using the mystery and unfamiliarity of the island, we propose to create a hype. By creating an urban myth, we want to make people curious and allow them to give their own interpretation of what's going on. We will issue three press releases. The first one's about new valuable material being found on the island, which metaphorically refers to discovering the value of doubt. The next two will be about activity and discovery, and will make the mystery more convincing and therefore make readers even more curious.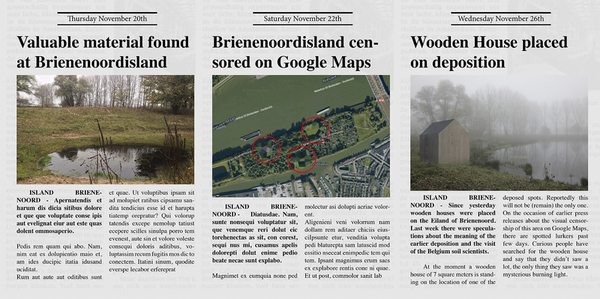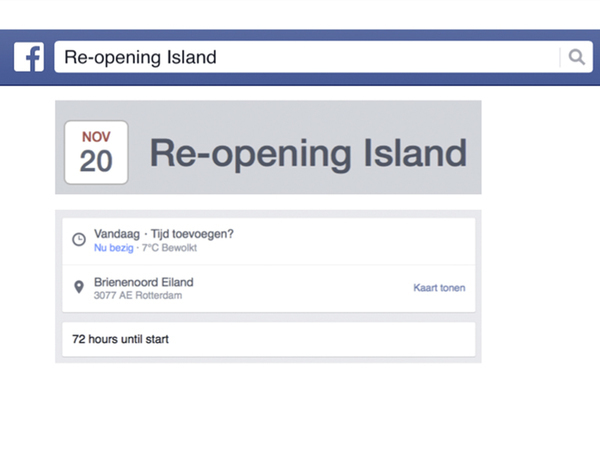 Step 2: The Game, a Kick-off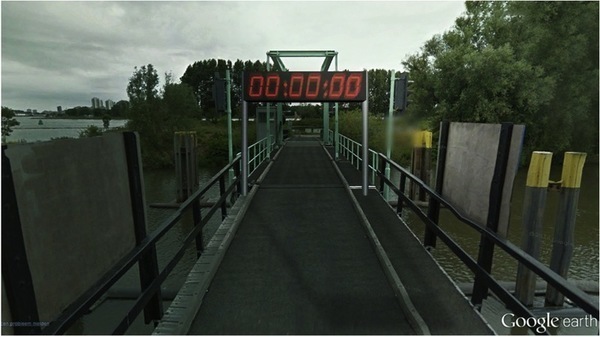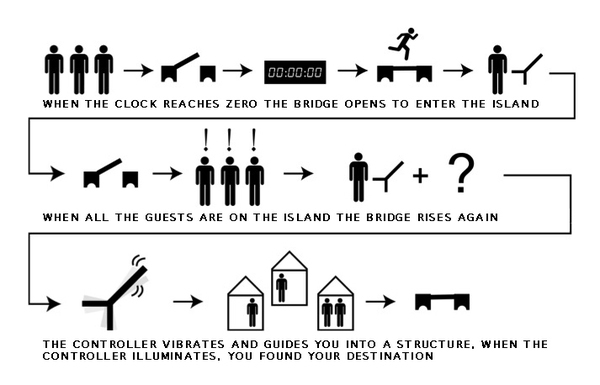 At the beginning each participant will get a controller. The controller will ask several questions about the island. Once all these questions have been answered, the controller will lead you to a place on the island by using vibrations. When the controller lights up, you've reached your goal. Here you will meet other participants. Different structures built on the island act as metaphors for different kinds of doubts and serve to kick-off the next phase. They are physical dynamic structures that change form to accommodate different kinds of doubt.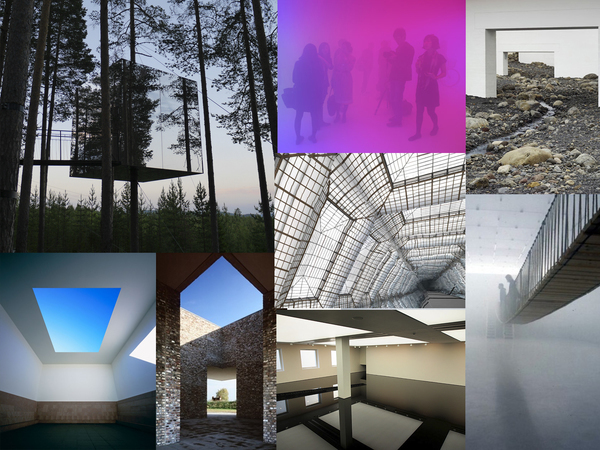 Step 3: Programming essential themes
During this year of doubt, we will look at doubts that we think are or should be important.
Economy
Bankers having no doubts about themselves nor doubting each other partly caused our society to shake to its foundations. This is one big example why triggering doubt within economics isn't such a bad idea. Guided by economic experts we question modern day economics. To do so, there will be various activities like games (LARP) that will make us empathise with different social/economic roles, help us gain insights in economic systems and make us think of new economic possibilities that we as citizens can achieve. Themes could be: value, sharing, scarcity and income inequality.
Ecology
The Van Brienenoord Eiland's nature might be beautiful, but it's also very much disturbed by the city's industry. The ground looks greyish, the ponds have minimal current, the flora isn't very vital and you can see its soil is polluted because of the many blackberry bushes trying to heal it. There's no doubt our society has environmental issues. Are there things we can learn from the island's nature that can help us gain insight in our urban ecology and help us improve it? Guided by Van Brienenoord Eiland's very own forest ranger and various ecologists and landscape architects, we will question our urban ecology. An excursion through the island's nature will include demonstrations and lectures on how our consumerist behaviour relates to the deterioration of our planet's ecology, followed by an open debate about how we as citizens can change this.
Relations
When you think about doubt in relation to relationships, you probably think there's something wrong. But because of its reflective function, doubt can be very powerful within this context. In order for relationships to grow and strengthen, you will very much need it. Expressing your doubts within any kind of relationship can be hard; it can result in very emotional situations. Can accepting doubt make expressing and receiving doubts more bearable? Guided by psychologists and anthropologists we will rethink relationships. By holding contests between teams, putting these teams through heavy emotional and physical situations, we will test and gain insights on what it takes to have a sustainable relationship.
Science
There's been a lot of scientific research by different scientists on similar subjects with different outcomes. This makes us non-scientists who expect science to be The Truth doubt if it is so. Is this expectation always realistic? There's no doubt scientists strive for certainty and answers, but the road towards it must be full of doubt. We think scientists and non-scientists should get together and doubt about what science is and what to expect from it. In order to do this, we will switch roles by performing each other's science-based activities. This will make scientists and non-scientists empathise with each other. This will be followed by a discussion on how each group experienced the exercise.
Business Model
In order to develop towards an autonomous think, make and work place for and about the future of the city we need a business plan.
The masterclass came up with the following ideas to act as guidelines for this business plan for the future.
Extreme cost-reduction: no alarm, no insurance, no electricity etc.
No dependency on external funders for the operations budget. We can make profit from renting the location to external parties.
A limited number of people to run the office.
'Artist/writer/thinker in residence' programme: in exchange for rent these people can work/live on the island.
Cultural subsidies and/or funding to be sought for the cultural and substantive programme.
Develop our own products to generate a modest amount of money.
Act as a breeding place for new civic entrepreneurs; start-ups have a lasting investment in the island.
Summer weekends with catering.
Doubters inc. was formed during The masterclass The Civic Economy during the Redesigning Business Week organised by the WdKA, Rotterdam, and came together at Eiland van Brienenoord in november 2014.
Doubters inc. consist of the following participants:
Carli Schenkeveld (lifestyle)
Otske Pennin (spatial design)
Gabriëlla Meijer (fine art)
Kai Chung Ip
Lou Muuse (lifestyle)
Maurice Specht (developer & clubhouse owner)
Wessel van den Berge(graphic design)
Dennis Wuisman (graphic design)
Maarten van Blokland (TU)
Liza Koch (lifestyle)
Natascha Goed (product design)
Miek Walda (entrepreneur)
Hanako Lodder (esoteric feng shui expert)
The masterclass was hosted and guided by Isaac Monté (Sweatshop Deluxe) and Maurice Specht (De Makers van Rotterdam) and organised and guided by Jessica Bergmann (Pink Pony Express).
Location: Clubhouse "De Arend en de Zeemeeuw", Eiland Van Brienenoord 5 (Van Brienenoord Island), Rotterdam.
Personal Doubt Appendix
I doubt that ...
"At the moment I'm doubting my graduation internship. My interest is in acoustics, but I am also interested in architecture and sustainability. A combination of these would be awesome, but I haven't found an internship that contains these three interests. And if I don't, then which one will I be able to most excel in? Which interest fits what partner and supervisor? Will this result in a new experience? Or will it be the same path I've already gone down a thousand times? I just don't know yet."
I doubt that ...
"The doubt of whether you make intuitive or rational decisions. Society teaches us to make rational ones, some of which are even expected of us. Because of this we become more disconnected from our feelings, which is bad because in my case most of my best choices come from the heart. I doubt about whether I should listen to my heart, my first thought, my feeling or my intuition. Or should I make rational choices with the knowledge I have. For me this is a choice between security and happiness."
I doubt that ...
"In the past I doubted about everything, which made me very vulnerable, insecure and frustrated. It made me indecisive, which I was very aware of as a child. This made me sad. In my teenage years things were a little less hard, because I knew a little more about what I wanted in life. I couldn't explain it though, but at least I was making decisions following my intuition. Since I got to know myself better, a lot of my daily life doubts slowly disappeared.
The only thing is that the doubts that do remain are a lot deeper. I question why we're so harsh to one another in this society and I doubt that it is humane. Doubts about the status-quo, massive corporations, the economy, politics, the food industry, the fast-fashion industry, the medical industry, banks, housing associations, and so on.
These organisations are too big for me to understand; they're not transparent and therefore don't trust them. I doubt that they are sustainable; I doubt that they are social. I doubt if they can continue this big or that we should continue on a more humane scale. New collectives built on trust, love and sharing should emerge, so that we can continue with less doubt about things that are too big to understand."
I doubt that ...
"When I'm done studying, I'll travel the world. There are so many places I wish to see and so many adventures I want to have. Should I go alone? Or should I find a travel companion? I don't know if I'm that good at being alone.
I would love to do some voluntary work in order to help people in need, but after reading the news I doubt if these people will benefit from it."
I doubt that ...
"Doubt is a lack of trust! Trust is something you can build, therefore the lack of trust can be conquered. Trust in yourself! Trust in someone else! Trust in love! What I would love to have is 100% trust in everything. That I never have to doubt again. But therefore I trust to doubt."
I doubt that ...
"The biggest doubt I have at the moment is a very important one for my future. It's a doubt between choices... What to do after school? Do you want to choose your passion, the unknown, where you enter the intangible? Or do you want to choose more security, the more concrete future, but at the same time fewer opportunities. It's a doubt between choices where you think you know the future but where you certainly don't know the future. You have the easy money, but not the fun, or you have to work harder, take more risks and wait longer for the same result (in this case money). The thing is that nothing is wrong, there are more answers and there surely will always be more questions to doubt about."
I doubt that ...
"For me, my designership through the years has been and will always be full of doubt. It's all about making decisions and if you would know everything, then there would be nothing new to learn. So when I'm working on a project and I have doubts, it simply means there's things I don't know yet. A moment that I find very exciting is the moment that I am going to learn something new. This can be knowledge, skills or often a new visual input that is inspiring. Most of the time I solve this myself by doing research, but sometimes it helps to speak to someone who I trust and who I think is able to make my doubts disappear. In the past, teachers, fellow student/designers and supervisors have been the ones for me.
I never felt that there wasn't any room for my doubts. The Academy and my internship have always been very supportive in that respect. This is why I do not associate doubt with a negative feeling and that's why it's not an issue for me. Maybe there's no room for doubt in the place where I will live in the future, a place beyond the Academy. A time where I might need the Island of Doubt."
Links
Recent articles
CONTRIBUTE
Feel free to contribute to Beyond Social.
There are four ways to contribute:
Create a new article. Beyond Social is written and edited by its community. Contribute to this online publishing platform with an article (text, photo-essay, video, audio and so on) about your project, theory, event or initiative in the field of Social Art & Design.
Edit this page, or any of the other ones. If there is any missing information or spelling mistakes in this article, please don't hesitate to change it. Other complementing work, such as including media files (images/video's/audio) is also very much appreciated.
Talk
with the contributers and others by taking part in one of the discussions on the TALK-page of an article. These pages are the semi-hidden backside of articles, hence ideal for discussions about an article without changing the initial text.
PROPOSE a new editorial. Beyond Social invites guest editor(s) to emphasize a certain issue, topic or theme. Guest editors write an editorial, invite others to create articles by an open call and/or add existing articles.