Fusion
From Beyond Social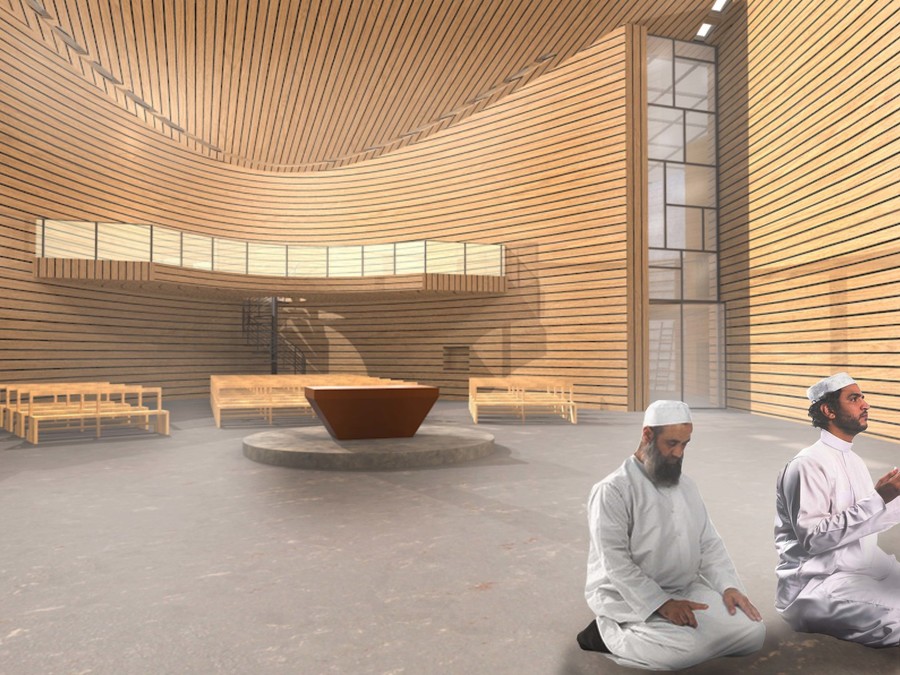 A place where thoughts come together
Current tensions between groups are growing. We live in a world of many religions and philosophies. Unfortunately, all these different beliefs also create lots of misunderstanding, distrust and prejudice. Within the Fusion project, polarization is reduced. Everyone is welcome, it's a place where thoughts come together. There is room to express your faith, to meditate, to learn about different religions and philosophies. And most importantly to meet each other. Fusion is a project by Annick Bongers.
Not only because of all the agitation and lack of understanding there is a need for interconnection but also because there is little knowledge of all the differences and similarities between beliefs and thoughts. Fusion provides a place to stimulate these encounters.
The building contains a religious/silence space in which mainly catholics, islamics and protestants can keep their services, but also other philosophy's and religions such as Buddhism or people without religion. It serves as a relaxing and inspiring place. Different religions also have different elements that are important to express the faith. These elements are as minimal as possible displayed and intertwined with each other. In order to provide a space in which everyone feels at home and does not interfere with each other's elements.
The design is a layered structure. The transition of the busy outside life is reduced to the inside. Transparency and accessibility are important in order to make people feel welcome. The routing through the building flows from busy to quiet space. The round-shaped walls provide a relaxing open structure, which surrounds the various functions. The core: The religious area is embraced with the other functions, such as the library and the cafe / meeting room. One moves to the core, not only physically but also mentally.
Links
Recent articles
CONTRIBUTE
Feel free to contribute to Beyond Social.
There are four ways to contribute:
Create a new article. Beyond Social is written and edited by its community. Contribute to this online publishing platform with an article (text, photo-essay, video, audio and so on) about your project, theory, event or initiative in the field of Social Art & Design.
Edit this page, or any of the other ones. If there is any missing information or spelling mistakes in this article, please don't hesitate to change it. Other complementing work, such as including media files (images/video's/audio) is also very much appreciated.
Talk
with the contributers and others by taking part in one of the discussions on the TALK-page of an article. These pages are the semi-hidden backside of articles, hence ideal for discussions about an article without changing the initial text.
PROPOSE a new editorial. Beyond Social invites guest editor(s) to emphasize a certain issue, topic or theme. Guest editors write an editorial, invite others to create articles by an open call and/or add existing articles.