Hardcore This–That
From Beyond Social
Deictic Lecture-Interviews + Re-Reading Groups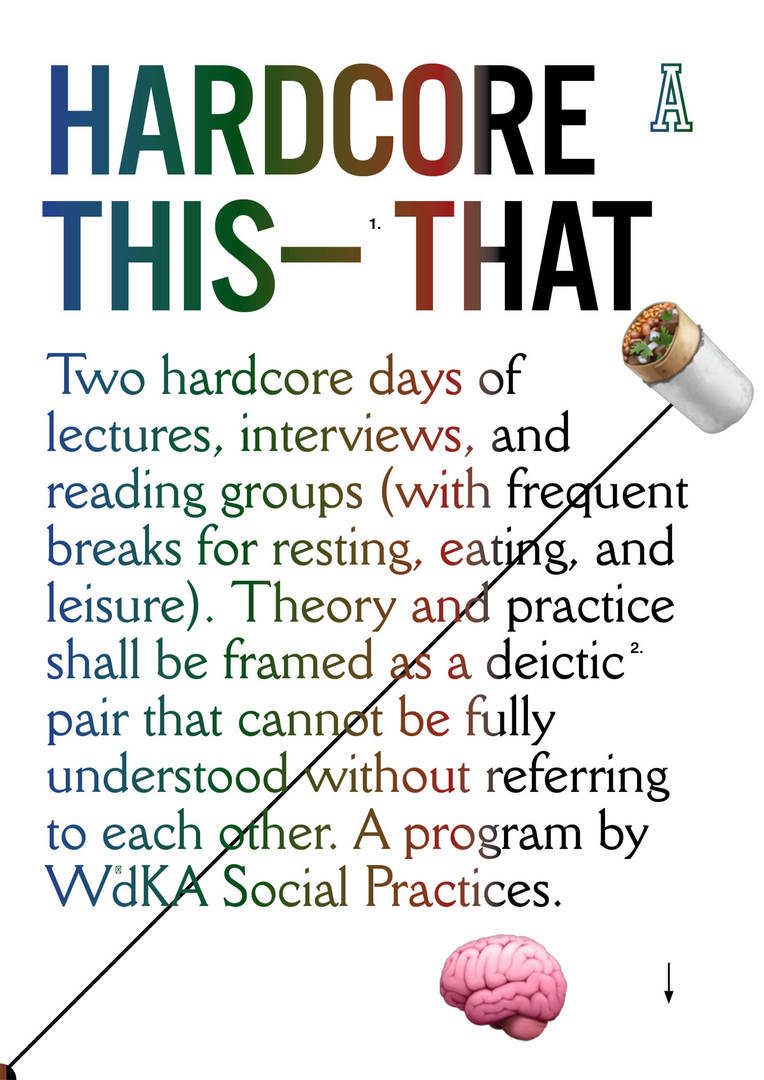 About
HARDCORE THIS–THAT
Two hardcore days of lectures, interviews, and reading groups (with frequent breaks for resting, eating, and leisure).

Cultural workers connected to the field of social practice will present their work in relation to theoretical texts that were meaningful to them. They will take theory and practice into account as a deictic pair of processes that cannot be fully understood without referring to each other. Theory understood as indexical (pointing) to practice. Practice undertaken as a result or catalyst for theory.
SPEAKERS: DAY 1: OCTOBER 31
10h MIKO REVEREZA: On the performance of being an undocumented immigrant

1130h KATAYOUN ARIAN: Regarding artistic and curatorial activism

1330h NICK AXEL: Concerning institutional alignment and infrastructural agency


SPEAKERS: DAY 2: NOVEMBER 7
10h SEAN YENDRYS: Concerning alternative learning space(s) as playful resistance to the institution

1130h HOUSE OF SEASONAL NEIGHBOURS: On designing (speculative) public space for migrant agricultural laborers

1330h JEANNE VAN HEESWIJK: Regarding embedded artistic research as thoughtful community performance


BIOS
JEANNE VAN HEESWIJK (NL) 

Jeanne van Heeswijk is an artist who facilitates the creation of dynamic and diversified public spaces in order to "radicalize the local". Her long-scale community-embedded projects question art's autonomy by combining performative actions, discussions, and other forms of organizing and pedagogy in order to enable communities to take control of their own futures.
KATAYOUN ARIAN (IR) 

Katayoun Arian is a researcher, curator and writer with an interest in how we understand diversity and often misuse and neglect the reality and contradictions of displacement as it connects to under-exposed histories and the (de)coloniality of knowledge, being and power. Her background in art history and social science/anthropology coalesces in projects ranging from exhibitions, to organising discursive events, screenings, reading circles, and other forms of interdisciplinary and collaborative work. Recent curatorial projects include The End of This Story (And the beginning of all Others) (2015) and Voices Outside the Echo Chamber (2016) at Framer Framed in Amsterdam; I Speak in Tongues (2017) at 37PK in Haarlem.
https://framerframed.nl/en/exposities/expositie-voices-outside-the-echo-chamber/
MIKO REVEREZA (Undocumented) 

Miko Revereza is an experimental filmmaker and illegal alien. Since relocating from Manila as a child, he has lived in the United States for almost 25 years. This life long struggle with documentation and the exclusion it imposes informs his films, writing and social practice. Miko lives in Los Angeles and is currently earning an MFA at Bard College.
https://vimeo.com/mikorevereza
NICK AXEL (US) 

Nick Axel is deputy editor of e-flux Architecture. With Beatriz Colomina, Nikolaus Hirsch, Anton Vidokle, and Mark Wigley, he is editor of the books Superhumanity: Design of the Self (University of Minnesota Press, 2018) and Superhumanity: Post-Labor, Psychopathology, Plasticity (Actar, 2018). Independently, Nick has edited Work, Body, Leisure (with Marina Otero Verzier, Hatje Cantz, 2018), the book of the Dutch Pavilion at the 2018 Venice Architecture Biennale, among others. Previously, he was managing editor of Volume (#44–49), researcher at Forensic Architecture, and resident at DAAR (Decolonizing Architecture Art Residency). Nick currently teaches at Design Academy Eindhoven and the Royal Academy of Art, The Hague. He graduated from the Centre for Research Architecture in 2014 with distinction, where he conducted geographical, legal and financial research into the deregulation of hydraulic fracturing in the United States.
SEAN YENDRYS (CA) 

Sean Yendrys is an independent graphic designer and educator based between Montreal and Berlin. He collaborates with artists, architects, publishers, and institutions on a range of projects, including the Canadian Centre for Architecture, Sternberg Press, Movement Research Performance Journal, and Tanzkongress 2019. He was previously a lecturer at Parsons in New York and currently teaches at Estonian Academy of Arts in Tallinn, and Bergen Academy of Art and Design in Norway. He is the organizer and facilitator of A School, A Park, a graphic design summer program in Montreal. He received his BFA from Concordia University and MFA from Yale School of Art.
http://www.a-school-a-park.ca/
SEASONAL NEIGHBOURS: CIEL GROMMEN + DIETER LEYSSEN (BE)

Seasonal Neighbours is a long-term research project on migrant labour. Unlike the mainstream debate that focuses mainly on labour conditions and rights, Seasonal Neighbours aims to explore the interpersonal aspects of this temporary cohabitation through art and design interventions, critical conversations, and written research. The project was initiated by Ciel Grommen, artistic researcher, who worked side by side with Bulgarian workers in the Belgian fields and who joined the trip back home. Dieter Leyssen enlarged the scope of the debate, thanks to its investigation of the European context in his research paper Inequalities in the Rural. Shuttle migration in Hesbaye. And designer Maximiliaan Royakkers intervened in the realisation of The House for Seasonal Neighbours.
https://www.seasonalneighbours.com/
GLOSSARY OF TERMS AND SYMBOLS
En Dash – 				Keyboard Command: Alt + -

A punctuation mark that looks like a dash in between the length of a short dash or hyphen (-) and a longer em dash (—). The en dash is used to represent a span or range of numbers, dates, or time. The en dash can also be used between words to represent conflict, connection, or direction.
Hyphen - 				Keyboard Command: -

Used to unify compound words or divide words that, do not fit at the end of one typeset line.
Em dash —				Keyboard Command: Alt + Shift + -

Used in place of commas, parentheses, or colons.
Deictic

Words (which would also be understood as concepts or objects in themselves) whose meanings are only understood in function of a context—person, place, time—to which they point. Here. There. Me. You. Now. Later. This. That.
FIN :)********************
Links
Documentation
More events