Martin Hill Philippa Jones Land Art Sculpture
From Beyond Social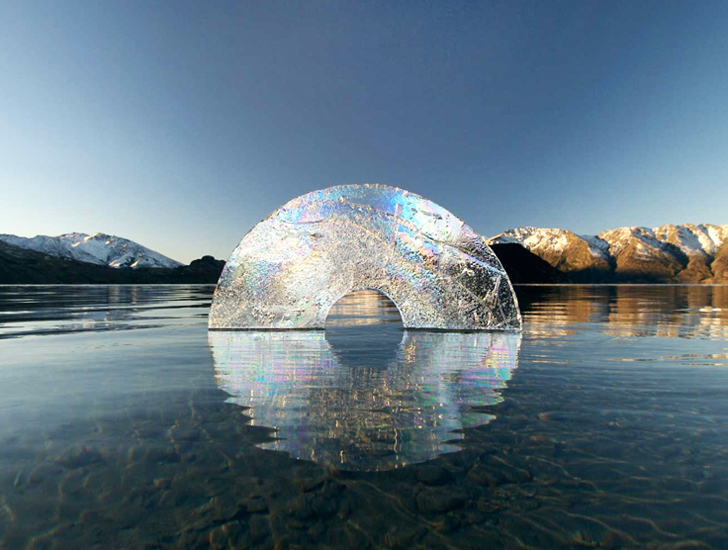 The wikipage input value is empty (e.g. SomeProperty::, [[]]) and therefore it cannot be used as a name or as part of a query condition.
sustainable (new earth) fine art
For over two decades artist Martin Hill has traveled to remote locations in order to create these fantastic natural sculptures. The environmental artist and photographer often works with his partner Philippa Jones to form the artworks from stones, ice, and organic materials. The duo have a stunning portfolio of work that focuses on circular forms that represent natural cycles present in the environment.
Hill and Jones often build a semi-circle from natural materials and set it amidst a dazzling lake. Then they wait for the sun to hit at the right moment to create a perfect reflection that completes the circle. The pair captures this moment in these stunning photographs. In addition to using entirely natural materials, the artists also take care to leave the site as they found it. Their temporal works fade away as soon as they've been photographed. Hill says that he hopes his work helps people reflect on their relationship to natural systems and how they can help to improve the environment through the way they live their lives.
Links
Recent articles
CONTRIBUTE
Feel free to contribute to Beyond Social.
There are four ways to contribute:
Create a new article. Beyond Social is written and edited by its community. Contribute to this online publishing platform with an article (text, photo-essay, video, audio and so on) about your project, theory, event or initiative in the field of Social Art & Design.
Edit this page, or any of the other ones. If there is any missing information or spelling mistakes in this article, please don't hesitate to change it. Other complementing work, such as including media files (images/video's/audio) is also very much appreciated.
Talk
with the contributers and others by taking part in one of the discussions on the TALK-page of an article. These pages are the semi-hidden backside of articles, hence ideal for discussions about an article without changing the initial text.
PROPOSE a new editorial. Beyond Social invites guest editor(s) to emphasize a certain issue, topic or theme. Guest editors write an editorial, invite others to create articles by an open call and/or add existing articles.