Persepolis
From Beyond Social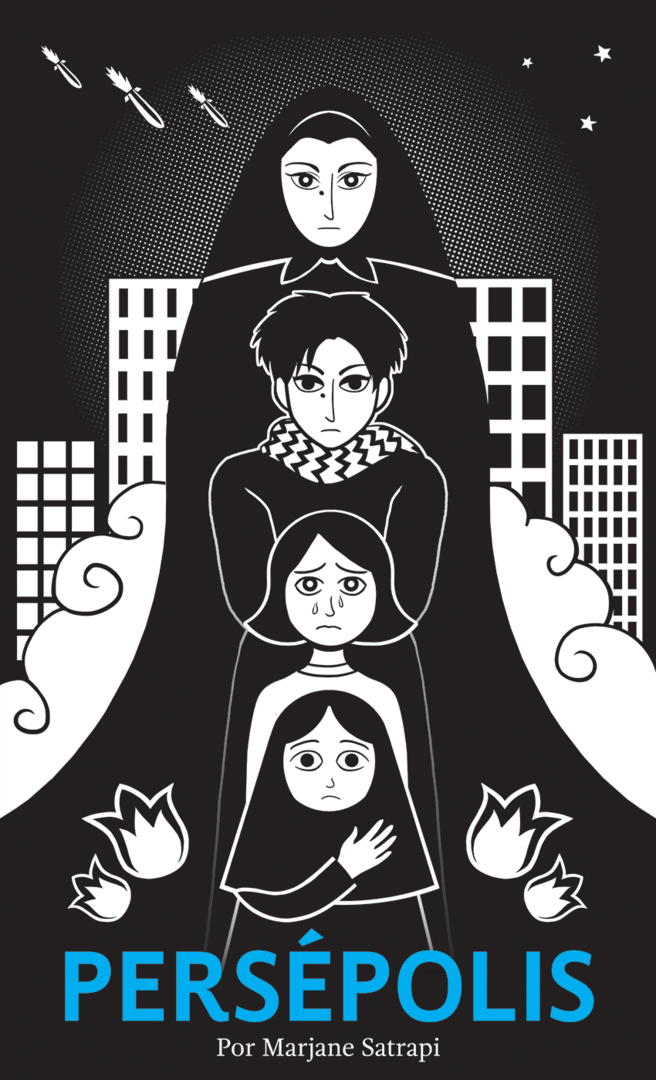 Persepolis is the visual autobiography of Marjane Satrapi, the writer and director of both the graphic novel and animated film. Persepolis tells Marjane's story of growing up during the Iranian revolution and the start of war. Her own parents were middle class Marxists, who did their best to educate and protect their daughter, eventually sending her to Europe during the height of war. She shows her side of experiencing the war, having to deal with oppressing laws of the Muslim regime being reinforced on her and her surroundings. Her story is also about growing up and change, as she tells about her lonely teenage years in Europe.
I'm personally awestruck with Satrapi's philosophies about storytelling. Just her view alone on why storytelling with drawings works well for the story she had to tell in Persepolis, is something I can really get behind.
"The reason we're using animation instead of real images is very simple. Drawings have an abstract quality. If we used real images, it would be a few Arabs in a country. Right away it would be an ethnic film. I becomes the problem of those people who live over there and are crazy about god. But drawings, with their abstract quality, emphasizes the universal. It doesn't matter who, a dictatorship is a dictatorship. Whether in Chile in China, in Iran or anywhere else, it's the same. The drawings have enough of an abstract quality to make you consider that it would happen anywhere."
And in the end, this is exactly the message she seems to carry with her stories. The fact that on a universal level, there is no difference between people.
"The one message in this movie, the humanistic message, is that human beings anywhere, are the same. And they have the right to live, because they have dreams, because they have love, because they have parents and kids. The lives of all of us are worth something and we have to understand that the situation is not as easy as we think."
Apart from all this, Marjane is not afraid to be confrontational about the things that happened during the Iranian war. She clearly addresses that she had to deal with threats of the Muslim regime on a personal level, how she was not allowed to express herself fully as both a child and a young woman. Not only that, but also how she tends to stand up to this system and defy it whenever she can. She also illustrates how many people died protesting the Muslim regime, or how many young soldiers died who were promised to become a martyr. All in all, a big part of narrative is to show the viewer what oppression and war is like. And by using illustration to abstract events to a certain degree, she speaks to a global audience.
Persepolis is there for a subversive and auto-relational work. Marjane Satrapi formed a work based on her own experience and vision on the subject of war and oppression, but visualizes it in such a way that it speaks to a large audience. She is not afraid to speak up, both as a human and as a writer, and confronts the world with the problems she describes.
Links
Recent articles
CONTRIBUTE
Feel free to contribute to Beyond Social.
There are four ways to contribute:
Create a new article. Beyond Social is written and edited by its community. Contribute to this online publishing platform with an article (text, photo-essay, video, audio and so on) about your project, theory, event or initiative in the field of Social Art & Design.
Edit this page, or any of the other ones. If there is any missing information or spelling mistakes in this article, please don't hesitate to change it. Other complementing work, such as including media files (images/video's/audio) is also very much appreciated.
Talk
with the contributers and others by taking part in one of the discussions on the TALK-page of an article. These pages are the semi-hidden backside of articles, hence ideal for discussions about an article without changing the initial text.
PROPOSE a new editorial. Beyond Social invites guest editor(s) to emphasize a certain issue, topic or theme. Guest editors write an editorial, invite others to create articles by an open call and/or add existing articles.