Queer Reader
From Beyond Social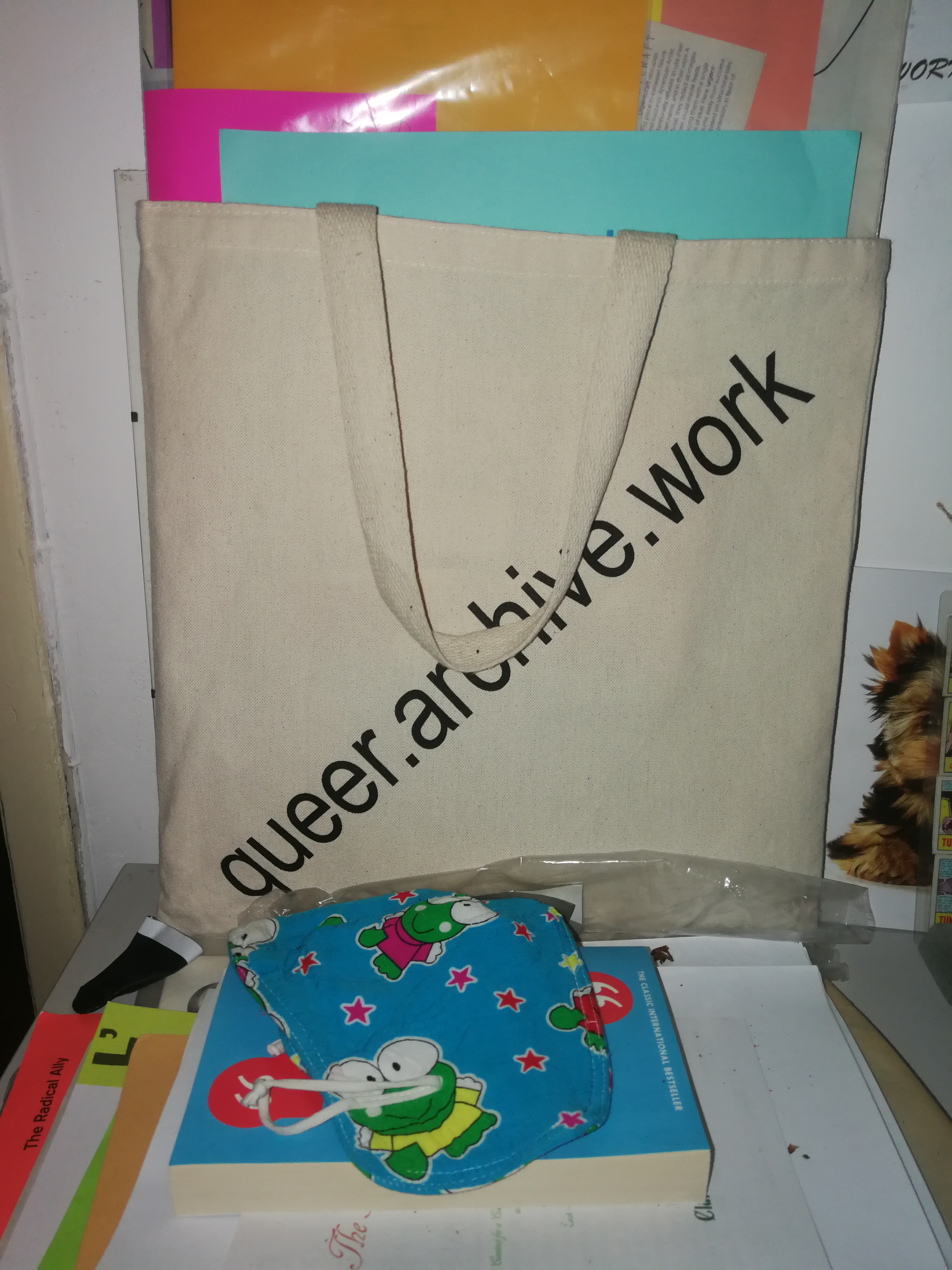 ……..@*@* ….@*……..@* …………………………@* ..@*……………@* ………………@*……..@* .@*……………….@*……….@*……………..@* @*…………………..@*…@*………………….@* @*………………………*……………………..@* .@*…………………………………………….@* ..@*………………………………………..@* ….@*…………………………………..@* ……..@*…………………………..@* ………..@*……………………@* …………….@*…………..@* ……………….@*……@* ………………….*..@* ……………………@ ……………………* ……………………@ ……………………*
Hallo wonderful minds! Yesterday i encountered a student who struggled with his teachers at another school because they failed to understand his work from a queer perspective. To be honest, it was painful to watch.
In response, I started this resource pad because I wanted to help him build up a language/theoretical framework to articulate, support and defend his position. His work relates to queer surveillance, violence, policing of the body, disciplinary regimes.
Please feel free to add your references to this pad. https://pad.xpub.nl/p/queer-reader
Thank you for your time.

@@@. WELCOME. @@@
Introduction to Queer Theory
 Queer: A Graphic History, Meg John Barker, 2016  (amazing book, very complete and super clear!)

 Gender: A Graphic Guide, Meg John Barker

 Testo Junkie: Sex, Drugs, and Biopolitics in the Pharmacopornographic Era, Paul B. Preciado

 TransMaterialities: Trans*/Matter/Realities and Queer Political Imaginings, Karen Barad

 Gender Trouble: Judith Butler 

 Female Masculinities: Jack Halberstam

 Black. Queer. Southern. Women.: An Oral History – Patrick E Johnson

 Sweet Tea: Black Gay Men of the South – Patrick E. Johnson

 Thiefing Sugar: Eroticism Between Women in Caribbean Literature – Natasha Tinsely 

 The Politics of Passion: Women's Sexual Culture in the Afro-Surinamese Diaspora – Gloria Wekker

 Queer globalization: citizenship and the afterlife of colonialism – Arnaldo Cruz

 Topics of desire: intervention from queer Latino America – Jose Quiroga

 Coloniality of gender and power – Brenny Mendoza

 Coloniality of gender – Maria Lugones

 Epistemology of the Closet – Eve Kosofsky Sedgwick

 Ephemera as evidence by José Esteban Muñoz (thinking about queer traces, ephemera, 'proof')
 Gestures and Utterance by Juana Maria Rodríguez

Queerness and Surveillance
 Zach Blas' entire body of work is around queerness and surveillance

 Lecture by Paul B. Preciado at Het Nieuwe Instituut

This lecture is really good! He explains how he extended from a queer perspective Foucault's theory on power & biopolitic
 My body does not exist, Paul B. Preciado

 Self-Defense, The Funambulist nº25, Politic of space & bodies (there is an article about Queer & Feminist Self-Defense

Trauma and queerness:
 Archive of Feelings by Ann Cvetkovich

Personal favourite book (of a friend) about trauma and queerness: , she talks about the (lesbian) body as archive.
Porn
 Pornographic encounters and interpretative interventions: Vanessa del Rio: Fifty Years of Slightly Slutty Behavior by Juana María Rodríguez 

Queerness and race
 Disidentifications. Queers of Color and the Performance of Politics by José Esteban Muñoz

 Nobody Knows My Name by James Baldwin

 European Others. Queering Ethnicity in Postnational Europe by Fatima El-Tayeb

Publishing
 Let's Talk About Body Reproduction

 Publishing Camp: Queering Dissemination, thinking about publishing as a queer act

 Queer Archive

 Other publishing  

 Nate Pyper                                                

Queer geography, space & architecture
 Queer Phenomenology: Orientations, Objects, Others, Sara Ahmed

-> PDF of the introduction ->
 Pornotopia,  An Essay on Playboy's Architecture and Biopolitics, Paul B. Preciado

 Queers, Feminists & Interiors, The Funambulist nº13, Politic of space & bodies

 Engendering space: Ballroom culture and the spatial practice of possibility in Detroit, M Bailey

Art & Design projects
 Kuang-Yi Ku, artist & dentist.

His work deals with the queer theory, body, sexuality, interspecies interactions, and medical technology.
 Body Acts Queer: Clothing as a Performative Challenge to Heteronormativity

PHD thesis by Maja Gunn. She conducted a performative design research by creating a series of public events & interventions that questions gender performativy.
Really nice research, very inspiring! -> .
 When did you become a heterosexual?

Interviews by Rowena Buur ->
 Femmecore by Luca Soundant.

A project that explores how gender norms operate sonically ->
 DE_SIGN by Gabriel Maher ->

 Multiform, project on queering sport by Gabriel Fontana ->

 Body Behaviour, Olle Lundin ->

                 

Queer & Utopia(s)
 The Queer Art of Failure, Jack Halberstam

->
 Cruising Utopia: The Then and There of Queer Futurity, José Esteban Muñoz

-> .
Queer Pedagogies
 Dissident Pedagogy, a podcast on queering education

The discussion focus on primary & secondary education and question how queering can be used as a design strategy ->
 Queering/Querying Pedagogy? Or, Pedagogy Is a Pretty Queer Thing, Susanne Luhmann                                          

Heterosexuality
 On Heteropessimism: Heterosexuality is nobody's personal problem

 The Straight Mind by Monique Wittig 

Femaleness
 Andrea Long Chu - Females (not foundational but new and innovative and fire, it fucks with Valerie Solanas)

 Female Masculinity by Jack Halberstam

Fiction
 Michelle Tea - old school San Fran dyke writing biographically 

 Andrea Lawlor - for her more recent Paul Takes the Form of a Mortal Girl, gender fuckery which is rich

 Sarah Waters  - ripping lesbian commercial fiction
 
 Andrea Leckie for NB sci fi world building

 Nancy Garden's Annie on my Mind (just bought this, it's a YA lesbian love story)

 Giovanni's Room James Baldwin 

(check: monoskop, b-ok.org, Ask for PDFs from People With Institutional Access)
Links
[[File:]]
Last modified at by [[]]
[[Category: | ]]
Recent articles
CONTRIBUTE
Feel free to contribute to Beyond Social.
There are four ways to contribute:
Create a new article. Beyond Social is written and edited by its community. Contribute to this online publishing platform with an article (text, photo-essay, video, audio and so on) about your project, theory, event or initiative in the field of Social Art & Design.
Edit this page, or any of the other ones. If there is any missing information or spelling mistakes in this article, please don't hesitate to change it. Other complementing work, such as including media files (images/video's/audio) is also very much appreciated.
Talk
with the contributers and others by taking part in one of the discussions on the TALK-page of an article. These pages are the semi-hidden backside of articles, hence ideal for discussions about an article without changing the initial text.
PROPOSE a new editorial. Beyond Social invites guest editor(s) to emphasize a certain issue, topic or theme. Guest editors write an editorial, invite others to create articles by an open call and/or add existing articles.