Re-introducing Mourning Attire
From Beyond Social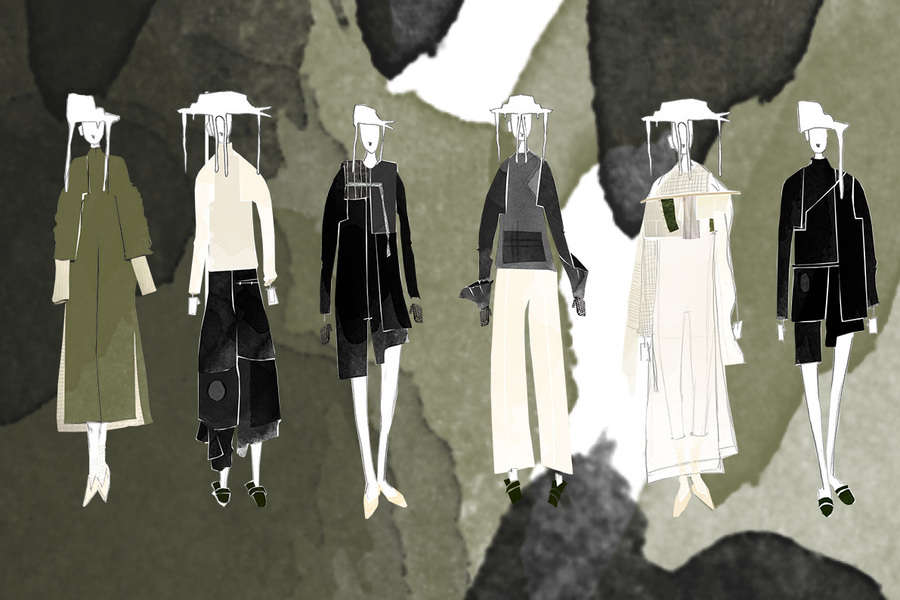 The wikipage input value is empty (e.g. SomeProperty::, [[]]) and therefore it cannot be used as a name or as part of a query condition.
Graduation Project by Guylinn Verheij
Fashion is an inevitable part of daily life. For all the stages of life and emotions there is a wide spectrum to express these through fashion except for the phase of mourning. 
My clothing is based on the mourning process. The feeling of not being allowed to express sorrow and loss is the motivation behind this collection. My experiences in coping with personal loss is the drive behind this work.
 Working on this collection is a constant confrontation with my own mourning process. Its an honouring for the loved ones that I have lost.
 Wearing this recognisable mourning clothes is an indication of this process and also a display of the presence of death and that it is allowed to be there.
The emotions are not tucked away or hidden according to the desires of society.
 Besides that it is also a monument for those who have passed on, this way the memory of the deceased is being hold on to.


Man and Woman
For todays mourning clothes it is important to not differentiate. It should be able to be worn by men and women. Men and women used to wear mourning clothes in the past. The rules applied to women were stricter and more interferring than those that were for men. In the 19th century a widower had to wear a black attire for 3 months. After three months it would only be expected of him to wear a widowband around is arm or his hat. A widow had to wear black for half a year and she wasn`t allowed to leave the house uncovered with a veil. In total, a widow would wear mourningclothes for two years.
Now that there is a striving to equality among men and women, it is important for me that everyone can decide on the duration of their own mourning period.
Materials
The textiles which I have used are made of natural materials. Despite death being experienced by people as something terrible, it is a natural process where your body is being returned to nature. 
Materials such as chifon silk, crepe, cotton, linnen, wool and tule are materials that were used in mournclothing. That is why it is crucial for the textiles of the clothing are made out of natural materials. 
Black clothing used to be worn only for mourning clothes. Nowadays, black clothing is casual wear and it is not associated with mourning. White is in many countries also a dominant color for mourning clothes. I decided to use both for the collection. I have selected the color green as a symbol of the natural process of dying.
Collection
This collection refers not only to the history of mourning and the symbolism of it but it is renewing for the contemporary twist which is incorporated in the style it is created. This combination makes it a re-introduction of mourning clothes in the public space.

 The power lies in the detailing. I have used my own designing method to give a fresh twist to the mourning clothes. Some clothes are designed resulted on studies of shape and form , made through images where mourning is expressed.
 It is a trademark of mine to study shape and form and the create new clothing out of that. Sometimes I made allowed my feelings to guide the process and have pursuited that during the creation of the collection.
DUE PUBLICATION PURPOSES THE PHOTOGRAPHS CAN BE VIEWED AT THE FINAL PRESENTATION IN THE BLAAK BASEMENT ONLY.
Links
[www.instagram.com/guylinnbelice www.instagram.com/guylinnbelice ]
Recent articles
CONTRIBUTE
Feel free to contribute to Beyond Social.
There are four ways to contribute:
Create a new article. Beyond Social is written and edited by its community. Contribute to this online publishing platform with an article (text, photo-essay, video, audio and so on) about your project, theory, event or initiative in the field of Social Art & Design.
Edit this page, or any of the other ones. If there is any missing information or spelling mistakes in this article, please don't hesitate to change it. Other complementing work, such as including media files (images/video's/audio) is also very much appreciated.
Talk
with the contributers and others by taking part in one of the discussions on the TALK-page of an article. These pages are the semi-hidden backside of articles, hence ideal for discussions about an article without changing the initial text.
PROPOSE a new editorial. Beyond Social invites guest editor(s) to emphasize a certain issue, topic or theme. Guest editors write an editorial, invite others to create articles by an open call and/or add existing articles.