Rooftop Garden
From Beyond Social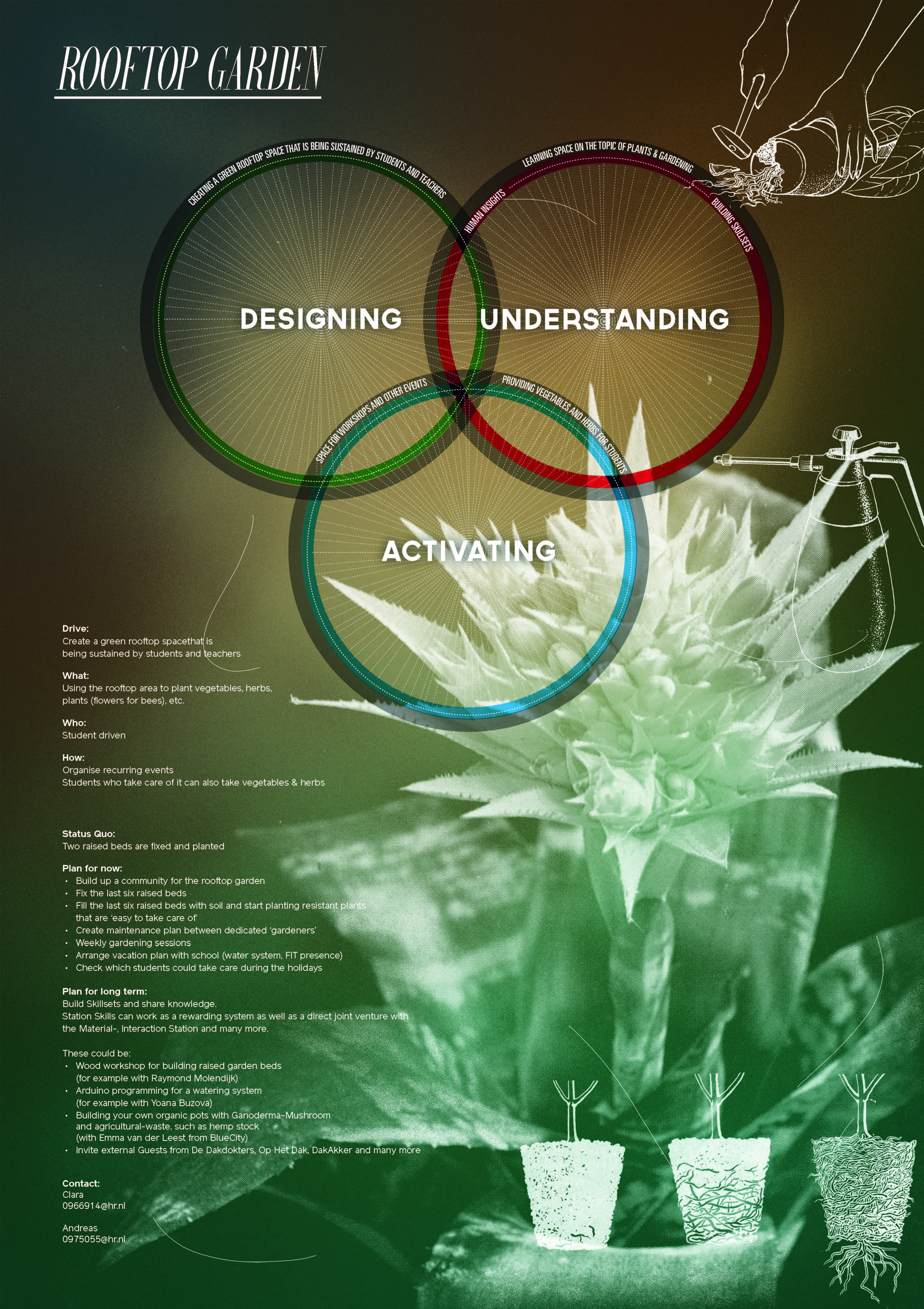 Create a green rooftop space that is being sustained by students and teachers 


What
?
Using the rooftop area to plant vegetables, herbs, plants (flowers for bees), etc


Who
? Student driven
How? Organise recurring events
Students who take care of it can also take vegetables & herbs
Status Quo
: Two raised beds are fixed and planted


Plan for now:
Build up a community for the rooftop garden
Fix the last six raised beds
Fill the last six raised beds with soil and start planting resistant plants that are easy to take care of
Create maintenance plan between dedicated 'gardeners'
Weekly gardening sessions
Arrange Vacation plan with school (water system, FIT presence)
Check which students can take care of the garden during holidays 

Plan for long term: 

Build Skillsets and share knowledge.

Station Skills can work as a rewarding system as well as a direct joint venture with the Material-, Interaction Station and many more.
These could be:
Wood workshop for building garden beds (for example with Raymond Molendijk)
Arduino programming for a watering system (for example with Yoana Buzova)
Building your own organic pots with Ganoderma-Mushroom and agricultural-waste, such as hemp stock (with Emma van der Leest from Blue City)
Invite external guests from de Dakdokters, Op Het Dak, DakAkker and many more.

Contact:


Clara 

0966914@hr.nl
Andreas
0975055@hr.nl
Links
[[Category: | ]]
Recent articles
CONTRIBUTE
Feel free to contribute to Beyond Social.
There are four ways to contribute:
Create a new article. Beyond Social is written and edited by its community. Contribute to this online publishing platform with an article (text, photo-essay, video, audio and so on) about your project, theory, event or initiative in the field of Social Art & Design.
Edit this page, or any of the other ones. If there is any missing information or spelling mistakes in this article, please don't hesitate to change it. Other complementing work, such as including media files (images/video's/audio) is also very much appreciated.
Talk
with the contributers and others by taking part in one of the discussions on the TALK-page of an article. These pages are the semi-hidden backside of articles, hence ideal for discussions about an article without changing the initial text.
PROPOSE a new editorial. Beyond Social invites guest editor(s) to emphasize a certain issue, topic or theme. Guest editors write an editorial, invite others to create articles by an open call and/or add existing articles.