Sidewalk Bubblegum
From Beyond Social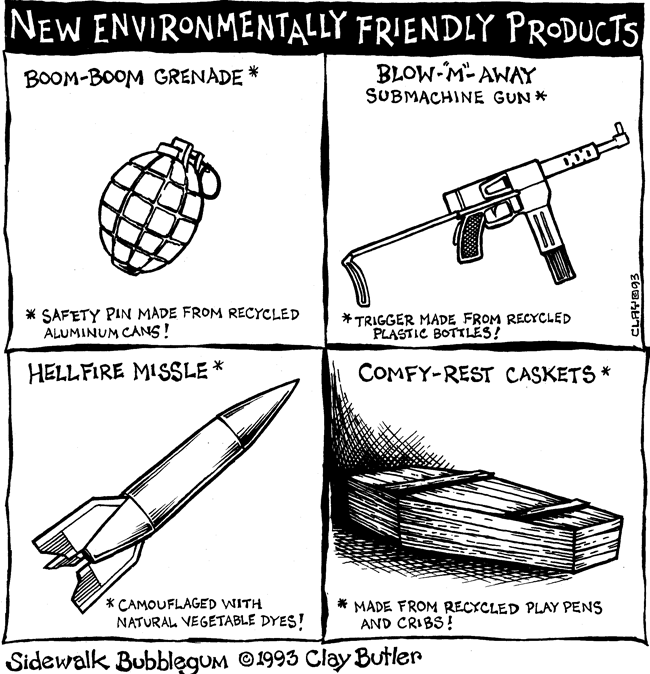 The wikipage input value is empty (e.g. SomeProperty::, [[]]) and therefore it cannot be used as a name or as part of a query condition.
sustainable (new earth) illustration
The legendary alternative political comic strip Sidewalk Bubblegum. Started in 1993 and retired in 2001, Clay Butler's self-syndicated weekly political cartoon, Sidewalk Bubblegum, has been seen in hundreds of magazines, books, and zines including Z Magazine, Playboy, Funny Times, Comic Relief, Creative Loafing, Metro Santa Cruz, Santa Cruz Sentinel and Finland's largest Swedish-language daily newspaper, the HUFVUDSTADSBLADET.
Eschewing the typical gag format and avoiding topical references Clay Butler focused on the issues behind the issues. Even though the first strips were penned nearly seventeen years ago, they often read as if they were created today. Some were truly prophetic as the messages and issues Clay put forth began to hit us full force nearly a decade or more later, while others capture a moment in time, a way of thinking, a burst of lunacy that typify a uniquely American way of being.
Freely jumping from the past, to the present, and into the future, Clay uses juxtaposition and irony to remind us that were are not as free from our most sordid past as we'd like to think.
Clay Butler also chose to write this introduction in third person so he could toot his own horn without coming across as a complete douche. Hey, someones got to do it.
Links
Recent articles
CONTRIBUTE
Feel free to contribute to Beyond Social.
There are four ways to contribute:
Create a new article. Beyond Social is written and edited by its community. Contribute to this online publishing platform with an article (text, photo-essay, video, audio and so on) about your project, theory, event or initiative in the field of Social Art & Design.
Edit this page, or any of the other ones. If there is any missing information or spelling mistakes in this article, please don't hesitate to change it. Other complementing work, such as including media files (images/video's/audio) is also very much appreciated.
Talk
with the contributers and others by taking part in one of the discussions on the TALK-page of an article. These pages are the semi-hidden backside of articles, hence ideal for discussions about an article without changing the initial text.
PROPOSE a new editorial. Beyond Social invites guest editor(s) to emphasize a certain issue, topic or theme. Guest editors write an editorial, invite others to create articles by an open call and/or add existing articles.