Woof & Wow
From Beyond Social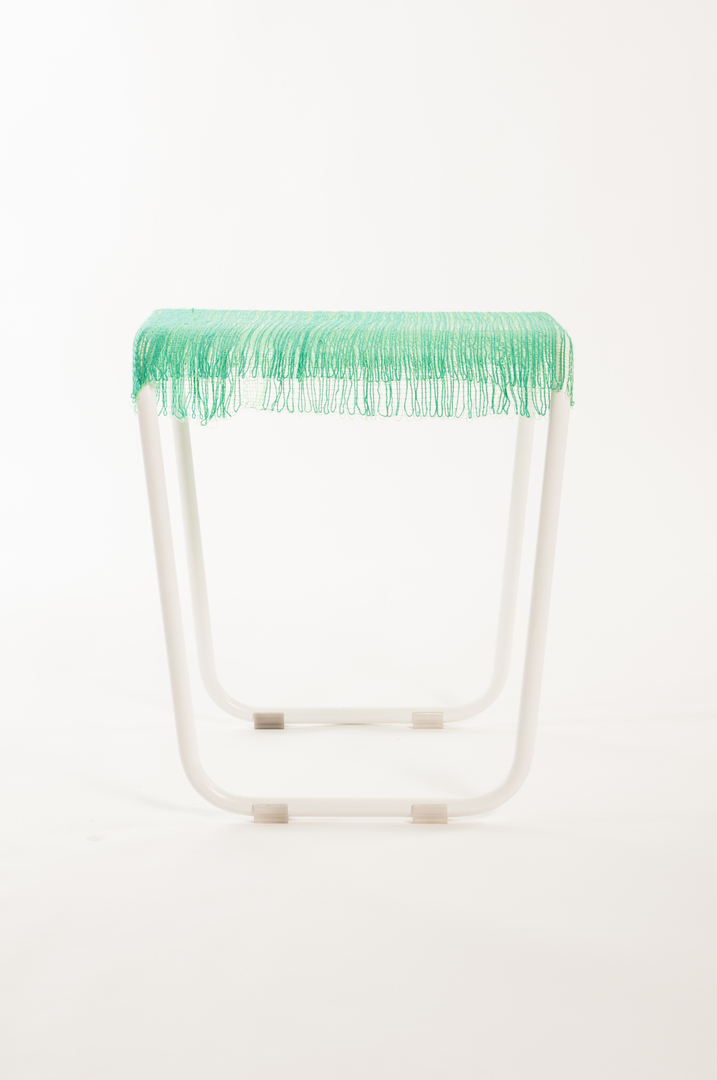 The wikipage input value is empty (e.g. SomeProperty::, [[]]) and therefore it cannot be used as a name or as part of a query condition.
sustainable (new earth) product design
WOOF&WOW is a project in which we want to include Peru's marginalized weaving talent in the production of sustainable furniture products made from wasted PET bottles, in other words by 'Combining Local Talent with Local Waste'. With our team, supporters and project partners we have developed the design of a stool and created a production proces for the PET fabric that is easy to implement in Peru's weaving communities.
The waste problem –especially plastic- is globally growing, but it hits poor and marginalized communities in developing economies like Peru the most. More and more people are migrating from the mountains and highlands towards the main cities, looking for better-paid work and living conditions in general. These people have little education, are regularly faced with discrimination given their darker skin, and live under impoverished circumstances in informal urban settlements locally known as pueblos jovenes. Their incredible weaving and knitting skills mostly remain untouched and are on the edge of being forgotten, endangering their self-esteem and part of Peru's national cultural identity of colorful and lively fabrics.
With the growing number of urban population, consumption and waste increases, but local governments lack financial means and facilities to process waste sustainably. Currently, plastic waste has little to no value in the Peruvian context; but we think we could turn this around by creating beautifully handcrafted products from plastic waste, using the specific crafts and skills of marginalized communities that form the backbone of Peruvian cultural identity. Once implemented, this can form an inspiration for others to start making such kind of products as well- scaling up its environmental and societal impact.
We as designers, feel that we have a responsibility towards the world to make products that have a positive impact on the environment and society. With young and talented designer Marta Sif Olafsdottir and our weaving expert Leslie Eisinger we are creating the first piece of aesthetic and durable furniture from upcycled plastic based on local craftsmanship in Peru. By combining weaving crafts with stripped plastic bottles we make furniture that has a positive impact on the environment and secures the livelihood of the local community. The unique features of PET- the plastic used for the production of bottles- such as its great tensile strength, durability and transparency, form the ideal material to create durable furniture and decoration for both indoor and outdoor purposes.
As such, weaving with plastic does not interfere with the traditional woven fabrics, but adds up to the product assortment. The recognition of their work through financial compensation has a positive result on the damaged self-esteem of these communities, and boosts their local and even national identity.
We strongly belief that the way a product is made should not just be transparent and sustainable, but more importantly embedded in the design. It is the identity and context of the actual maker, the Peruvian craftsman, which not only serves as an inspiration for the actual design, but gives the production process its unique individual and humane face. Through humanization and socialization of the production process, we want to bridge the traditional distance between consumer and product.
An important feature of the design is its ability to disassemble; better known as circular design. Since we aspire the promotion of sustainable materials and corresponding local socially emphasized production process among designers, it's vital that logistics and end-of-life are thought thru too. Components of Woof&Wow designs are locally produced and its components can be reused or recycled to prevent production of and the depreciation of waste.
With Woof&Wow, we combine local talent with local waste to create beautiful sustainable products that could inspire all of us to think global but act local.
Links
Recent articles
CONTRIBUTE
Feel free to contribute to Beyond Social.
There are four ways to contribute:
Create a new article. Beyond Social is written and edited by its community. Contribute to this online publishing platform with an article (text, photo-essay, video, audio and so on) about your project, theory, event or initiative in the field of Social Art & Design.
Edit this page, or any of the other ones. If there is any missing information or spelling mistakes in this article, please don't hesitate to change it. Other complementing work, such as including media files (images/video's/audio) is also very much appreciated.
Talk
with the contributers and others by taking part in one of the discussions on the TALK-page of an article. These pages are the semi-hidden backside of articles, hence ideal for discussions about an article without changing the initial text.
PROPOSE a new editorial. Beyond Social invites guest editor(s) to emphasize a certain issue, topic or theme. Guest editors write an editorial, invite others to create articles by an open call and/or add existing articles.