Future Flex
From Beyond Social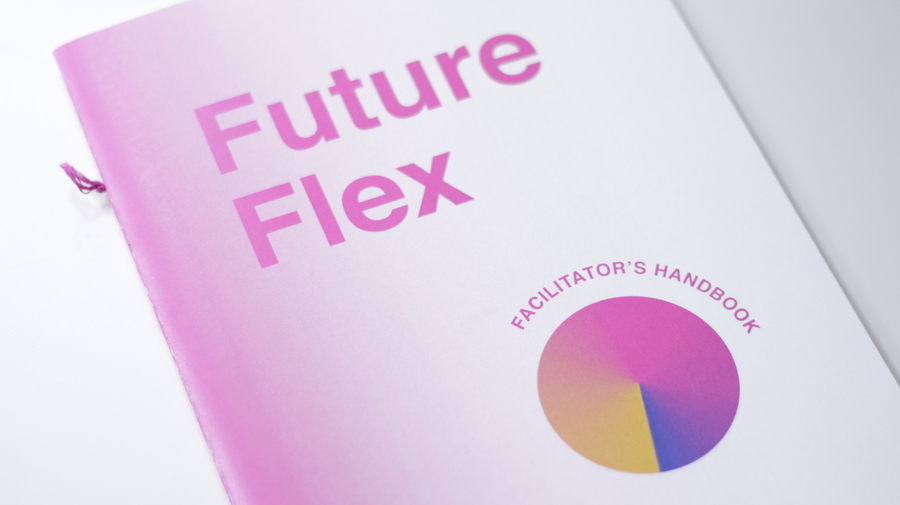 A Play-Based Approach to Organizational Change in the Age of Uncertainty
A project by Lily Higgins Future Flex is a series of playful workshops that propose an alternative to the "Future Proof" mentality. The Future Flex experience is designed to engage organizations in an internal transition from a fear-based to a play-based way of approaching the uncertain future.
As chaos and complexity become the new standard, organizations and individuals have to let go of the idea that the future can be fully prepared for with a set of protocols. Organizations must go beyond the idea of being "Future-Proof". Staying flexible in the flux of uncertainty demands new mindsets and new rules; the game has changed and everyone is invited to play along.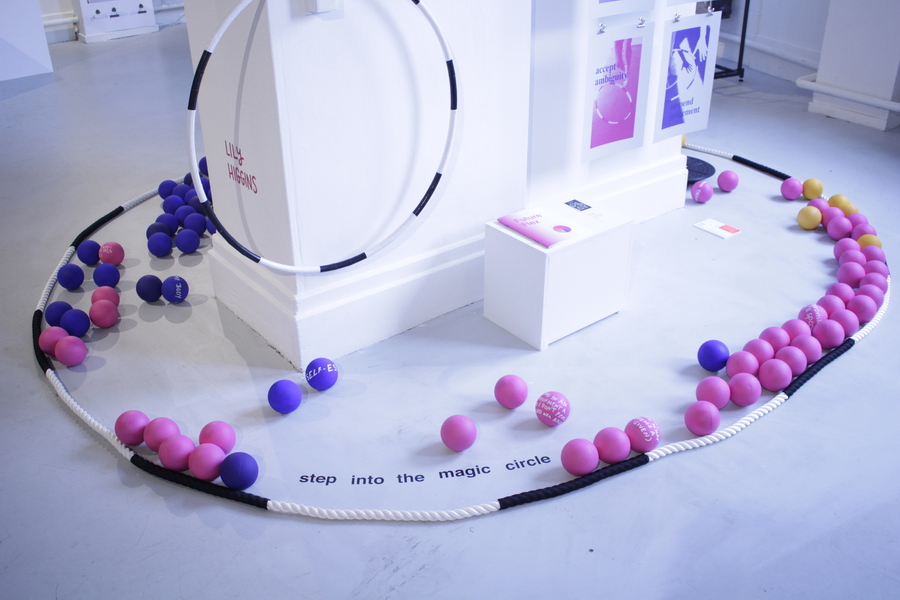 The Future Flex approach is a series of playful workshops that follows a semi-circular path, inspired by the flow of Theory U by Otto Scharmer, and is made up of three stages; Fixed, Free, and Flex. Each stage uses playful activities as starting points for reflection on why systems are stuck, what happens when we let go of the old models, and how we co-create new ones.
The underlying question guiding this exploration being, "How can play help individuals and collectives cope with uncertainty?" The transformative nature of the series is both a reflection on system-wide change and personal development, with the focus on tapping into a Future Flex Mindset and developing an "able-ness" to change. The Future Flex approach is designed for organizations in socially-minded sectors that aspire to become resilient change-makers by first reflecting on their own internal structures and culture.
The theoretical backbone of the Future Flex approach weaves together the voices at the forefront of organizational change; Otto Scharmer, Andrew Zolli, and Frederic Laloux. Along with philosophers and artists, consensus is reached on the imperative need for flexibility as the future increases in complexity and uncertainty. Play is introduced as both the mindset and the vehicle in which to become FLEX. The thirteen Future Flex workshops rely heavily on the experience of playing together as the gateway to deeper reflection and re-framing of complex issues.
In my process of developing and testing the Future Flex approach, I encountered some Principles that I believe are of value to Future Flex organizations to incorporate into their structures, processes, and culture. This list is by no means exhaustive, nor definitive, but rather a jumping-off point for Future Flex dialogues to come. Not-yet-discovered Principles of Flex that pertain to specific organizations will be harvested from those who undergo the full Future Flex Experience.
Principles of Flex
Underspecify

Challenge Assumptions

Protocols to Principles

Collective Autonomy

Sense-and-Respond

Suspend Judgement

Re-frame Failure

Accept Ambiguity

Embrace Wholeness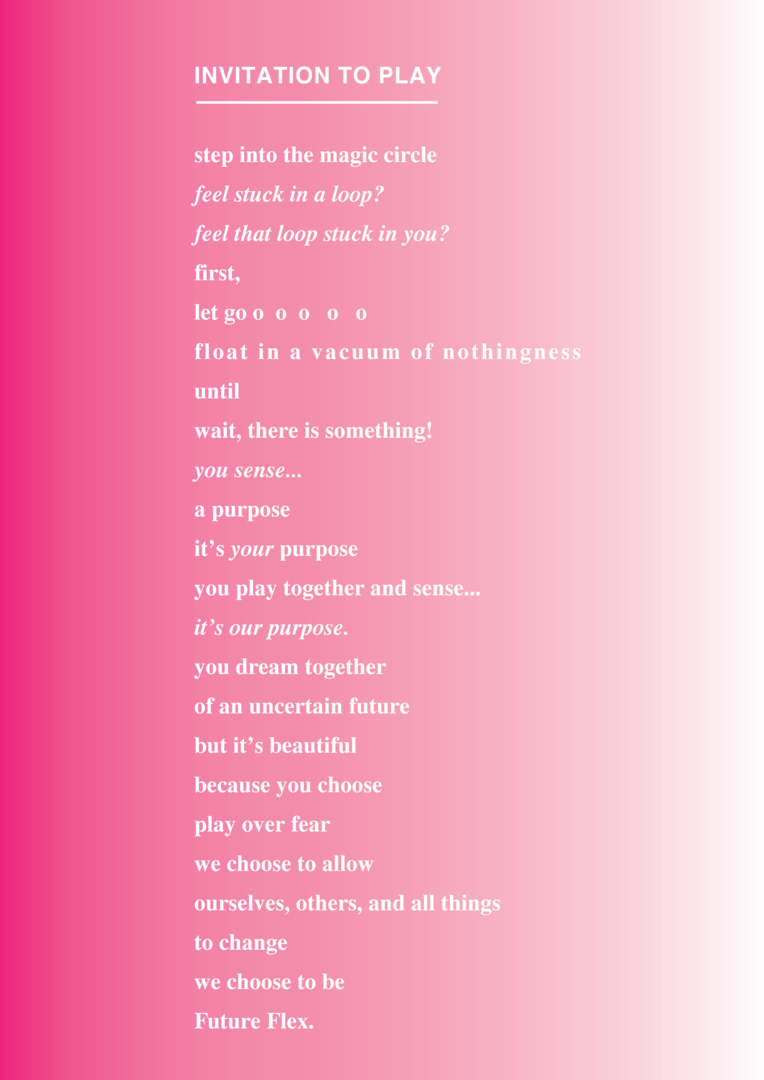 In the spirit of constant change and allowing emergence, Future Flex is an infinite cycle of letting go and re-adapting. The conclusions that an organization harvests at the end of the first Future Flex series might end up being the fixed elements of the next cycle, and so on. Embodying the Future Flex mindset allows for constant change and embraces continuous learning.
Colophon
Lily Higgins is a futurist play-thinker fascinated by complexity, interconnectedness, and change. She currently collaborates with Playspace, a social-play-design studio in Rotterdam.
This final exam project was developed within the Gamification department (Social Practice @ WdKA) Tutor: Bruno Setola
Links
Recent articles
CONTRIBUTE
Feel free to contribute to Beyond Social.
There are four ways to contribute:
Create a new article. Beyond Social is written and edited by its community. Contribute to this online publishing platform with an article (text, photo-essay, video, audio and so on) about your project, theory, event or initiative in the field of Social Art & Design.
Edit this page, or any of the other ones. If there is any missing information or spelling mistakes in this article, please don't hesitate to change it. Other complementing work, such as including media files (images/video's/audio) is also very much appreciated.
Talk
with the contributers and others by taking part in one of the discussions on the TALK-page of an article. These pages are the semi-hidden backside of articles, hence ideal for discussions about an article without changing the initial text.
PROPOSE a new editorial. Beyond Social invites guest editor(s) to emphasize a certain issue, topic or theme. Guest editors write an editorial, invite others to create articles by an open call and/or add existing articles.