Overruled Game: Play with the system
From Beyond Social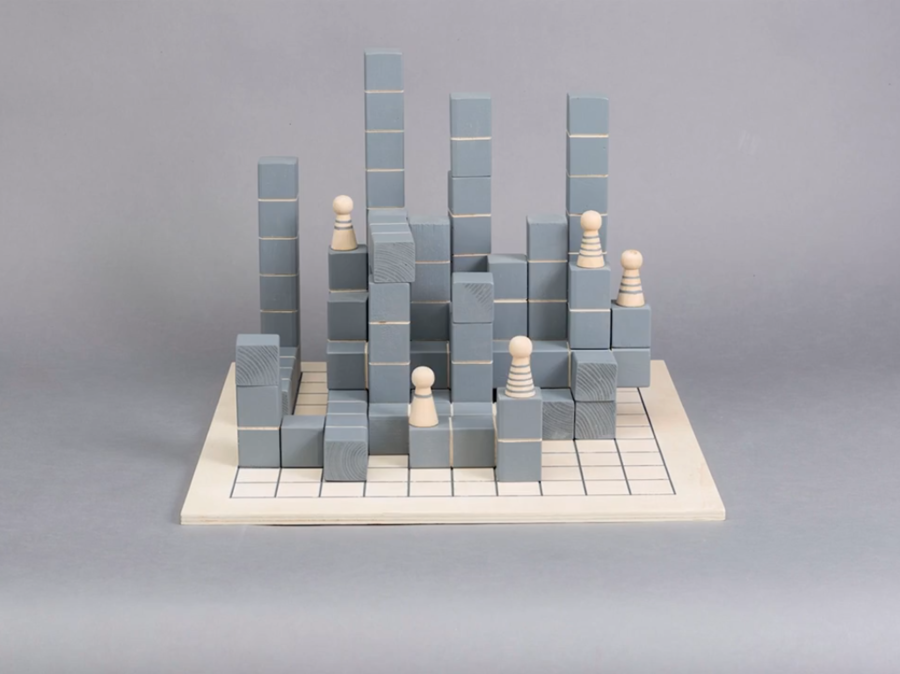 Playing well together is more important than playing by the rules
A project by Joel Kouthoofd, Lily Higgins, Luuk van Loon, Martijn Kraan and Narmina Mammadova

The reality of our contemporary world and that of recent history is heavily defined by rules of all kinds. Whether born from bureaucracy, society, or both, these rules attempt to exert control on a micro and macro scale. Days, projects, strategies; everything, really, are expected to be planned to the smallest detail in both our work and our individual lives to uphold society's norms, so that most of the time it seems like there is no room for playfulness or fun beyond childhood. This contributes to the feeling that there is and always has been a vast space between the world we live in and the world we want to live in. These types of conflicts are the nature of humanity. In the Gamification minor, we focused on the conflict and connection of the system-world and the life-world, as initially explored by Juergen Habermas.
'
Ever since our species decided to settle down in close proximity of others, turning tribes into villages, then cities to metropoles, systems have grown increasingly necessary to maintain "order" over massive groups of people. "Regulation", "Administration", and the other descriptors of our systems make sense as long as they support the life-world in both theory and practice. However, the gap between the life and system world is growing. Both worlds see the other as an autonomous organism that holds the other back, creating conflict and frustration from both sides. People blame the system and the system blames the people. We tend to forget that it is us humans who created the system in the first place, and it is us who make up the system. The structure is, in fact, full of life, but the system only functions if we are functioning in it. Nothing is definitive, no rule is absolute; if we can change, so can the system.
We came to the conclusion that there is no such thing as a perfect, rigid system, because our needs and expectations as a society grow and change, demanding flexibility from the structures that were designed to support us. As long as we are focused only on bringing down existing systems and replacing them with others without changing our own relation to them or the people that lead the system and make the rules, the new systems will always result in frustration, domination, exclusion, and oppression. First, we must change within and gain awareness of our own needs and desires, to then define and understand what we need and want collectively. By subverting the walls we build within and around ourselves, we deepen our self awareness. By playing with others, we break down our collective walls. Play is a universal language of interaction. Even the most stubborn and serious among us still have the desires to play, to test themselves, to experience novelty, and to genuinely connect with others deeply embedded in their nature. Engaging any audience to begin playing is merely a matter of triggering their curiosity in their own language. We are all hungry for skills that improve the quality of our relationships, personal growth, and help us to communicate. We simply need to be reminded of our human-ness in order to create human-friendly systems.
These are the insights we gained during the process of developing a project for our client, the Delfshaven Cooperatie in Bospolder-Tussendijk. They approached us with the challenge to help the city government, social initiatives, and neighborhood residents to "play better together". We believe that going into any environment, in this case, a neighborhood, as an external force and attempting to "fix" something that is, in our outsider opinion, a "problem" will only create more resistance. That's why we created a game that helps people to talk about their needs, understand their position within a system, and articulate their agreement or disagreement with it; to question the rules and start a conversation. Overruled is an exploration of the questions, "When do rules support and when do they suppress? Are rules necessary, and if so, how many and what kind?" Through playing, we hope to empower individuals by showing how each character and each interaction matter; illuminating the ripples of influence from the small game of personal life to the big game of public life.
Text concept by Narmina Mammadova, text Revision & Editing by Lily Higgins'


This minor Gamification project was developed within the Gamification department (Social Practice @ WdKA) Tutors: Bruno Setola and Levien Nordeman
Links
Recent articles
CONTRIBUTE
Feel free to contribute to Beyond Social.
There are four ways to contribute:
Create a new article. Beyond Social is written and edited by its community. Contribute to this online publishing platform with an article (text, photo-essay, video, audio and so on) about your project, theory, event or initiative in the field of Social Art & Design.
Edit this page, or any of the other ones. If there is any missing information or spelling mistakes in this article, please don't hesitate to change it. Other complementing work, such as including media files (images/video's/audio) is also very much appreciated.
Talk
with the contributers and others by taking part in one of the discussions on the TALK-page of an article. These pages are the semi-hidden backside of articles, hence ideal for discussions about an article without changing the initial text.
PROPOSE a new editorial. Beyond Social invites guest editor(s) to emphasize a certain issue, topic or theme. Guest editors write an editorial, invite others to create articles by an open call and/or add existing articles.