RePlay Health
From Beyond Social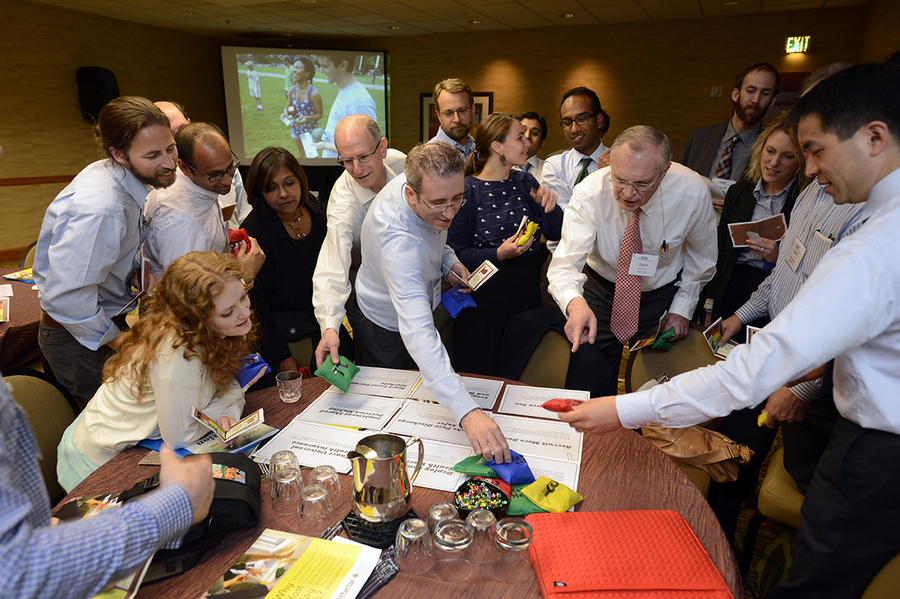 RePlay Health
is a game that helps players conceptualize how new health initiatives might affect them and their respective communities on a systemic level.
Can we change "hearts and minds" about how healthcare works in the US? Tiltfactor, the games for impact lab at Dartmouth College, developed RePlay Health in collaboration with The Dartmouth Center for Healthcare Delivery Science and the Rippel Foundation.
It's a 'role-playing sport' where players must balance performing physical activities to score points with trying to monitor and improve their character's health. During the game, your health is taking a turn for the worse. You must decide: do you want to take time off from work (and lose the opportunity to score points) in order to better your health now? Or should you push your luck and hope it doesn't get worse? Maybe things wouldn't have gotten as bad if you had quit smoking and taken your medication like you were supposed to, but it's too late for that! Players quickly learn that the system is flawed, and in between rounds it's their job to improve it.
If you're curious about the real-life impact of RePlay Health, read about it in Tiltfactor's review.
The game is free to download, print, and play with your own institution or group. Download it
here
.
Links
Recent articles
CONTRIBUTE
Feel free to contribute to Beyond Social.
There are four ways to contribute:
Create a new article. Beyond Social is written and edited by its community. Contribute to this online publishing platform with an article (text, photo-essay, video, audio and so on) about your project, theory, event or initiative in the field of Social Art & Design.
Edit this page, or any of the other ones. If there is any missing information or spelling mistakes in this article, please don't hesitate to change it. Other complementing work, such as including media files (images/video's/audio) is also very much appreciated.
Talk
with the contributers and others by taking part in one of the discussions on the TALK-page of an article. These pages are the semi-hidden backside of articles, hence ideal for discussions about an article without changing the initial text.
PROPOSE a new editorial. Beyond Social invites guest editor(s) to emphasize a certain issue, topic or theme. Guest editors write an editorial, invite others to create articles by an open call and/or add existing articles.