Beyond Social Publishing
From Beyond Social
Beyond Social is an ongoing international and collaborative research and publishing platform on social art and design. It connects professionals and students from different fields of expertise. It is a platform for trial and error, for sharing knowledge, projects, visions and opinions in order to find out what is needed to feed social practices and take them to the next stage.

Building on the possibilities of Mediawiki software Beyond Social explores ways to create a discourse on Social art and design and connect publishing to education.
Wiki Publishing
Beyond Social is developed in collaboration with the Hybrid Publishing research group of the Willem de Kooning Academy in Rotterdam. The project is an ongoing experiment in collaborative publishing using Mediawiki software.
Different features of Mediawiki software are explored in this project.
The software is built for publishing projects with a strong collaborative nature. A well-known example is Wikipedia, which runs on the same software and is driven by a large community of editors.
Mediawiki includes tools to inspect the social dynamics of the community of contributors. Various Special Pages can be used to access this information, such as Special:RecentChanges to see the rhythm of editing activity, Special:NewFiles to have an overview of files that are uploaded, and Special:Log to inspect the recent user logs. These typical Mediawiki functions embed a layer of social information into the publishing flow.
The acts of reading and writing are not fragmented into different places: they happen through the same interface. Readers are invited to become writers and contribute to the Beyond Social platform.
Single authorship is not promoted, which means that an article has no single author. Others can make edits to an article, or contribute to it by adding media files.
The editing history of every article is saved. It enables anyone to look back in time compare versions of an article.
Timeline
Beyond Social's wiki2web (2014 - 2016)
Beyond Social Issues
From 2014-2016 Beyond social was structured around the creation of Issues, which are best understood as editorial web magazines that reflect on a specific topic in the social practices discourse. Both students, teachers and external practitioners contributed to these issues. The following issues have been published:
Beyond Social Issue #1 - Redesigning Business (February 2015), archived here.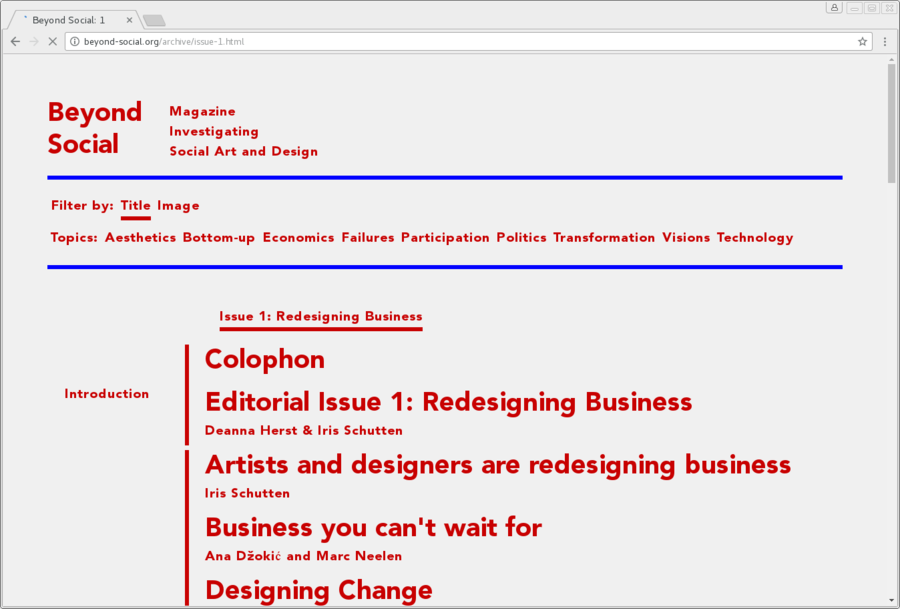 Beyond Social Issue #2 - Education (July 2016), archived here.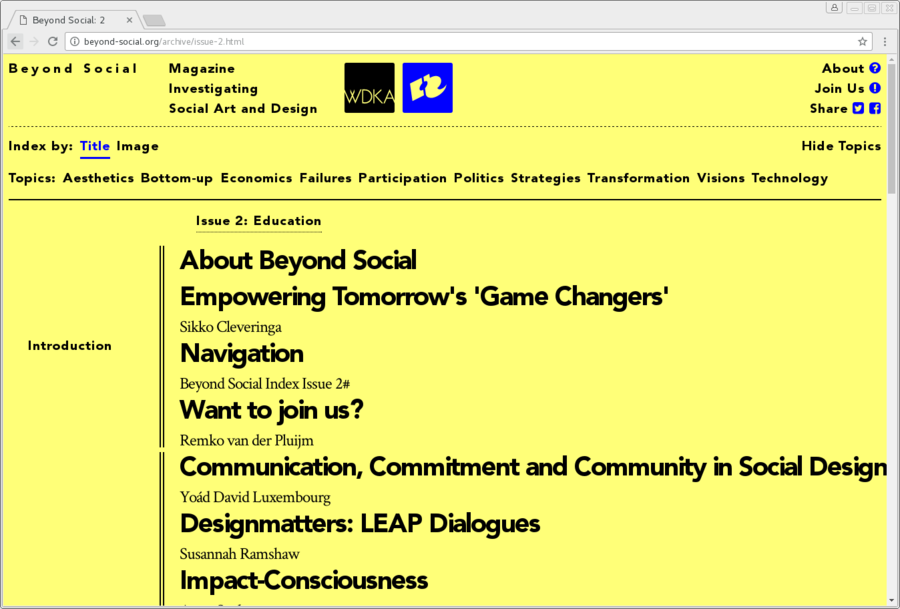 Beyond Social Issue #3 - Radical Reframing (December 2016), archived here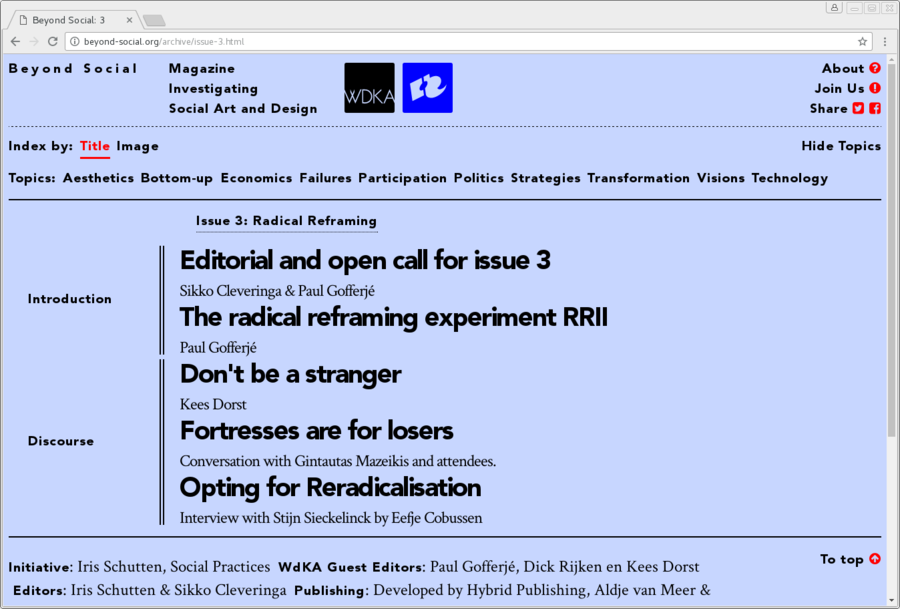 The wiki as backend
In this stage Beyond Social already used this wiki as part of their publishing workflow, where it had a backend function. The wiki was a workarea, where articles and images were collected and brought together to generate the online Beyond Social Issues. André Castro worked together with design studio Template to create an external Beyond Social front-end, that functioned as the webzine of the project.
More about the wiki2web workflow is described by André Castro in this article Making Beyond Social.

The code of the wiki2web workflow is hosted on the Publication Station Github page here.

Beyond Social as a wiki platform (Nov 2016 - Feb. 2017)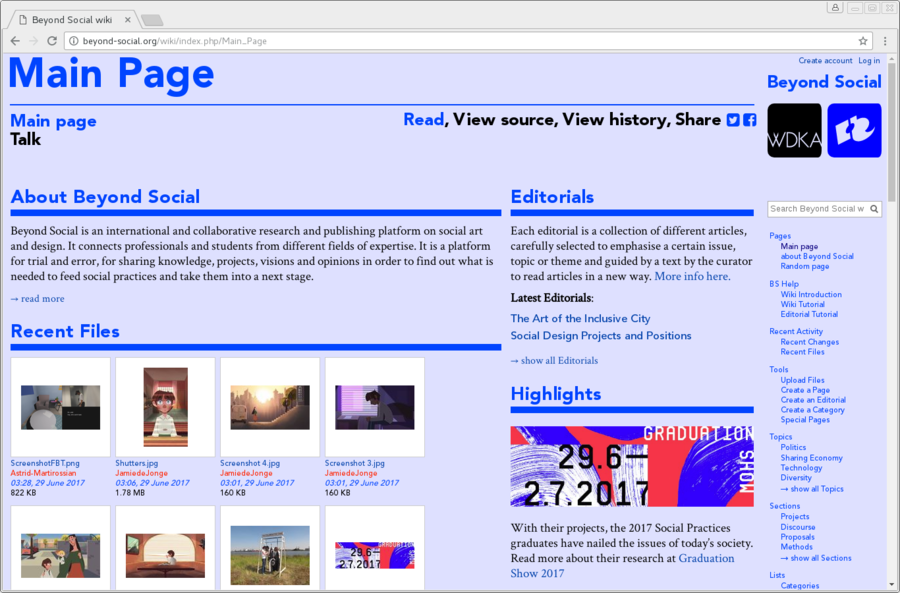 Wiki metamorfose
Between November 2016 and February 2017 the wiki went through a visual and structural metamorfose. The main structural changes that have been made:
The overall style and layout of the wiki changed.
The frontpage turned into an overview of various user activities that are main features of the mediawiki software.
There is a 'highlights' section added to the frontpage where certain topics, articles, or projects can be highlighted. This section was intented to be curated by a special to-be-decided moderator-team.
Editorials were introduced: a personal selection of wiki articles that is accompanied by a short introduction text. These curated set of articles link different elements of the wiki together.
A few plugins were installed to lower the treshold of editing on a wiki: Page Forms and Category Tree.
The development of this wiki skin is described by Manetta Berends in this README file.

The code of this Beyond Social wiki skin is hosted on the Publication Station Github page.

Beyond Social as a wiki continued (May 2017 - Okt. 2017)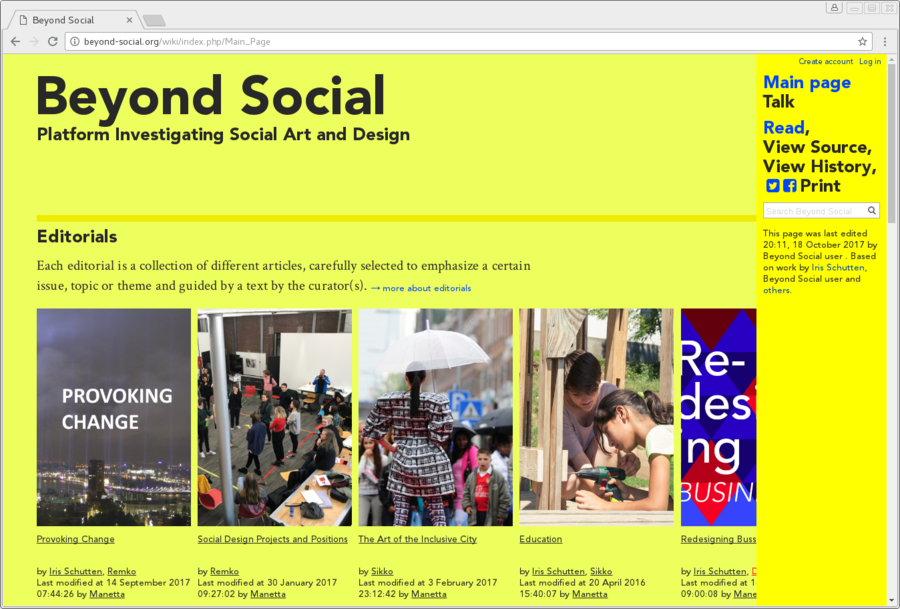 This is the current state Beyond Social is at. The wiki is further developed to increase user friendliness in the following ways:
The skin is simplified and the Main Page includes less elements.
The wiki contains different forms that can be used to create new pages. There is a form to make articles (Form:Article), events (Form:Event) and to add a user profile to your User page (Form:Profile). The editorial form is also improved (Form:Editorial).
Articles are represented with an image at the Main Page and in overview pages such as Articles and Category:Topics.
Every article has a 'contribute' element at the bottom, to emphasize the collective publishing aspect of Beyond Social.
Semantic Mediawiki is used to transclude information and featured images of articles into overviews.
The code of this wiki skin is hosted on the Publication Station Github page in the branch
unfolding
.
Links
Manual
A reference guide for contributing to Beyond Social.
Mediawiki
A short introduction to the Mediawiki software.
Making Beyond Social
An article by Andre Castro on the first version of Beyond Social in 2014, using wiki2web publishing.
mediawiki.org
The website of Mediawiki software, also a great reference for the wiki syntax.
Recent articles
CONTRIBUTE
Feel free to contribute to Beyond Social.
There are four ways to contribute:
Create a new article. Beyond Social is written and edited by its community. Contribute to this online publishing platform with an article (text, photo-essay, video, audio and so on) about your project, theory, event or initiative in the field of Social Art & Design.
Edit this page, or any of the other ones. If there is any missing information or spelling mistakes in this article, please don't hesitate to change it. Other complementing work, such as including media files (images/video's/audio) is also very much appreciated.
Talk
with the contributers and others by taking part in one of the discussions on the TALK-page of an article. These pages are the semi-hidden backside of articles, hence ideal for discussions about an article without changing the initial text.
PROPOSE a new editorial. Beyond Social invites guest editor(s) to emphasize a certain issue, topic or theme. Guest editors write an editorial, invite others to create articles by an open call and/or add existing articles.